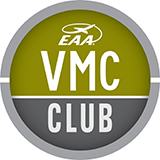 Our VMC Club meets monthly on the 1st Tuesday of the month. Doors open at 1830 for socializing with refreshments, hosted by our own Greg Lewis and Brian McDonald, retired USAF fighter pilots and second career airline pilots. The presentations start at 1900.
The VMC Club monthly programming is developed and produced by EAA, and supplemented with additional topics by us locally. We use real-world scenarios in a group discussion with a goal of increasing safety through better knowledge – audience participation is highly encouraged! With everyone having different experience levels and airplane capabilities, we all benefit from the discussions, networking, and sharing of our knowledge and aviation experiences.
The meetings are very casual and informal, please join us for a fun evening.