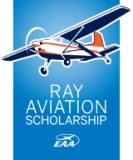 The Ray Foundation is furthering the legacy of James Ray, an EAA lifetime member who was dedicated to aviation and youth education. The Ray Aviation Scholarship program provides up to $10,000 scholarships to young people who are seeking to learn to fly. The Ray Foundation has provided $1.2 million to fund the scholarship program, which seeks to improve the industry flight training success rate from the current standard of 20 percent to 80 percent for program participants. Local EAA chapters are responsible for identifying youth for the Ray Aviation Scholarship program and mentoring them through flight training.
EAA Chapter 122 plays a critical role in the success of the Ray Aviation Scholarship program. For the 2021 scholarship cycle, our chapter was prequalified by EAA to attract, mentor and support two 50/50 scholarship recipients. This was made possible by the support and generous matching funds from 'AIM for the SKY' Fund and Initiative, a 501(c)(3) charitable organization. The two fully funded flight training scholarships were awarded to two deserving aviation scholars, who will be mentored by EAA Chapter 122 throughout their flight training journey.
To learn more about the Ray Aviation Scholarship: https://www.eaa.org/-/media/Files/EAA/Chapters/Ray-Aviation-Scholars/2020/RayScholarship2020ParentHandout85x11.ashx?la=en
EAA Chapter 122 may be prequalified for additional Ray Aviation Scholarships in 2022. This webpage will be updated as information concerning next year's Ray Aviation Scholarship becomes available.