Jerry Smith Memorial Scholarship
Purpose
*To promote general aviation in south central Missouri by encouraging interested individuals to pursue obtaining their primary pilot license.
*To increase local general aviation economic activity.
*To promote use and support of local airport facilities, services and personnel.
*To increase local awareness of EAA Chapter 1218, and local aviation activities, by publicizing individual sponsorships, business sponsorships, scholarship awards, first solo flights, and successful completions of flight training in local media, chapter meeting minutes, and on the chapter website.
*Grow the membership of EAA Chapter 1218 by helping to create more general aviation pilots, in this area, which will hopefully become the future of our organization.
Method
Award a $2,500 scholarship to any individual, that resides within the 9 county geographic area covered by EAA South Central Ozarks Chapter 1218, to be used for primary flight training with the goal of obtaining a Private Pilot, Sport Pilot, or Recreational Pilot License. The scholarships will be awarded without regard to age, sex, or financial status. Applicants will become eligible by first taking a young eagle flight, an eagle flight, or demonstrating previous flight experience, then completing and submitting an application to EAA South Central Ozarks Chapter 1218. When an applicant is approved to receive a scholarship, the applicant will be required to join both the national Experimental Aircraft Association and the EAA South Central Ozarks Chapter 1218. The applicant will pay for primary flight instruction (plane rental, fuel, instructor fees) at any flight school, or with any Certified Flight Instructor, of the applicant's choice, and then submit proof of payment to EAA South Central Ozarks Chapter 1218 for reimbursement. The EAA South Central Ozarks Chapter 1218 Scholarship Program will be managed by the EAA Chapter 1218 executive committee and will be limited only by the number of applicants approved or by the funds available.

Funding
The EAA South Central Ozarks Chapter 1218 Scholarship Program was initially funded by the generous donations of individuals to the Jerry Smith Scholarship Fund. These existing funds and any future funds raised for the sole purpose of supporting the chapter 1218 scholarship will be used to fund this scholarship program. This will assure all supporters and sponsors of the scholarship program that their contributions will only be used for the scholarship program and will not be used for any other chapter 1218 activities or obligations. Future funding will be secured by: 1. Donation jar clearly marked scholarship fund at all meetings and EAA events for individual or anonymous contributions. 2. Fund raising activities that are organized and conducted by EAA members for the sole purpose of raising money for the scholarship fund such as craft sales, garage sales, raffles, bake sales, etc. 3. Individual Sponsorships: Diamond level $500, Gold level $250, Silver $100, Bronze $50. Business Sponsorships: Diamond level $1,000, Gold level $500, Silver $250, Bronze $100. Sponsorships will be publicized with pictures in local media, distributed in chapter meeting minutes and on the chapter website.

Addendum 2-14-15 Henny Christensen made a motion to transfer $25 from the chapter to the scholarship fund in each instance of loss since January 1, 2015. Going forward the $25 contribution will be for the loss of a member, member parent, spouse or, child. A second was made by Tom Young and approved by members present.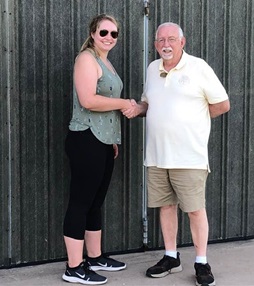 Chapter member Elane Bayless has passed her written and has soloed. She has been awarded a $2500 scholarship from EAA Chapter 1218. Her instructor is James Ennis-CFI. Good luck with the remainder of your training, and your checkride.

* Elane Passed her checkride on June 28th. Congratulations!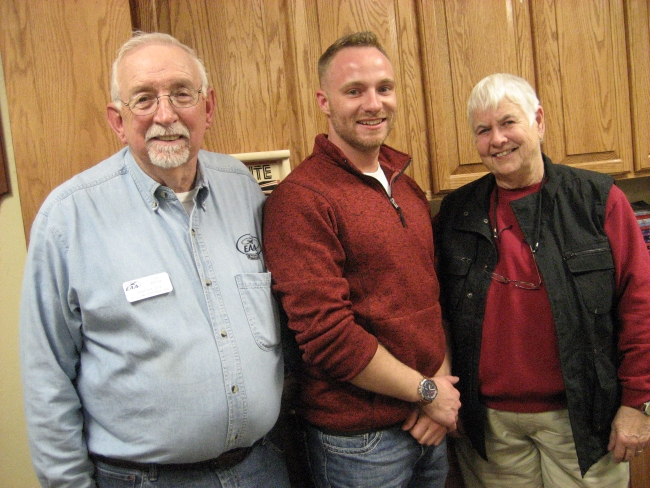 Joseph Hart was awarded the EAA Chapter 1218 scholarship at the April Gathering. An anonymous chapter member also provided a generous donation to provide Joe the funds needed to purchase a membership in the Ozark Aviators Flying Club which is located at the Willow Springs airport. Joe is shown here with Tom White and Pat Storm. March 2019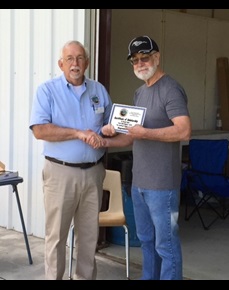 Ron Epps was presented the Jerry Smith Memorial Scholarship by chapter president Tom White during the 2015 Open House. Ron is a member of EAA 1218, EAA National, and the Ava Flying Club. He has already started his flying lessons with instructor David Davidson. We hope that our contribution to Ronnie's flying lesson fund will help him reach his goal of Private Pilot soon!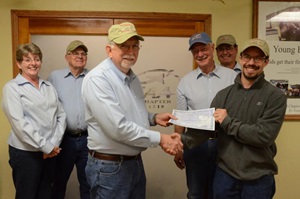 Jeremy Myer is now a certificated private pilot, single engine land.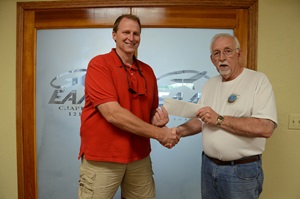 Brian White is currently working on his private pilot certificate.
Scholarship Application
https://www.dropbox.com/s/gqqgb6tonh5b8q9/EAA%20Scholarship%20Application.doc?dl=0