Whether you fly, build, restore or simply enjoy airplanes and aviation, you are welcome to attend our events and join our Chapter.
We are a group of aviation enthusiasts, aircraft builders, and pilots who get together with like minded people to share ideas, exchange information, encourage safety, serve the local aviation community and have a lot of fun doing so. Please come to our next meeting or event as our guest.
The Free State Chapter meets on the second Saturday of each month at 10:00 am. Social time starts at 9:30 am. We meet at the Van Zandt County Regional Airport (76F), located southeast of Wills Point, Texas.
Airport Communications for Van Zandt is on US MULTICOM Frequency 122.725 MHz.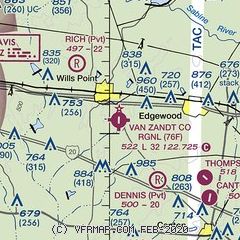 Courtesy Airnav
Email: EAA1078@gmail.com
The regularly scheduled April meeting is canceled due to the COVID-19 infection. Please check back here for updates.
Check out the monthly EAA Video Magazine here.