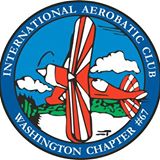 You were expecting a map?

The best way to get current information on unofficial aerobatic practice areas is to talk with a Chapter 67 member who flies from your "base" airfield. We want all of our members, current and prospective, to be good neighbors and ambassadors for aerobatic flying. Noise can be an issue. A little "mentoring" on where to practice helps.
Chapter 67 usually arranges with the FAA to "open the box" at Ephrata Airport (KEPH) the weekend prior to the Apple Cup (June) and Apple Turnover (September) contests. Chapter officers coordinate with the FAA and Port of Ephrata (aka: the airport manager) to activate the box. The FAA issues a NOTAM to inform pilots that aerobatic flights will be conducted in the box and the runway traffic patterns will be changed. A "box monitor" is required while the box is open. The box monitor has two hand-held radios, one on the KEPH CTAF, the other on a dedicated "box frequency". He observes the airspace over the airport to warn pilots approaching Ephrata that the box is open (in case they haven't read the NOTAM), and warns the pilot practicing in the box if an airplane is approaching the box.
Again, practice can occur in the Ephrata box, but pilots who want to "activate" the box must contact club officials to make the arrangements required by the FAA and the Port of Ephrata. While airspace at some airports allows aerobatics over the airport, Ephrata is not one of them. The airspace at Ephrata is a Class E surface area (Class E airspace begins at the surface for about a 4 NM radius around the airport) and is also within the lateral boundaries of two adjacent airways (defined by the EPH VOR).
CFR 14 Part 91.303 states
Aerobatic flight.
(c) Within the lateral boundaries of the surface areas of Class B, Class C, Class D, or Class E airspace designated for an airport;
(d) Within 4 nautical miles of the center line of any Federal airway;
Contact Peggy Riedinger at iac67president@gmail.com. Peggy will put you in touch with a Chapter 67 member near you who can advise you on practice areas that are convenient to you or a chapter official to discuss the requirements and procedures for "opening the box".