The annual Chapter 61 aerobatic contest at Salem, Illinois is the longest continuously running contest in IAC history. The first contest was held in 1976. This year (2021) will be the 45th time the event has been held! Registration and practice will take place on Friday, 20 August, 2021. All power categories will be flown. We plan to fly two flights in each category on Saturday and the final flight in each category on Sunday. Normally, the first flight is the Known, the second the Free, and the third the Unknown. However, the schedule may be adjusted depending on weather.
Salem Airport and Box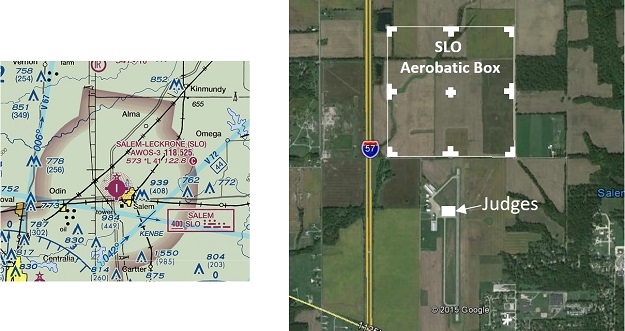 The Salem box is perfectly located just north of the airport, with the airport's only runway nearly exactly on the box centerline. Highway 57 to the west provides a reference that is impossible to miss and the section lines make heading changes and vertical rolls easy. There is ample hangar space for all aircraft and hotels are just a 5 minute drive south to the town of Salem. There is very little activity on the field and we have friends/allies on-site. The town supports our contest as well.
2021 Planning Information
You must pre-register no later than 9 August at the IAC website if you plan to participate. We won't be accepting registrations (only payment) at the contest. This will allow us to have ALL of the clipboards built beforehand and establish a waiting list in case volunteers + competitors is more than 50 (usually, we have fewer than 50 total participants) which is the current limit due to COVID-19 restrictions. Complete details of the COVID-19 mitigation plan are provided in the attached pdf. This plan will be updated as required by county health department guidance.
You must send a pdf of your Free forms A, B, and C to the chapter (iacchapter61@gmail.com) by 9 August. We will make all the required copies, so you don't have to worry about that!
Plan to bring a check, credit card, or PayPal account to the contest as we won't accept cash.
If you don't have a Twitter account, please get one (free) and follow our chapter (@IChapter61) as that is how we will be providing real-time contest info (order of flight, score results, volunteer assignments, news updates, etc.) to reduce person-to-person contact and gathering around paper taped to walls/windows.
We will make a final go/no-go decision (in case we don't have enough judges or if the COVID-19 rules change against us) on 15 August.
Tech Inspections and Practice will be held on Friday 20 August, starting at 10:00. The contest will begin with a 7:30 briefing on Saturday, 21 August and conclude by noon on Sunday 22 August.
Lodging and Transportation:
Each of these hotels is conveniently located near the airport and within walking distance to local restaurants.
Holiday Inn Express: 618-740-0913 Holiday Inn Express has provided a block of rooms at a preferred rate for our contest. Use group code SL2 when making your reservations to get the best rate.
Quality Inn & Suites: 618-548-2177
Super 8: 618-548-5882
Days Inn: 618-479-0381
Chapter members will provide shuttle service between the hotels and airport.
Entry fees for competitors (includes banquet, Friday pizza party, and T shirt):
Primary: $100
Sportsman – Unlimited: $130
Hangar: $10/night per aircraft
Additional banquet tickets: $20
We rescheduled our contest from May to October due to COVID restrictions; however, we ultimately decided it was in the best interest to cancel the 2020 contest.
We had an excellent event between 16 and 19 May 2019. This was the earliest that we have held our contest, and the spring rainfall experienced prior to the event made accessing the boundary markers extremely difficult/impossible. We had anticipated this possibility and obtained IAC approval to use the natural box markers that exist (runway, highway, roads, ponds, tree lines, section lines) in lieu of plastic sheet markers normally placed. Weather prevented a number of pilots from attending and our total competitor count was 15. Strong winds form the south/southwest provided a challenge to maintain good box position in front of the judges and rain forced the contest to conclude after 2 flights on Saturday (Primary competitors achieved 3 flights). Most importantly, we flew safely, had fun, and made new friends.
Carmelo Turdo from The Aero Experience covered our contest on Saturday and took excellent photos. We have included many of them in the results that follow.
Primary (2019)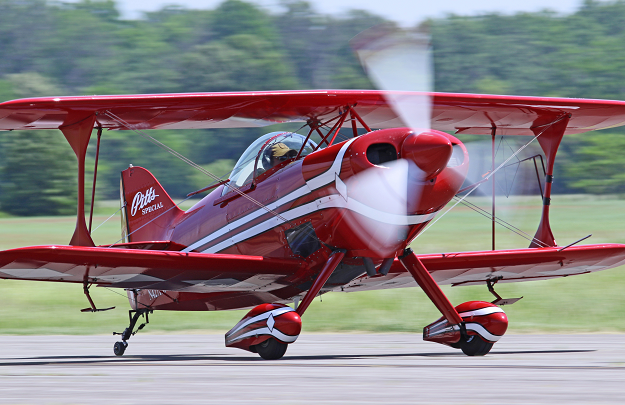 Jordan Heuerman from our own Chapter 61 took home the first place Primary plaque this year flying his beautiful Pitts S-1S. (photo courtesy The Aero Experience)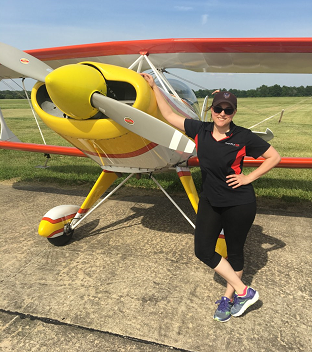 Alyssa Pasquale, or Dr. P as she is also known, flew Todd Ashcraft's Skybolt to a close second place finish in Primary. (photo courtesy TJ Smyka)
Sportsman (2019)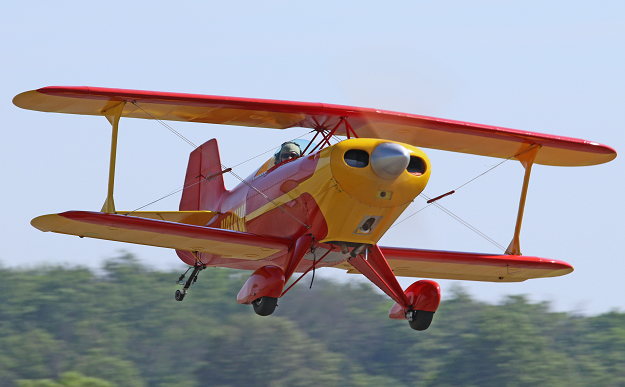 Bob Hamilton, from Chapter 61, earned 1st place in Sportsman flying his Pitts S-1C (photo courtesy of The Aero Experience). He was also the winner of the Grass Roots medallion this year.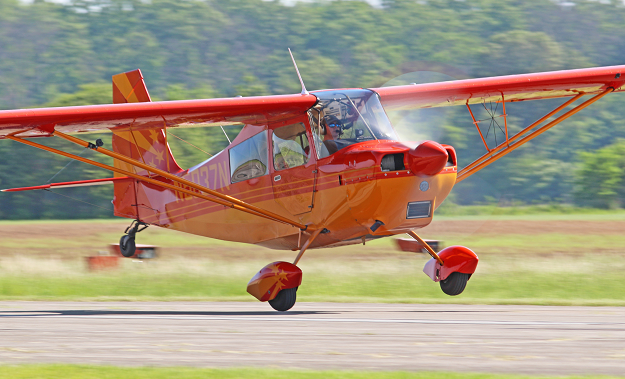 John Strong made the long trip to compete in our contest and won second place in Sportsman. This was John's first contest flying Sportsman and he was the highest scoring first time Sportsman pilot. You can see John's technique to handle the crosswind at Salem in the above photo (photo courtesy of The Aero Experience).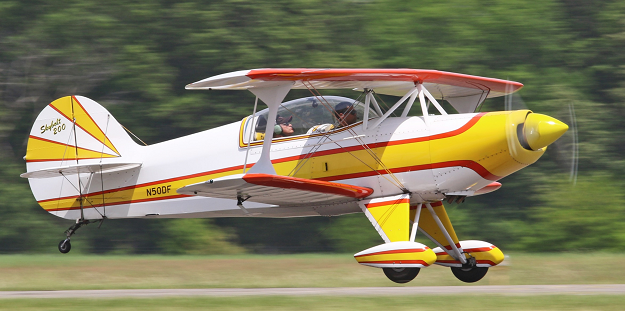 Todd Aschcraft was an excellent ambassador for IAC competition flying, sharing his Skybolt N50DF with two other competitors. He had the most box time of anyone at the contest! In addition, he earned 3rd place in the Sportsman category (photo courtesy of The Aero Experience).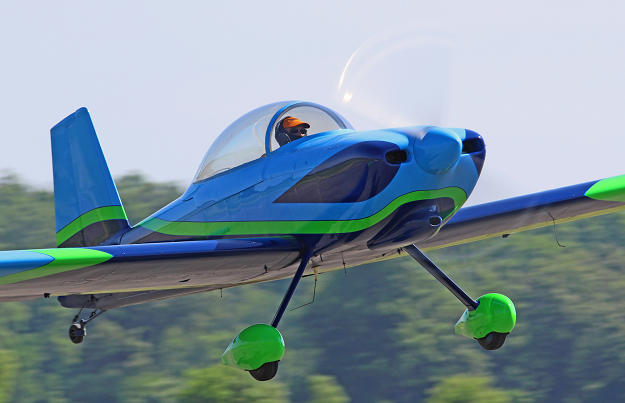 Galen Killam took home 4th place in Sportsman flying his unique RV-8 (photo courtesy of The Aero Experience).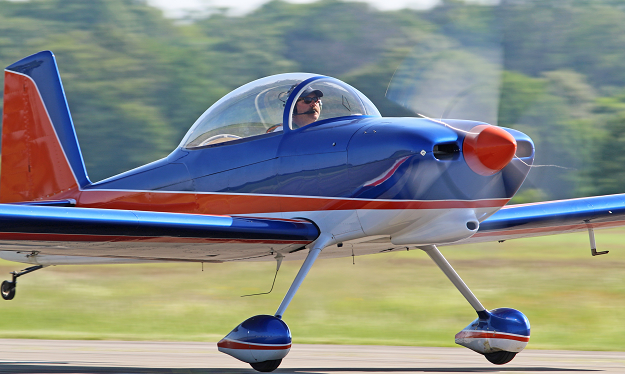 Dave Schmitz, who joined our chapter at the contest, finished 5th in Sportsman in a closely fought competition with Galen, who was only 0.18 percentage points ahead overall (photo courtesy of The Aero Experience).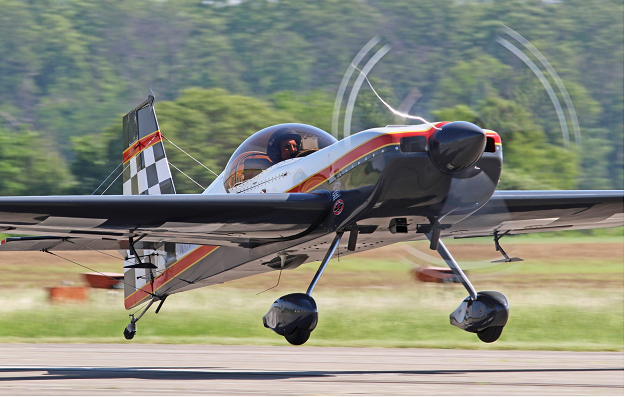 Chapter 61 Vice President Sean Sweeney flew his beautiful Staudacher to a 6th place finish in Sportsman. Sean and Cleta Sweeney are extremely busy running multiple businesses but yet they find a way to help others aspiring to be better pilots and new judges (photo courtesy of The Aero Experience).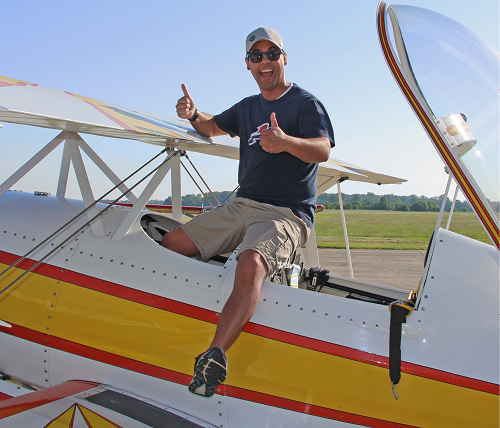 Mariano Rosales had a blast flying Todd Ashcraft's Sklybolt to a 7th place finish in Sportsman (photo courtesy of The Aero Experience).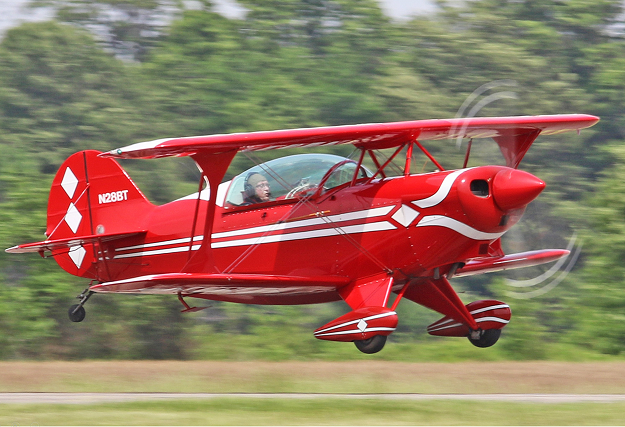 Jim Heinz, a long-time member of Chapter 61, flew the Pitts S-2A once owned by Bill Thomas to an 8th place finish in Sportsman. It was good to see Jim flying the Pitts again after missing the 2018 contest. (photo courtesy of The Aero Experience).
Intermediate (2019)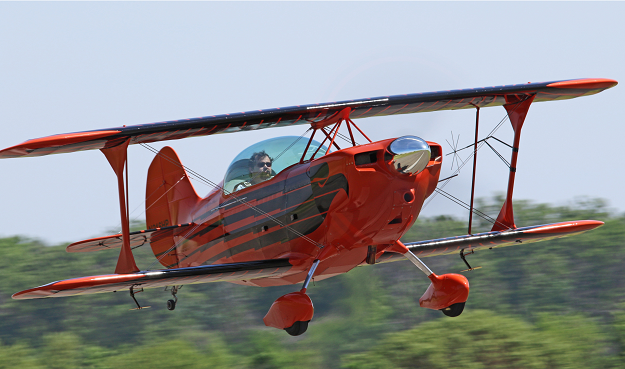 Cameron Grossl was the only Intermediate category entrant and flew his beautiful Christen Eagle II hors concours (outside of the contest). (photo courtesy of The Aero Experience)
Advanced (2019)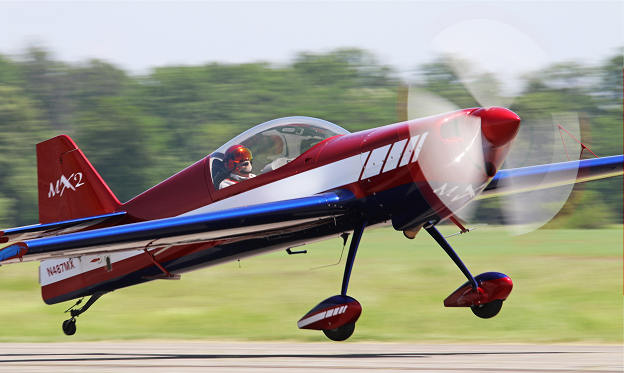 Steve Johnson captured 1st place in Advanced with his MX2 (photo courtesy of The Aero Experience).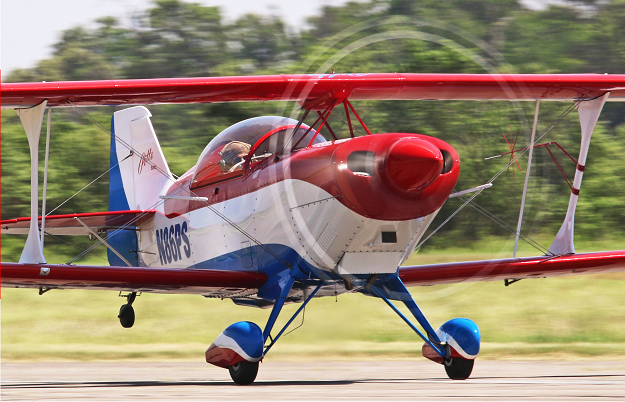 John Housley few his patriotic (or Pepsi-inspired) Pitts S-2C to a 2nd place finish in Advanced.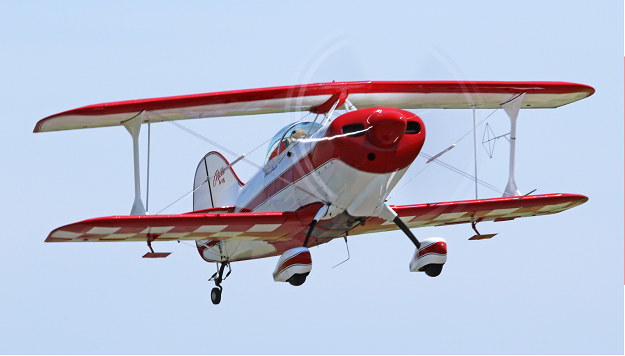 Brent Smith flew his Pitts S-1S to a 3rd place finish in Advanced (photo courtesy of The Aero Experience).
Unlimited (2019)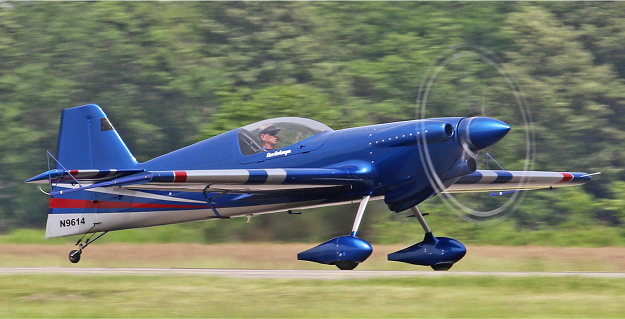 Steve Grohsmeyer showed us how to fly an airplane in the Unlimited category. He was without a competitor and so flew hors concours. He did an amazing job with the airplane and would have surely won first place if only there had been someone skilled enough to compete against him!