Upcoming EAA 88 events
Each Monday evening (except Holidays) a group of EAA 88 Members work on Nancy's EAA Biplane at the Chapter 88 building at 3612 N Webb Rd. Join in and get your hands dirty. Weekly 6:30 -8:30pm. Contact Ken at 316-733-4563 to get added to the contact list. Click here
https://wp.me/pbH2qy-1mx
for the Blog
Just a reminder that 2023 chapter dues are now due. Prompt payment is appreciated. $36.00
Click here for renewal page
Invoices will not be sent via Paypal due to new IRS Regulations in 2022.
11/10/2022 SAE meeting on Thursday evening (11/10) at 5:30pm. Dinner to follow at La Hacienda on West Kellogg for EAA members attending the meeting. Please RSVP to Bob Blanton at (316)841-2921 or bobblanton46@gmail.com.Presentation at: Friends University Penn Science Hall, Rm 100 2100 W. University Ave.Wichita KS 67213
11/12/2022 - 8-11am -Monthly Breakfast. Drive in or fly-in. Young Eagle flights registration starts at 9am. Please join us!
Check here for any changes.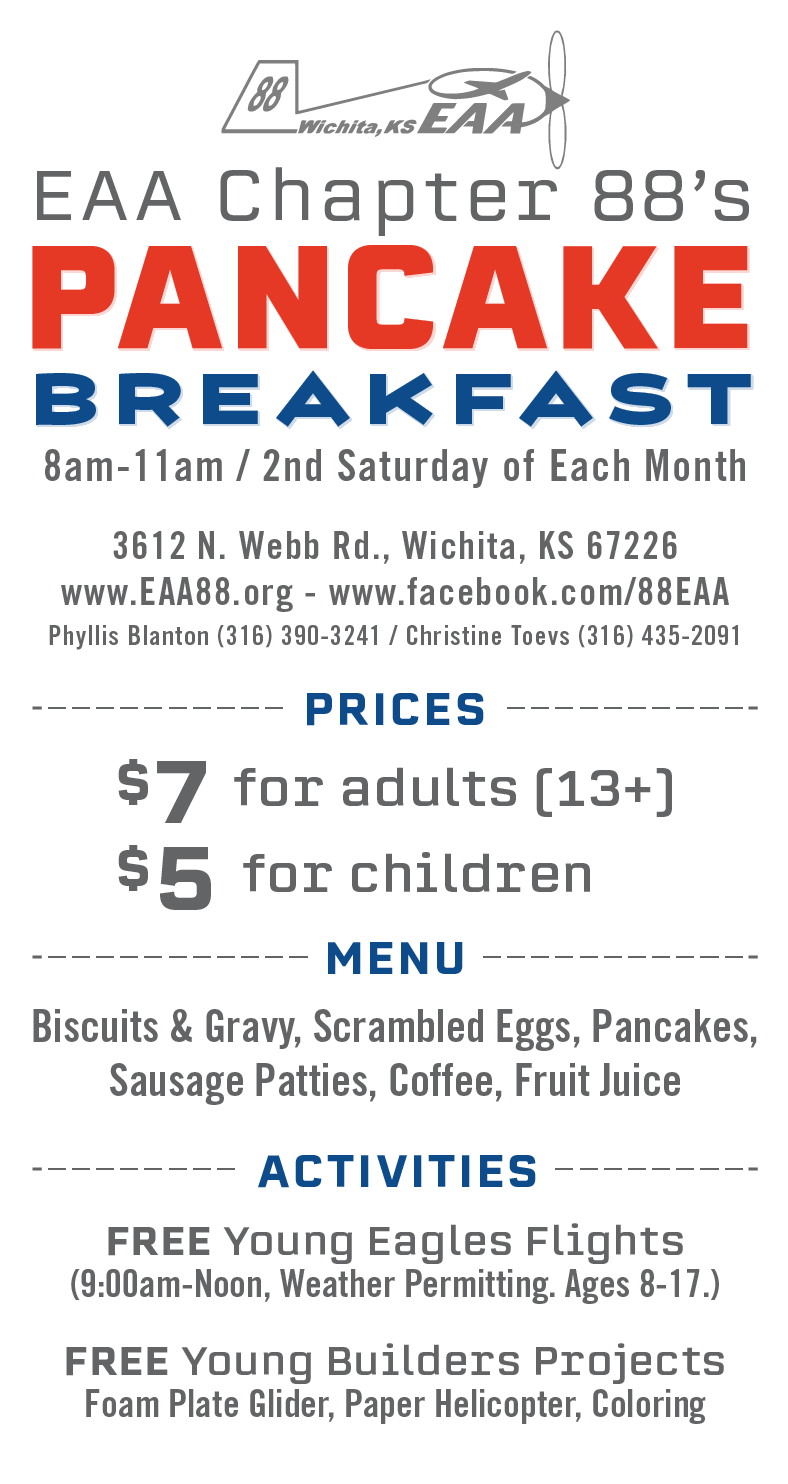 11/17/22 6PM Board meeting, EAA Chapter 88, 3612 N Webb Rd, Wichita, KS (KAAO, under the beacon light)
11/19/22 7PM General Membership meeting, EAA Chapter 88, 3612 N Webb Rd, Wichita, KS (KAAO, under the beacon light)November monthly membership meeting is Saturday, November 19th at 7:00pm. Our speaker will be Molly McMillin. Molly, a 25-year aviation journalist, is managing editor of business aviation for the Aviation Week Network and editor-in-chief of The Weekly of Business Aviation, an Aviation Week market intelligence report. Before joining Aviation Week, Molly spent nearly 20 years at the Wichita Eagle, where she served as senior aviation/aerospace reporter. Her reporting has taken her across the world. Molly became a private pilot in 2011. She has won multiple state and national journalism awards, including awards from the Society of Business Editors and Writers, Heart of America and the Kansas Press Association. She was the recipient of the 2013 National Business Aviation Association's Gold Wing Award for Journalism Excellence and was featured in a book on Kansas called Ad Astra: 161 Adventurers, Astronauts, Discoverers, Explorers, Pilots, Pioneers and Scientists.
A graduate of Wichita State University, Molly was selected the 2014 Outstanding Alumni at WSU's Elliott School of Communication.
If your looking for a last minute tax deduction EAA Chapter 88 is a 501(c)3 non profit. Contact any Board Member for more information.
Pennies for the Roof Campaign. This is a campaign to raise the $4500 we need to repair the drainage for the roof. We cannot fix the soffits until the drainage is fixed. There will be a bucket at the building where you can donate your extra change to a good cause. Thank you for your help!!
Midwest Life Team has teamed up EAA Chapter 88 and is offering $35 family memberships. More information and applications will be available at the General Meeting on Saturday.

Please submit your stories, pictures, or marketplace items for the newsletter by 12/26 to have them included in the December newsletter. You can send all information to eaa88newsleter@gmail.com