Upcoming EAA 88 events
Each Monday evening (except Holidays) a group of EAA 88 Members work on Nancy's EAA Biplane at the Chapter 88 building at 3612 N Webb Rd. Join in and get your hands dirty. Weekly 6:30 -8:30pm. Contact Ken at 316-733-4563 to get added to the contact list. Click here
https://wp.me/pbH2qy-1mx
for the Blog
Just a reminder that 2023 chapter dues are now due. Prompt payment is appreciated. $36.00
Click here for renewal page
Invoices will not be sent via Paypal due to new IRS Regulations in 2022.
12/03/2022 Ron Blum Celebration of Life Ronald Blum April 10, 1964 - November 22, 2022 Wichita, Kansas - Ronald Scott Blum, Aeronautical Engineer, age 58, of Wichita, Kansas passed away on Tuesday, November 22, 2022. He is survived by his wife, Kalynn Blum; his sister, Cheryl Blum; his brothers, Randy Blum (Joann), David Blum (David Martinez). He is preceded in death by his parents, Paul and Betty Blum. Memorial Service will be held Saturday, December 3, 2022, 10:00 am at Reformation Lutheran Church, 7601 E 13th St N, Wichita, KS 67206. Memorial Contributions have been established at Reformation Lutheran Church and EAA Young Eagles. The family of Ron Blum have suggested that anyone attending the service on December 3rd bring (1) photo of your favorite memory of Ron. If possible, please bring the picture in a frame but there will also be foam boards which photos can be taped/pinned. There will be tables to display your framed photo. You will take your photo with you after the service. This is a celebration of Ron's life, so please do not feel as if you have to wear black-- remember Blue on Top. Some of his family will be wearing his shirts with his logo.
12/10/2022 - 8-11am -Monthly Breakfast. Drive in or fly-in. Young Eagle flights registration starts at 9am. Please join us!
Check here for any changes.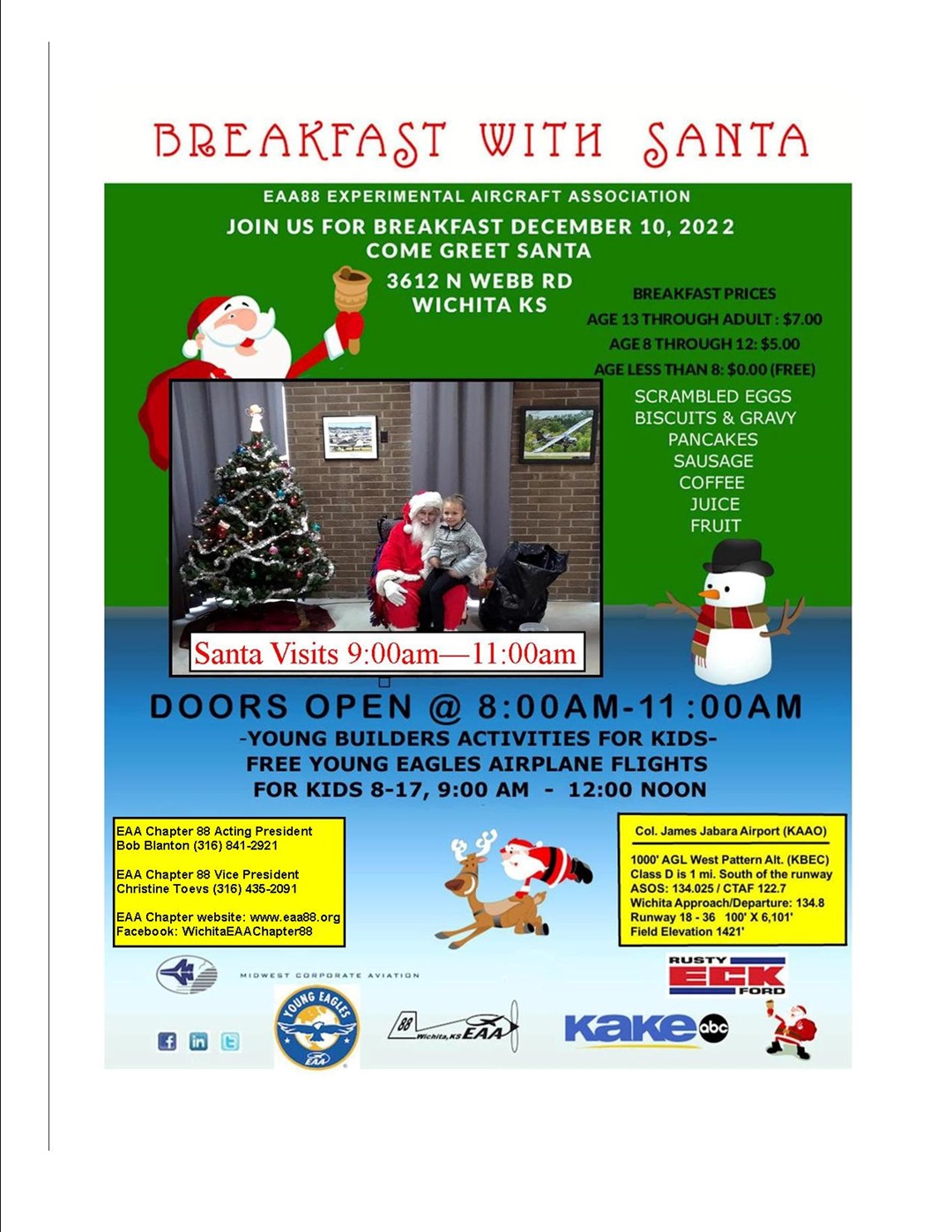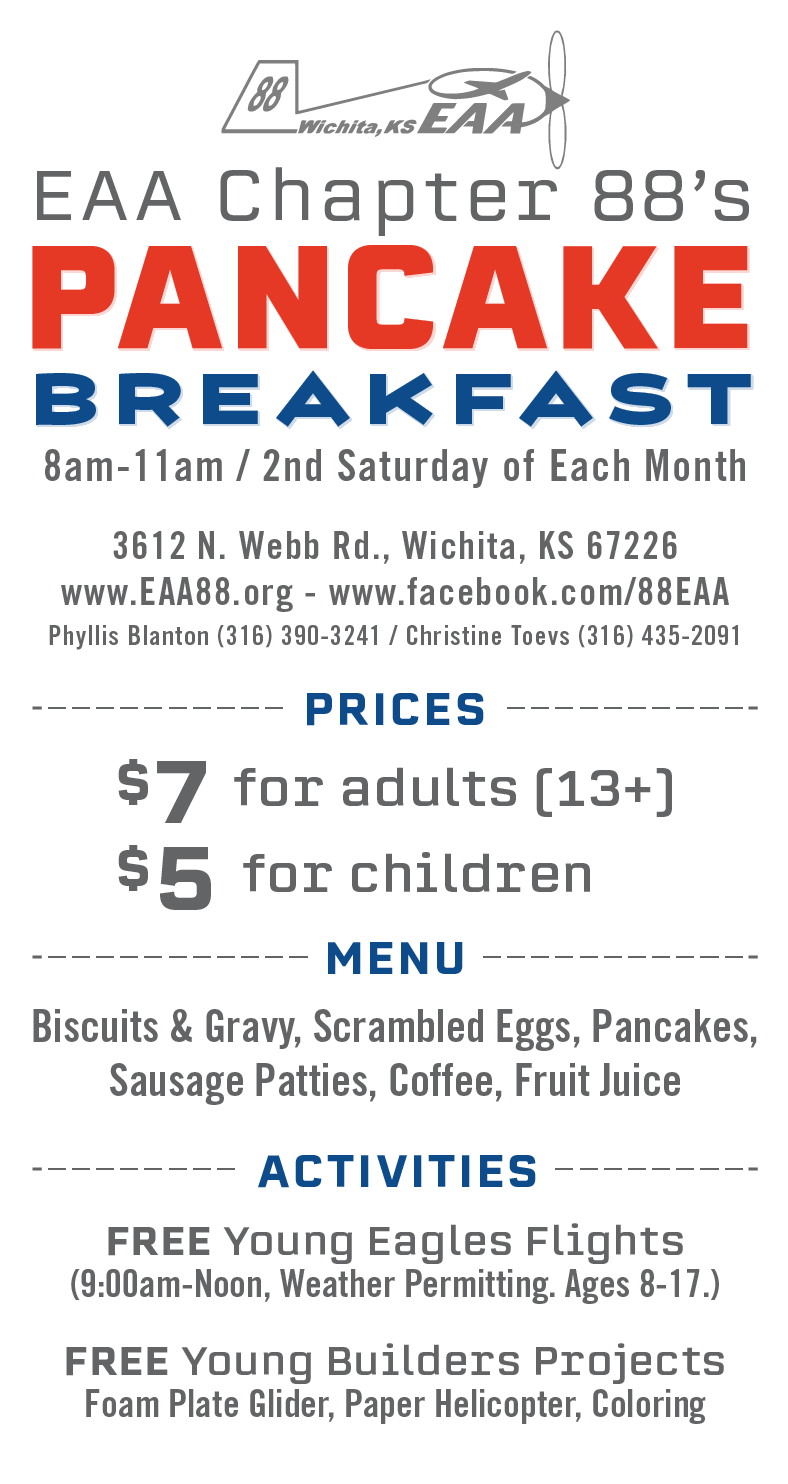 12/15/22 6PM Board meeting, EAA Chapter 88, 3612 N Webb Rd, Wichita, KS (KAAO, under the beacon light)
12/17/22 Christmas party Details soon to come
01/21/23 7PM General Membership meeting, EAA Chapter 88, 3612 N Webb Rd, Wichita, KS (KAAO, under the beacon light) Program details coming soon.
If your looking for a last minute tax deduction EAA Chapter 88 is a 501(c)3 non profit. Contact any Board Member for more information.
Pennies for the Roof Campaign. This is a campaign to raise the $4500 we need to repair the drainage for the roof. We cannot fix the soffits until the drainage is fixed. There will be a bucket at the building where you can donate your extra change to a good cause. Thank you for your help!!
Midwest Life Team has teamed up EAA Chapter 88 and is offering $35 family memberships. More information and applications will be available at the General Meeting on Saturday.

Please submit your stories, pictures, or marketplace items for the newsletter by 12/26 to have them included in the December newsletter. You can send all information to eaa88newsleter@gmail.com