Upcoming EAA 88 events
Each Monday evening (except Holidays) a group of EAA 88 Members work on Nancy's EAA Biplane at the Chapter 88 building at 3612 N Webb Rd. Join in and get your hands dirty. Weekly 6:30 -8:30pm. Check the FB page under events for details.
3/13/2020- 8-11am -The next Monthly Breakfast is back to regular format. Pilots who fly in call and we will save you the short walk from Midwest Corporate aviation to the beacon light. Young Eagles flights are planned in March.
Check here for any changes.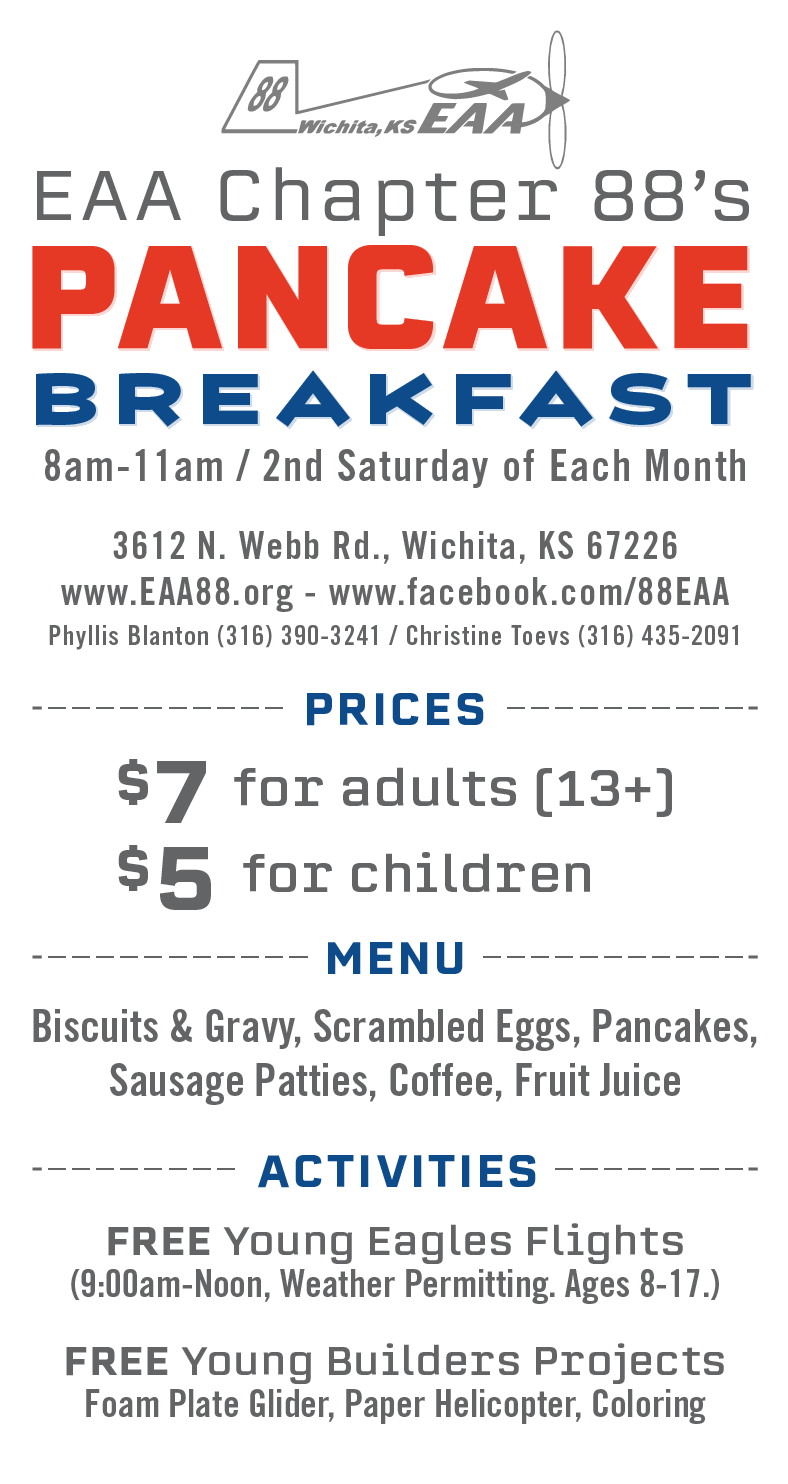 2/24 7PM Board Meeting, EAA Chapter 88, 3612 N Webb Rd, Wichita, KS (KAAO, under the beacon light). Contact a board member for zoom info if you wish to attend virtually.

2/25 IAC meeting
INTERNATIONAL AEROBATIC CLUB IAC 119 AIR CAPITAL EAGLES
FEBRUARY MEETING Thursday Feb 25th 6:30pm
At EAA Chapter 88
3612 N Webb Rd Wichita, KS (KAAO)
WELCOME BACK!
We're excited to resume our IAC Chapter meetings for 2021.
EAA88
space to safely gather.
offered their Chapter Building which allows more
All are welcome to attend!
Chili and Chips at 6pm
Aerobatics 101: Making the World Revolve Around YOU Join us for a lively discussion on an introduction to Aerobatic Flight. We'll break down the how/why, try to debunk common myths, and have some fun. They'll be some animated hand gestures and erratic use of a whiteboard featuring strange hieroglyphic annotations. Strap In and Hang On!
Can't attend in person
Meeting ID: 777 119 1191 Passcode: 119119
Next Meeting: Thursday March 25th 6:30pm @ EAA88
Dave Marten davemarten77@gmail.com (605) 390-8044 Joe Bertapelle joebravoaviation@yahoo.com (817) 658-7219
–
Join us on Zoom
www.facebook.com/iac119
3/20 5-6:30PM Flyin Planning Committee Meeting, EAA Chapter 88, 3612 N Webb Rd, Wichita, KS.

3/20 7PM General Membership Meeting, EAA Chapter 88, 3612 N Webb Rd, Wichita, KS (KAAO, under the beacon light). Mountain Flying with John Penny


4/17 7PM General Membership Meeting, EAA Chapter 88, 3612 N Webb Rd, Wichita, KS (KAAO, under the beacon light). This month will be John O'Leary from Airbus. Airbus is1 developing aircraft designs that are aimed at reducing the climate impact of flying. This mostly focuses around liquid hydrogen and sustainable aviation fuels. John will be speaking on this topic.
5/15 11AM until (no evening meeting) Fly In at 3KS5 High Point Valley Center, KS. Bring a dish or dessert. This will be the EAAs annual fly-in luncheon and is open to ALL friendly pilots! It will start at appx 11:00 AM and lunch will be served at noon. Please bring your favorite covered dish, the EAA will provide hot dogs. Looking for a great day and a lot of fun and some really neat airplanes. If flying- The pattern is 800 feet and east of the runway. The radio frequency is 122.9. Airplane parking will be on the west side of the runway only. We do not want planes on the East side so to keep people from crossing the runway. This event will be rain or shine. If we have had rain please call Dave Blanton 390-3193 or Doug Moler 207-8331 to check runway condition.

Data:
FAA Identifier: 3KS5
Lat/Long: 37-50-33.5150N / 097-21-04.9700W
37-50.558583N / 097-21.082833W
37.8426431 / -97.3513806(estimated)
Elevation: 1395 ft.

Runway Information
Runway 17/35
Dimensions: 2400 x 100 ft. / 732 x 30 m
Surface: turf
Runway edge lights: low intensity
RUNWAY 17 RUNWAY 35
Latitude: 37-50.756333N 37-50.360833N
Longitude: 097-21.083333W 097-21.082333W
Elevation: 1395.0 ft. 1386.0 ft.
Traffic pattern: left right
Obstructions: none 20 ft. pline, marked and lighted
June 19 7PM - Bob Nuckolls' The Aeroelectric Connection (book + CD) https://matronics.com/aeroelectric/Catalog/AECCatalog.html
July 17 7PM - Zach Wilkinson, A&P from MID-CONTINENT AVIATION SERVICES (ICT) . Topic TBD but probably talking about his road to A&P cert. He's a pilot as well.

Sep 18 8am EAA 88 Annual Fly-iin, KAAO Jabara airport. Check here for details.
Just a reminder that chapter dues are now due. $36.00 Click here for renewal page The invoices have already gone out for 2021 dues.
If your looking for a last minute tax deduction EAA Chapter 88 is a 501(c)3 non profit. Contact any Board Member for more information.
Pennies for the Roof Campaign. This is a campaign to raise the $4500 we need to repair the drainage for the roof. We cannot fix the soffits until the drainage is fixed. There will be a bucket at the building where you can donate your extra change to a good cause. Thank you for your help!!
Midwest Life Team has teamed up EAA Chapter 88 and is offering $35 family memberships. More information and applications will be available at the General Meeting on Saturday.

Please submit your stories, pictures, or marketplace items for the newsletter by 12/26 to have them included in the December newsletter. You can send all information to eaa88newsleter@gmail.com