Upcoming EAA 88 events
Each Monday evening (except Holidays) a group of EAA 88 Members work on Nancy's EAA Biplane at the Chapter 88 building at 3612 N Webb Rd. Join in and get your hands dirty. Weekly 6:30 -8:30pm. Check the FB page under events for details.
12/12- 8-11am -
The next Monthly Breakfast is Breakfast with Santa. Check here for any changes.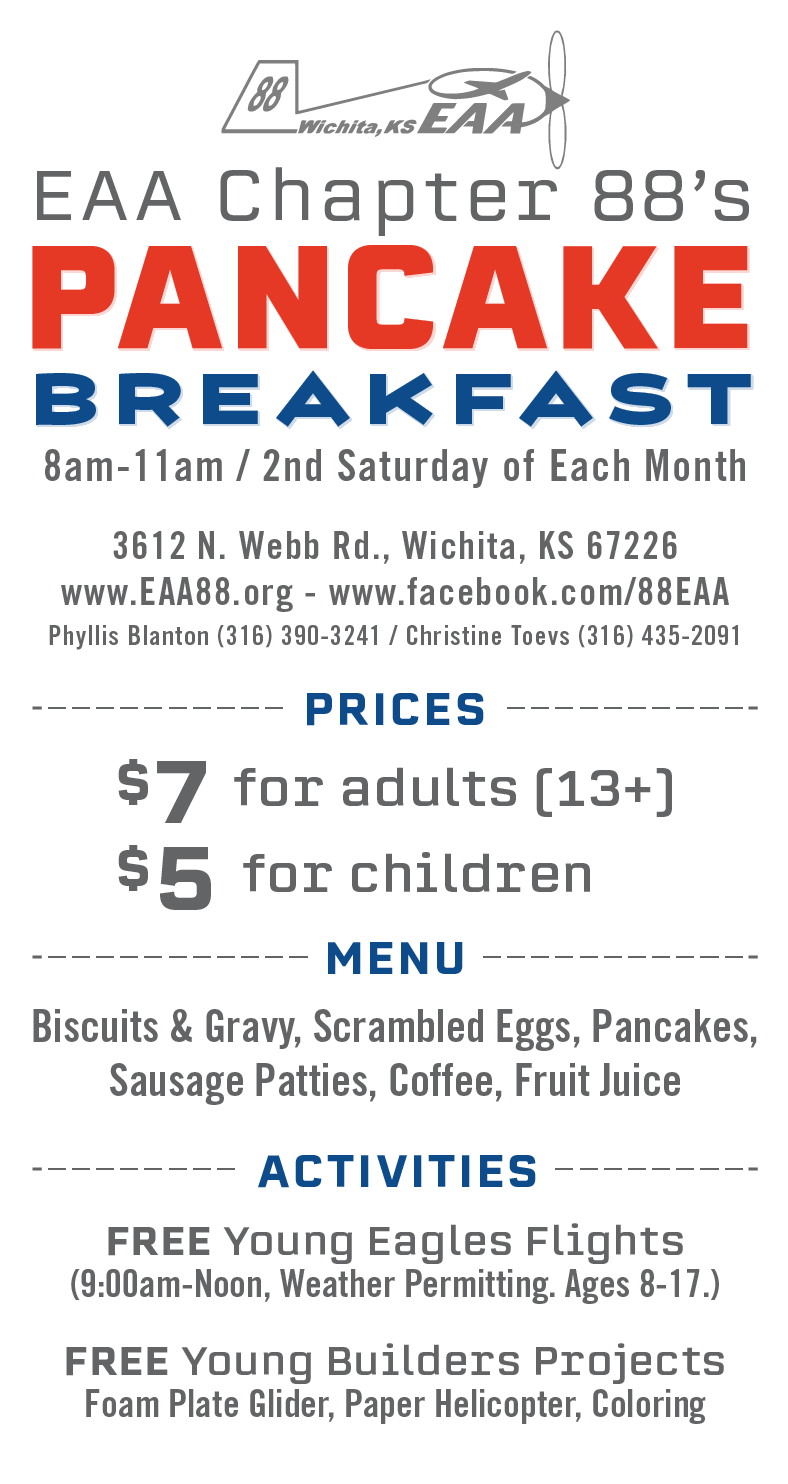 12/17 7PM Board Meeting, EAA Chapter 88, 3612 N Webb Rd, Wichita, KS (KAAO, under the beacon light)
12/19 7pm EAA 88 Monthly meeting. Program Member Volunteer Recognition Night. The annual large gathering at Christmas will be deferred until a date in the Spring/Early Summer due to the pandemic.
Just a reminder that chapter dues are now due. $36.00 Click here for renewal page
If your looking for a last minute tax deduction EAA Chapter 88 is a 501(c)3 non profit. Contact any Board Member for more information.
Pennies for the Roof Campaign. This is a campaign to raise the $4500 we need to repair the drainage for the roof. We cannot fix the soffits until the drainage is fixed. There will be a bucket at the building where you can donate your extra change to a good cause. Thank you for your help!!
Midwest Life Team has teamed up EAA Chapter 88 and is offering $35 family memberships. More information and applications will be available at the General Meeting on Saturday.

Please submit your stories, pictures, or marketplace items for the newsletter by 12/26 to have them included in the December newsletter. You can send all information to eaa88newsleter@gmail.com