Upcoming EAA 88 events
Each Monday evening (except Holidays) a group of EAA 88 Members work on Nancy's EAA Biplane at the Chapter 88 building at 3612 N Webb Rd. Join in and get your hands dirty. Weekly 6:30 -8:30pm. Check the FB page under events for details.
Just a reminder that 2022 chapter dues are now due. Prompt payment is appreciated. $36.00
Click here for renewal page
Invoices will not be sent via Paypal due to new IRS Regulations in 2022.
02/12/2022 - 8-11am -Monthly Breakfast. Pilots who fly in: call and we will save you the short walk from Midwest Corporate aviation to the beacon light. Young Eagle flights are planned beginning at 9am. Register in person. Preference given to first time fliers. Subject to weather conditions. Please join us!
Check here for any changes.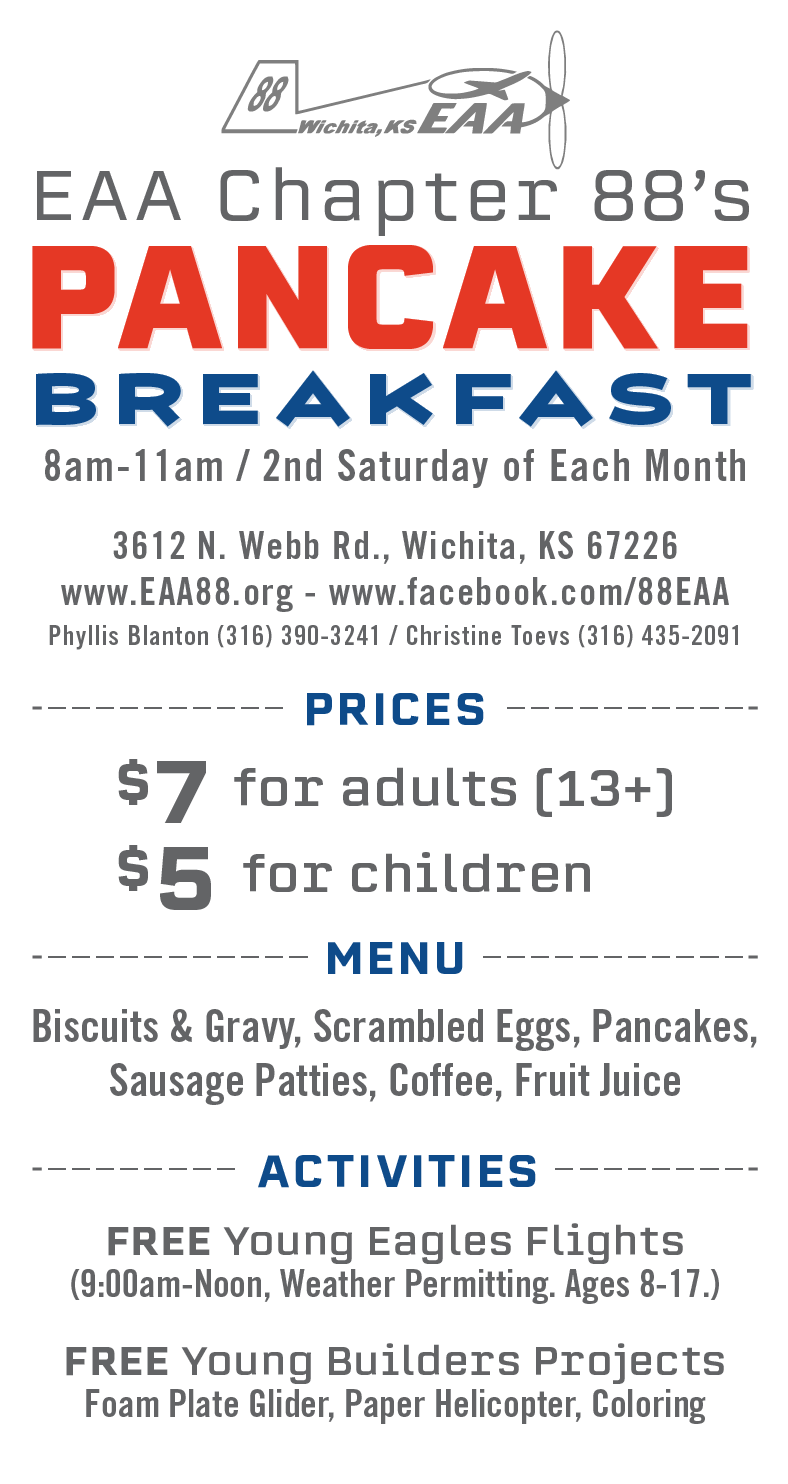 02/17/22 6PM Board Meeting, EAA Chapter 88, 3612 N Webb Rd, Wichita, KS (KAAO, under the beacon light)
02/19/22 7PM - General Membership MeetingFor the February19, 2021 EAA meeting we will be taking a short FIELD TRIP to:

Metal Supermarkets
location is 9110 East 35th Street,
Suite B
Wichita, KS 67226

https://www.google.com/maps/place/9110+E+35th+St+N,+Wichita,+KS+67226/@37.7503155,-97.2338485,16z/data=!4m5!3m4!1s0x87bafd7b48cd9e59:0x4cd82ab6204eaed3!8m2!3d37.7503155!4d-97.2323357

directions: https://www.google.com/maps/dir/Clemens+Aviation,+3628+N+Jabara+Rd,+Wichita,+KS+67226/9110+E+35th+St+N,+Wichita,+KS+67226/@37.7483172,-97.230704,17z/data=!3m1!4b1!4m13!4m12!1m5!1m1!1s0x87bafdeed0737a61:0x4083096803beee02!2m2!1d-97.2246949!2d37.7486235!1m5!1m1!1s0x87bafd7b48cd9e59:0x4cd82ab6204eaed3!2m2!1d-97.2323357!2d37.7503155

From the EAA Chapter Building go north to 35th, turn west - the address is on the north side of the street

Same Time, 7 PM

Jim is opening up just for our members after hours, and will show us all he has to offer for our various projects. I recently purchased materials from here for the Chapter Biplane project!

The program will NOT be held at the Chapter Building this month. The March mefeting will returnto the regular location:
EAA Chapter 88, 3612 N Webb Rd, Wichita, KS (KAAO, under the beacon light). Bring a friend and your family.
06/11/22 EAA Chapter 377 in Lakin, KS (36K) will be hosting a summer kick off potluck fly in on June 11th with lunch starting at 12pm. EAA Chapter 88 has been invited to join in! They plan on having fun games for kids, and hopefully a couple of friendly competitions for pilots.

Contact:
Kymberly Logan
Logan Aviation
620-260-0502
Visit Logan Aviation for more info https://loganaviation.com/

EAA 377 chapter website is https://www.eaa377.org/
If your looking for a last minute tax deduction EAA Chapter 88 is a 501(c)3 non profit. Contact any Board Member for more information.
Pennies for the Roof Campaign. This is a campaign to raise the $4500 we need to repair the drainage for the roof. We cannot fix the soffits until the drainage is fixed. There will be a bucket at the building where you can donate your extra change to a good cause. Thank you for your help!!
Midwest Life Team has teamed up EAA Chapter 88 and is offering $35 family memberships. More information and applications will be available at the General Meeting on Saturday.

Please submit your stories, pictures, or marketplace items for the newsletter by 12/26 to have them included in the December newsletter. You can send all information to eaa88newsleter@gmail.com