Upcoming EAA 88 events
7/11 - 8-11am -The next Monthly Breakfast is July 11th. Check here for any changes.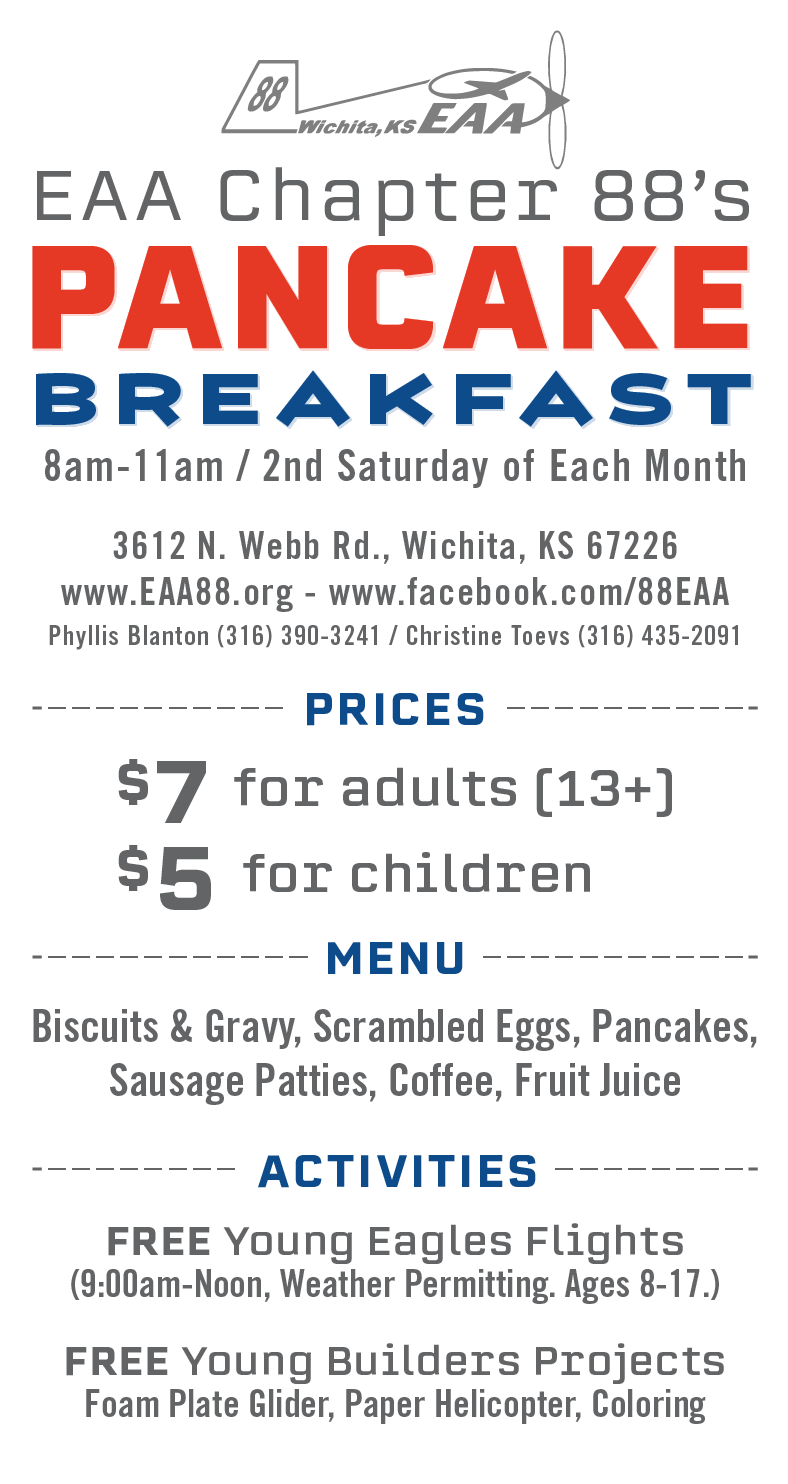 7/18 7PM EAA Chapter 88 Monthly Meeting, 3612 N Webb Rd, Wichita, KS (KAAO, under the beacon light)
"The History of the Ercoupe and the Kansas Connection"
This month's program will feature Mr. Ron Black presenting a program on the history of the famous Ercoupe. Ron has been flying his Ercoupe for many years and has been a member of the Ercoupe club. Did you know the Ercoupe was manufactures in Kansas.
Alon Inc. was founded by John Allen and Lee O. Higdon, two executives who had retired from aircraft manufacturer Beechcraft to found their own company. They had previously negotiated with Forney Aircraft to purchase production of the Ercoupe so that Beechcraft could use the design as an introductory trainer. The deal was canceled by Olive Ann Beech, who decided to concentrate resources on the Beechcraft Musketeer. This decision caused the executives to leave Beechcraft and establish Alon in McPherson, Kansas, which purchased the type certificate for the Ercoupe from the City of Carlsbad, New Mexico on March 16, 1964. Learn more about the Kansas connection as Ron presents the History of the Ercoupe.
If your looking for a last minute tax deduction EAA Chapter 88 is a 501(c)3 non profit. Contact any Board Member for more information.
Pennies for the Roof Campaign. This is a campaign to raise the $4500 we need to repair the drainage for the roof. We cannot fix the soffits until the drainage is fixed. There will be a bucket at the building where you can donate your extra change to a good cause. Thank you for your help!!
Midwest Life Team has teamed up EAA Chapter 88 and is offering $35 family memberships. More information and applications will be available at the General Meeting on Saturday.

Please submit your stories, pictures, or marketplace items for the newsletter by 12/26 to have them included in the December newsletter. You can send all information to eaa88newsleter@gmail.com