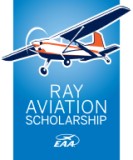 The EAA Ray Aviation Scholarship Fund is a scholarship program that is funded by the Ray Foundation, managed by EAA, and administered through the EAA Chapter network. Through the generous support of the Ray Foundation, EAA provides up to $10,000 to deserving youths to cover their flight training expenses, totaling $1,550,000 in scholarships annually. EAA Chapter 857 has been awarded the opportunity in 2022 to select and mentor a candidate for pursuit of their private pilot certificate.
This scholarship program, seeks to improve the flight training success rate from the current industry standards of 20 percent to 80 percent for program participants. Local EAA chapters are responsible for identifying youth for the Ray Aviation Scholarship program and mentoring them through flight training. The Ray Foundation is furthering the legacy of James C. Ray, an EAA lifetime member who was dedicated to aviation and youth education.
Since its introduction in 2019, the EAA Ray Aviation Scholarship program has allowed over 180 youths to complete their flight training and receiving their pilot licenses. The program has been consistently meeting and exceeding its expected 80% success rate each year. The Scholarship Funds can be used for any cost directly associated with flight training, such as aircraft rental, CFI fees, aircraft fuel, flying club dues, check-ride fees, and non-owners aircraft insurance. The program is supported by more than 150 EAA chapters, and expected to fund nearly 160 scholars in 2022.
In 2023, EAA Chapter 857 will choose and support one scholar, between the ages of 16 and 19, in the form of funding and mentorship to help him or her earn their pilot certificate. If you are interested please download and save the application form linked below, fill it out and return it to EAA Chapter 857 as directed in the form.
EAA 857 2023 Ray Aviation Scholarship Application FORM. Deadline for submittal to EAA 857 is February 1, 2023.
---
EAA 857 2022 Ray Aviation Scholarship Recipient Named
Naomi Wigley has been awarded the 2022 Ray Aviation Scholarship. The Board of Directors and members of EAA Chapter 857 welcomed and congratulated Naomi on her award at our August 16th chapter meeting. Naomi will use the scholarship funds to complete her training for a Private Pilots Certificate having soloed and passed the FAA written exam. In the photo below Naomi (at center) is joined by members of the EAA 857 Board, her Instructor and a close friend at the award meeting.