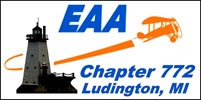 Whether you fly, build, restore or simply enjoy airplanes and aviation, you are welcome to attend our events and join our Chapter.
Meetings are held on the first Saturday of each month, at 10:00 AM. Location is the Mason County Airport conference room, at 5300 W. US 10, Ludington, MI 49431. Look for the T-38 by the road.
The KLDM airport office may be contacted during attended hours at 231-843-2049.
Operating hours and fuel info is here: Mason County Airport info
For our AWOS information, click here: KLDM AWOS info from Anyawos.com
More KLDM info can be found here: KLDM info fron Airnav.com
We are a group of pilots, aircraft builders, and aviation enthusiasts, who get together with like minded people to share ideas, exchange information, encourage safety, serve the local aviation community and have a lot of fun doing so. Please come to our next meeting or event as our guest.