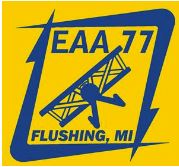 Chapter 77 has a very prestigious award in the name of Howard Warren.
Howard was an avid aircraft builder. He built three of his own "homebuilt" airplanes; and with another member, Ed Pruit, rebuilt Father John's Taylor Craft which Father John eventually gave to our E.A.A. Chapter. It was the founding aircraft of our current Father John Flying Club. Howard was a great enthusiast for our Chapter. He supported every project we initiated. He made a great effort to welcome new members and developed a program to be sure each new face in the Club was welcome at subsequent meetings.
He lost his life in the crash of his "homebuilt" glider. In memory and recognition of Howard, Chapter 77 established the Howard Warren Award, which each year recognizes a Club member who Club members select as making a major contribution to the Club. Efforts such as: assistants to "homebuilt" projects, work in the Club House, leadership in projects involving the hangar, meeting room or Dawn Patrol are considered, as well as achievements in other aviation endeavors, provide the basis for awardee selection.