Ralph O. Helgeby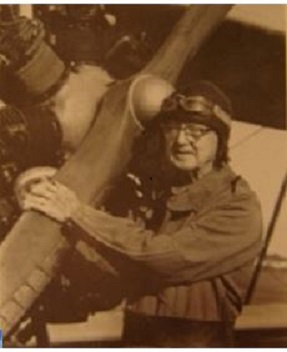 During WWI Norway was trying to stay out of the war but was building it's defenses to face whatever might come. In 1916 Helgeby had just graduated from a technical college when he noticed an announcement that Norway's Army Flying Corps was going to start a school for military pilots. Helgeby was one of 40 recruits - out of 400 applicants - to be chosen for the Royal Norwegian Air Force. There was one basic rule; flights were only allowed when there was no wind; the windsock had to be hanging straight down. The pilots would sometimes cheat by hanging a stone on the sock to make sure it was hanging down. His first flight was from a Norwegian air base at 10:05 AM on July 7, 1916; it was over in four minutes. His original pilot's license was dated 6 Oct. 1916 and was #34, meaning he was the 34th person in Norwegian history to be granted a pilots license, two years before he got his driver's license. On June 18, 1917 a 19-year-old Helgeby was flying a Farman Shorthorn over a fog-filled Norwegian valley with a passenger. Running low on fuel he had to guide the plane to a clearing in the forest. When he was getting close to the ground he stuck a power line and crashed to the ground into an anthill. With the rear mounted engine it's remarkable they weren't killed (a photo of the crashed plane, Helgeby and four other men is included in the article). He and his fellow pilots trained in aircraft that had only a rifle tied to the fuselage as armament. They also practiced throwing bombs out of the open cockpit. They would often be concerned about encountering Manfred Von Richthofen (The Red Baron) and the other German aviators as "they would have made short work of us." Helgeby never did sight an enemy aircraft in all of the Great War.
He was the second pilot ever to land at the airport at the city of Trondheim. He was the first to fly the 350 miles over mountains from Trondheim to the Norwegian capital, Oslo in a B.E.2E (British Experimental). In 1941 he was one of the first local pilots to join the United States Civil Air Patrol (CAP). In 1952 he again landed at Trondheim in a US military aircraft as an American Major in the CAP on a mission that is largely credited with establishing the Norwegian CAP.

Helgeby left Norway and joined the engineering department at AC Spark Plug Division in Flint in 1925. During his 38 years at AC he developed as many patents from his ideas for General Motors. He is credited with the horizontal red line speed indicator on speedometers introduced on some 1954 Buicks and which were used on GM cars for a number of years.

He had one son, Ralph Jr., who was an engineer in the aviation industry in Seattle and worked on the Super Sonic Transport. The two Helgeby daughters, Catherine and Clara, both died relatively young after having families of their own. There were seven grandchildren at the time of the Journal article.

He flew a 1930 Fleet open cockpit biplane which looked much like a WWI fighter. The Fleet was built April 15, 1930 as model #1, NS 213 and carried registration number N638M. The plane was used as a Fleet Factory Service Demo and had a 7-cylinder radial engine. In 1931 he joined the late Flint dentist Dr. B.F. Miller Jr. in ownership of the Fleet which he bought outright three years later and would then own for a total of more than 45 years. Originally it was stored in the Butler hangers on Corunna Road in Flint Township where the Westside Drive-in Theater would later stand. In 1934 the plane and hanger were moved to an airport near the site of – what used to be – the Fisher Body Grand Blanc Metal Fabricating Plant. In 1942, shortly after the US entered WWII, national security regulations required that all aircraft be placed under 24-hour guard to prevent the potential of someone stealing a local aircraft and using it to bomb local factories that were making war armaments. Since there was no guard at the Grand Blanc airport he once again moved the plane and hanger to the well-guarded Bishop Airport. He would pull the plane from his hanger by hand and take off from the Grass at Bishop Airport – the only pilot permitted to do so. Sometimes his wife would accompany him in the front cockpit where she often co-piloted for him and more than once made forced landings in farm fields. This was a common occurrence; on one of his more notable flights he made three such landings. He sold the Fleet in 1977 to Geoffrey Geisz; not so much because of age, rather because of a hernia which prevented him from opening the heavy hanger door. Geoff flew the plane around Flint until 1987 when he sold it to an individual in North Carolina.

In 1965, Helgeby was one of six Michigan aviation pioneers honored at the state premier of the movie "Those Magnificent Men and Their Flying Machines" in Detroit. He could identify with that film and others such as "The Blue Max" and "The Great Waldo Pepper." He never barnstormed but Helgeby accumulated trophies in Flint and Midwestern competitions that show he know his aerobatics. Helgeby was one of few 80-year-olds licensed to fly in the state of Michigan. After selling the Fleet he flew his Piper Tri-Pacer, which he kept in a hanger with an electric door opener. As of the date of the Journal article he had accumulated 3,050 flight hours.

Mr. Helgeby passed away on June 11, 1983. EAA Chapter 77 located at Dalton Airport was officially named the Ralph O. Helgeby Chapter 77 of Greater Flint Michigan in August of 1983 in honor of this aviation legend.

As an aside, Ralph Helgeby's father was sometimes professor and sometimes superintendent of the Agricultural University of Norway. His brother was Norway's ambassador to the Soviet Union in the 1950's.