We would like to thank all pilots and volunteers for another very successful Young Eagles Rally. We flew 108 Young Eagles, of that 71 were first timers.

We had many new volunteers and one new pilot. We also collected $119 in donations for our program.

History was made when a SpaceX Falcon rocket was launched during our event. I will be posting a short video of this from one of our airplanes on our eaa724.org website in a few days.

Please see stats below: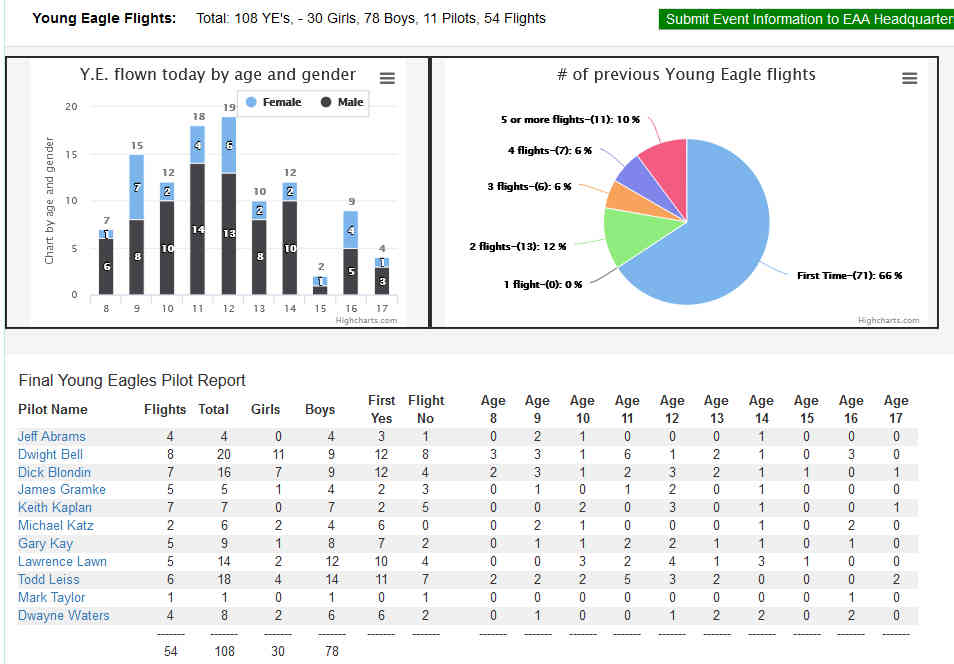 We also put out a press release for this event.
Local pilots treat 108 kids to free plane rides
Saturday, October 24th, was a great day for flying. Eleven pilots readied their planes and two helicopters at Merritt Island Airport and gave a free plane ride to 108 kids between eight & seventeen. It was hard to tell who had more fun – the kids or the pilots. After the flight, each kid was given a certificate officially making him/her a Young Eagle. The Young Eagles also were given a Log Book and were shown how to record this flight and future flights in it.
Former Young Eagle, Hannah Clark, returned to the airport, to help the new Young Eagles have a memorable day. Hannah became a Young Eagle in 2012. Then she went on to take flying lessons and earned her Private Pilot license. After she graduated from High School, she enlisted in the Air Force.
Not all the Young Eagles will be this captured by flying, but many are. Every Young Eagle comes back to earth with a huge smile on his/her face. Many of them talk about this experience for days after and come back to do it again and again at our future Young Eagles Rallies.
The Young Eagles program is world wide and is sponsored by the Experimental Aircraft Association. Since 1992 more than 2 million kids have been introduced to flying. These flights are made possible through the generosity of EAA member volunteers who donate their time and their planes.
History was made when a SpaceX Falcon rocket was launched during our event. A few of the Young Eagles were lucky enough to be in the air and see the launch from the plane. One even got a video on his phone.
The next Young Eagles Rally at Merritt Island Airport is scheduled for January 23, 2021.