EAA Chapter 724 Mission Statement - Merritt Island, FL
To share our passion for aviation through promoting education, building, restoring or maintaining aircraft, fun social activities, entertainment, family involvement and philanthropic activities.
Sept. 9, 2020 - Here is the on-line presentation by Scott Henderson. He talked about the "Blue Origin"at Cape Canaveral, Florida.
https://youtu.be/a5ienG71YUw
Our next meeting is Saturday August 29, 2020 at Merritt Island, Fl and our guest speaker is Dr Leo Murphy :
The Board of Directors of EAA Chapter 724 has agreed to hold an August gathering in a hanger (Row T-7 Unit A) at the Merritt Island airport. The hanger is located on the south side of the airport. Entry through the fence can be made at Space Coast Aviation (South side FBO) then walk in front of the FBO and across the newly paved ramp to hangar Row T-7, Unit A is on the south end of the hangar row. The gathering will be on Saturday August 29, 2020 starting promptly at 09:00 hours. We'll have Coffee & Donuts ( donation of course accepted).
A short briefing regarding the ongoing maintenance/renovation of our chapter building and the acquisition of an airplane project donated to the chapter as a fund raising project will be covered, then it's entertainment time.
Our guest speaker, Dr Leo Murphy from Embry-Riddle Aeronautical University, will then have an interesting presentation. See below.
Seating will be provided but for more comfort please bring your favorite lawn chair, remember to maintain social distancing

When the Red Baron, Manfred Von Richthofen, was fatally wounded on April 21, 1918 in his brightly painted red Fokker triplane, he was only twenty-five years old and the most successful ace of World War I. He had shot down 80 Allied airmen, a total that remained the highest number of air victories of the war. Dr Murphy will discuss the life, service and death of Richthofen, as well as providing a broad overview of the history of aviation during World War I.
Stay tuned for additional information about this meeting. Hopefully we will be in our meeting building at Merritt Island Airport.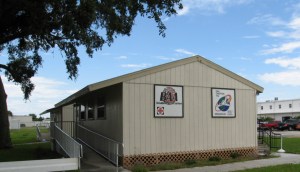 Welcome to our Chapter
Whether you fly, build, restore or simply enjoy airplanes and aviation, you are welcome to attend our events and join our chapter. We are a group of aviation enthusiasts, aircraft builders, and pilots who get together with like minded people to share ideas, exchange information, encourage safety, serve the local aviation community and have a lot of fun doing so. Please come to our next meeting or event as our guest.
For more information on our chapter, please contact our president via the contact information provided in the sidebar.
Our chapter is part of the worldwide network of EAA chapters. EAA embodies the spirit of aviation through the world's most engaged community of aviation enthusiasts. EAA's 170,000 plus members enjoy the fun and camaraderie of sharing their passion for flying, building and restoring recreational aircraft. To find out more about EAA and our programs and services, please visit our home page at EAA.org.