You can click here for the EAA calendar to see what's going on around the country.....it's amazing
9/18/2021
To everyone that attended the EAA event at 1O5 Montague airport to celebrate with Chris and Robin Tyhurst, thank you for coming out on a rainy day, (yes I said rainy day) to wish both of them the best on a new chapter of their life in Idaho.
As many of you know Chris and Robin will be relocating to be closer to their daughter, son-in-law and grandkids. We wish them the best on their travels and new adventure in life. Chris has found a hangar for his aircraft and is no doubt looking forward to flying in new territory, while Robin will be enjoying times with the kids.
And of course, thank you to both Chris and Robin for their many years of dedication to EAA chapter 654 and aviation in general. You will be truly missed.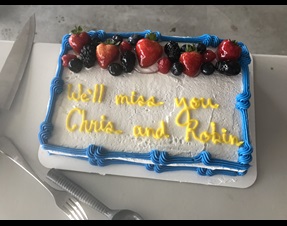 Also a special thanks to the Kepford's for letting the group use their hangar for the event...to get out of the rain, yes I said it again..