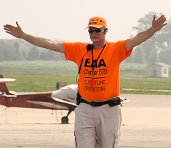 Who are the people wearing the orange shirts?
Flight Line Operations. They are EAA volunteers responsible for keeping everything running smoothly and ensuring everyone remains safe once the Young Eagles enter the aircraft movement area.
Can I go to the plane with my child to take pictures?
To promote safety, we ask that all parents stay on the outside of the fence. We have photographers who will take a picture of your child with the plane and pilot. These pictures will be provided to the Young Eagle following the flight.
Can I take picture from outside of the fence?
Yes, please feel free to take as many pictures as you would like.
Can I ask the Flight Line Operations team questions?
Yes. Their first job is to ensure safe operation in the aircraft movement area, but if someone is not busy, they are usually happy to answer any questions you may have.