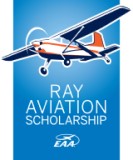 Through the generous support of the Ray Foundation, EAA provides up to $10,000 to deserving youths for their flight training expenses, totaling nearly $1,200,000 in scholarships annually. Scholars are between the ages of 16 and 19.
The program is supported by more than 100 EAA chapters and supports close to 120 scholars.
Each Chapter is limited to sponsoring one Ray Scholar at a time and we currently have a scholar going through the program and unfortunately, we are unable to sponsor an additional scholar at this time.
Tad Pierski is our third Ray Aviation Scholarship recipient.
Tad has been a regular at our Young Eagle Rallies as both a Young Eagle and a volunteer.
Mike Bear has had the pleasure of flying with him and we know he is going to make an outstanding pilot.
EAA 579's First Ray Scholar! 579's Second Ray Scholar!
Congratulations Kyle Johnson! Congratulations Sara Schofield!
Check ride Aug. 14, 2019 Check ride April 16, 2021