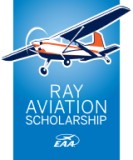 Through the generous support of the Ray Foundation, EAA provides up to $10,000 to deserving youths for their flight training expenses, totaling nearly $1,200,000 in scholarships annually. The program is supported by more than 100 EAA chapters and supports close to 120 scholars.
Each year, our chapter supports one scholar in the form of funding and mentorship to help him or her earn their pilot certificate. EAA Chapter 5 has selected 16-year-old Jeremy Byler, from Bristol High School in Bristolville, to be their 2020 Ray Aviation Scholar and recipient.
Jeremy showed interest in aviation several years ago, while hanging around the Geauga County Airport in Middlefield, Ohio and taking a Young Eagles Flight. He has also flown with several chapter members in their airplanes and helped with several of the chapter events including Community Pancake Breakfasts, Pedal Plane rides for the little ones, Summer Youth Aviation Camp for Middle School students and the Flying Start Event for adults who want to learn to fly. "Jeremy was selected by the chapter for the Ray Aviation Scholarship based on his motivation in learning to be a pilot and his involvement with Chapter 5," says Ray Aviation Scholarship Chairman Tim Niederkorn.
On the 4th of July, Jeremy and his father met with Niederkorn and Al Kettunen, flight instructor for Kettunen Aeronautical INC at the Germack Airport in Geneva, Ohio to begin the process. A plan of regularly scheduled flight lessons was established, and Jeremy began hislessons early the following Wednesday morning. Now that school has started, Jeremy takes his lessons after school, three times a week, weather permitting. As part of practicing basic skills, Jeremy is working on turns, climbs & descents, stalls, take-offs & landings, ground reference maneuvers and communications in the Cessna 172 airplane. When his instructor feels that he is ready, Jeremy will prepare to solo and take the controls alone, for the first time.
The Ray Aviation Scholarship Fund is a scholarship program that is supported by the Ray Foundation, managed by EAA, and administered through the EAA Chapter network. The EAA chapter will play a critical role to ensure the Ray Aviation Scholarship recipient is staying on track to earn his pilot certificate.
| | | |
| --- | --- | --- |
| | | |
| L to R: Tim Connor (EAA Chapter 5 President), Tim Niederkorn (Ray Aviation Scholarship Chair), Jeremy Byler (Ray Aviation Scholar), Alan Kettunen (Flight Instructor) & Chester Byler (Father of Jeremy) pose with one of the airplanes at Germack Airport. | Jeremy Byler (age 16) from Bristolville, Ohio explores the facilities at Germack Airport. Jeremy is the EAA Chapter 5 recipient of $10,000 from the EAA Ray Aviation Scholarship Program to help with his flight training expenses. | Ray Aviation Scholarship Recipient, Jeremy Byler, checks the oil in the airplane, as part of his pre-flight procedure for his flight lesson. |
Article and photos submitted by Sherry Niederkorn