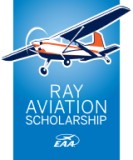 Through the generous support of the Ray Foundation, EAA provides up to $10,000 to deserving youths for their flight training expenses, totaling nearly $1,200,000 in scholarships annually. The program is supported by more than 100 EAA chapters and supports close to 120 scholars.
Our chapter supports one scholar in the form of funding and mentorship to help him or her earn their pilot certificate. EAA Chapter 5 selects their candidate based on their desire to become a pilot, participation in chapter events and parental support of the candidate among other upstanding character qualities. Any interested students should make their presence known and demonstrate the desire to learn to fly as soon as possible.
The Ray Aviation Scholarship Fund is a scholarship program that is supported by the Ray Foundation, managed by EAA, and administered through the EAA Chapter network. The EAA chapter will play a critical role to ensure the Ray Aviation Scholarship recipient is staying on track to earn his or her pilot certificate.