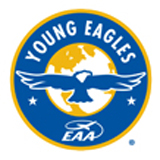 Founded in 1992, the Young Eagles program is dedicated to giving youth ages 8–17, an opportunity to go flying in a general aviation airplane. These flights are offered free of charge and are made possible through the generosity of EAA member volunteers.
It's the only program of its kind, with the sole mission to introduce and inspire kids in the world of aviation.
Today, the Young Eagles program has flown over 2 million kids.
For more information from EAA headquarters about the Young Eagles program, visit www.youngeagles.org
Upcoming Events
All the remaining Young Eagle events are cancelled for 2020 due to Covid. Please check back after January for the sign up for 2021.
The Aviation Badge Workshop presentation includes all qualifications for Boy Scout Aviation Merit Badge, American Heritage Girls Aviation Badge and Junior through Senior Aviation Badge.
NOTE: Schedule subject to change due to weather or other unforeseeable events.
Is there a cost for the Young Eagles flights?
No, there is no cost for the Young Eagle flights. The pilots and ground crew volunteer their time and cost to give your children a flight that we hope will inspire them to fall in love with aviation.
Do I need to schedule a time for the flights?
No, flights are first come, first fly, weather permitting. Parents or legal guardians will need to sign a Young Eagle Registration form available the morning of the event. If you are not able to attend, download a digital copy of the Young Eagle Registration here. Please note that the two pages MUST be printed back-on-front as one page. Forms that are printed on two pages will not be accepted. If you wish a paper copy of the registration form, please email youngeagles@eaa32.org. Please allow up to one week for delivery.
What happens during the flight?
A Young Eagles Ground Crew and pilot will escort you child (and you) to the airplane for a pre-flight inspection. Young Eagles are encouraged to ask questions about the aircraft. Parents will be escorted back behind the fence while the Ground Crew help the Young Eagle into the plane. The flight will last 20-30 minutes. Again, the Young Eagle is encourage to ask questions of the pilot. Once the plane lands, your Ground Crew will escort you back out to the plane. Feel free to take pictures of your Young Eagle and pilot.
What can my child do to continue his/her interest in aviation?
Once your child has flown, he/she will receive an EAA Student Membership, access to the Sporty's Learn to Fly ground school course, first flight lesson for free, access to flight training scholarships and more. Visit the EAA Flight Plan for more information.
Can my child fly more than once?
We limit each Young Eagle to one flight per day so every child gets a flight. Your child is welcome to come to another event to fly again.
Can adults fly too?
The Young Eagle flights are for kids ages 8-17 only. If time and pilots permit, you may fly as an Eagle, the adult equivalent. Ask the Young Eagle coordinator for more information.
What happens if it rains?
Follow this web page for weather updates. If we have to cancel an event, we will post that by Friday at 4pm before the event. It is possible that flights may be cancelled at the last minute due to a change in weather. High wind and fog are usually the two weather conditions that will cancel the flights on the day of the event.
Is there a restaurant or food available at the airport?
There is no restaurant at the airport and we are about 12 miles from the nearest restaurant. Because of that, we do offer grilled hot dogs, hamburgers, brats, soda, and chips for a small cost. You are also welcome to bring your own snacks or lunch if you wish.
Contact Us
For more information, contact us at youngeagles@eaa32.org.