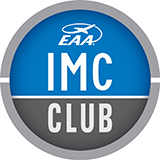 Chapter 32 sponsors an IMC Club for our members and anyone in the St. Louis metroplex area who is interested in improving their flying in instrument conditions.
The IMC Club's purpose is to promote instrument flying learning, proficiency, and safety. The intent of the club is to create a community of pilots willing to share experience, provide recognition, foster communications, promote safety, and build proficiency in instrument flying.
The IMC Club monthly programming follows the scenario based training model. We utilize video materials developed and produced by EAA as well as supplementing with other commercial programs that present real world flying scenarios. Actual scenarios and options are presented and is followed by a group 'what would you do' discussion – so audience participation is encouraged and insightful. Since everyone has a different experience level and different airplane capabilities, we all benefit from the discussion. Most scenarios also have an expert panel round table as a wrap up discussion.
To see our schedule and join our mailing list please go to www.stlaviationmeetup.org. We send out the question of the month as well as the situation for each month's scenario we will be presenting & discussing. We look forward to seeing you there.
EAA 32
Meetings: Monthly | Every 1st | Tuesday | 6:30 PM
Location: Creve Coeur Airport (1H0) – FBO Lobby
Address: 14301 Creve Coeur Airport Road, Maryland Heights MO 63146
Map Link: Click Here
Sign up here: www.stlaviationmeetup.org