---
EAA 32 Newsletter
President's Corner By Bill Doherty
Antique Fly-IN
August Meeting Minutes
Learning as We Go - "30 Years of EAA32 Young Eagles" by mr. bill
Aviation Explorer Post 9032 Activities as of September 12, 2022 - Update
Join Aviation Explorers
EAA Chapter 32 Banquet & Wilbur Wright Presentation to be held during the evening, on December 10, 2022
September 10 Young Eagles Rally Summary
Meet Ron Burnett…EAA Chapter 32's Aircraft Dealer of the Year for 2022
For Sale
Go to the September 2022 Newsletter
---
Next meeting
EAA Chapter 32 General Meeting: Saturday, October 15, 2022, 10am

Meeting Time: 10am
Location: Aviation Resource Center
6410 Grafton Ferry Road
Portage des Sioux, MO 63373
Follow this Map to: St. Charles County Airport / Smartt Field (KSET)

---
Young Eagles Rally

Young Eagles: October 8, 2022

Safety Briefing: 8:30am
Registration: 9am - Noon
Please join us October 8, 2022 for our next event. LOCATION CHANGE: We will be at Creve Coeur Airport, not Smartt Field for the October Young Eagles. See the map for directions: https://goo.gl/maps/FPcJ5Roppxh6JYJY8
All flights are determined by the weather conditions and availability of pilots. You may sign up at https://youngeaglesday.org/. Registration forms are also available the morning of the Rally. A parent or legal guardian must sign the form before the child can fly. If a parent or legal guardian is not able to attend, please sign up on line.
For more information, click on the Young Eagles link in the menu.
Please note: If you sign up online, you will be signing up for a time slot. Please arrive as early as you can to 9am. Flights are still first, come, first fly. This is due to many factors out of our control such as weather, pilot availability, etc. Smartt field is located about a mile from the Mississippi river so sometimes we have to delay flights do to fog. In the summer, the air can get bumpy later in the morning because of heat and we may have to close early. If the winds pick up, we may have to cancel flights. We really want your kids to fly, so even if you sign up for a late morning time slot, please come as close to 9am as you can so we can get the flight in.
---
Aviation Badge Workshop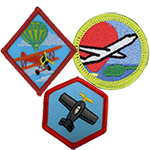 Aviation Badge Workshop: October 8, 2022
Please join us October 8, 2022 for our next event. LOCATION CHANGE: We will be at Creve Coeur Airport, not Smartt Field for the October Aviation Badge Workshop. See the map for directions: https://goo.gl/maps/FPcJ5Roppxh6JYJY8

The Aviation Badge Workshop begins at 9am and concludes about Noon. Seating is only available for the Scouts due to space limitations. There will be hot dogs, hamburgers, chips, and soda but feel free to bring your own food if you wish. Water is encouraged as it is usually warm in our corner.
For more information and to sign up, visit the Aviation Badge Workshop page.
If you have any questions, please contact youngeagles@eaa32.org.
Young Eagles and Aviation Badge Workshop are two separate programs offer at the same time, same place. If your child wishes to fly as a Young Eagle, you may register them at
https://youngeaglesday.org/
. Make sure you select "Creve Coeur AP."