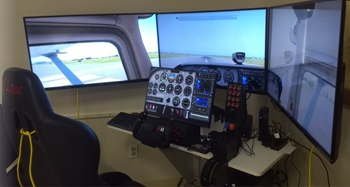 Welcome to the home page for our EAA Chapter 237 Flight Simulator program. The flight simulator at the chapter building is available for use by current chapter members after receiving an initial (level 1) orientation. Below you will find more details about our simulator including a system overview, information about our multi-level orientation/training program, reference materials, maintenance documents, helpful videos, and frequently asked questions.
Frequently Asked Questions (FAQ's)
If you are interested in the flight simulator please send an email to: flight-sim@eaa237.org (see question #3 on the FAQ's page).