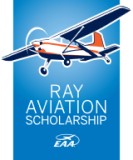 EAA Chapter 237 Ray Aviation Scholarship Program Information

The chapter is applying for a Ray Scholarship for 2023. EAA generally awards the scholarships to the chapters in February for a given year. Chapter 237 is now accepting applications from young men and women for a 2023 scholarship. The deadline to submit your application is Tuesday, February 28. You will find the link to the application form at the bottom of this page.

We have had excellent candidates for the first four years of the Ray Aviation Scholarship Program. As a result, we have some specific things we are looking for in anyone applying for a scholarship. It's understandable that many young people would love to be awarded a $10,000 scholarship to learn how to fly. However we are looking for candidates who have begun to build their knowledge base in aviation through a number of available programs and resources. The following is a list of potential things that an applicant can do to improve your chances of being selected by Chapter 237 for a Ray Aviation Scholarship.

1. Join the EAA. It's free to students through your participation in the Young Eagles program. EAA offers all kinds of free educational programs for members on their website. For details click on the following link then select the Student Membership tab. EAA Membership

2. Join EAA Chapter 237, located at the Anoka County Airport. The chapter has lots of programs to increase your knowledge and it will give the chapter members a chance to get to know you. For details about our next chapter meeting see the Chapter Events page

3. Go through the free Sporty's Pilot Shop Private Pilot ground school, which is available to any participant in the Young Eagle Program. This program is internet based. It is constantly updated with any changes to the information required by the FAA for a private pilot license. This program covers every knowledge item you need to know to pass the private pilot written test. After completing the program and taking the practice tests, you get an authorization to take the private pilot written test. Additionally, the program covers all of the in flight maneuvers you will learn, when you begin your flight lessons. This is done with instructor discussions and in flight videos of the maneuvers being flown. This program will give you a big head start towards learning to fly. More Info Here

4. Join EAA Chapter 237's Aviation Explorer Program. Aviation Career Exploring is a hands-on program open to young men and women from ages 14 through 20, with an interest in learning more about careers in the field of aviation. The group meets twice a month at the chapter hangar. For the latest meeting information please email or call our advisor: Mike Miller at: millerm2512@comcast.net or 763-267-8729. More Info Here

5. Join a Flight Simulator Club. The chapter has an excellent computer-based flight simulator, with a three screen visual display system. This simulator can be used to begin learning to fly and practicing flight maneuvers. More Info Here

6. Join a local Civil Air Patrol Squadron. The Civil Air Patrol promotes aviation and related fields through aerospace/STEM education and helps shape future leaders through the CAP's cadet program. There are six units in the Twin Cities, with one located at the Anoka County Airport. More Info Here

7. If you live north of the Twin Cities, you might want to join the Flight Expo Inc. program, located in Princeton. It's Build-a-Plane program is in its sixth year and currently is working on planes such as Tsunami, an unlimited Reno race plane, a Cessna 172 and a Piper Colt. The Cessna 172 and Piper Colt are being be brought back to flying condition. The goal of the program is to create an opportunity for youth to get involved in aviation by providing hands on experience with real aircraft. Flight Expo also has a flying club for program participants. They currently have a Cessna 150, that members can use for flight training, at a very low cost. They also plan to use the Piper Colt and Cessna 172 in the flying club when they are completed. More Info Here

8. Participate in a EAA Air Academy or EAA Air Venture Program. These programs take place at the facilities at EAA Headquarters in Oshkosh, Wisconsin. Our chapter gets points for every Young Eagle flight we give during the year. We use those points to send young men and women every summer to these programs. For more details go to EAA.org and look under Youth and Adult programs. Being a member of the chapter will increase your chances of being selected for one of these programs next summer. More Info Here

Taking advantage of some of these programs or any other aviation program will help your chances of being selected for a Ray Aviation Scholarship. If you are interested in applying for a 2023 scholarship, use the link to the application form below to apply. Scholarships are awarded to the recipient by the chapter, not by EAA headquarters.
Click here to view the application form. See instructions on the form.
For more information about Scholar Eligibility and Requirements, please visit EAA's Ray Aviation Scholarship Program website.