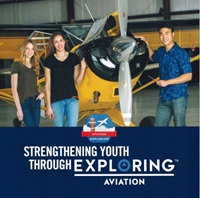 Aviation Career Exploring is a hands-on program open to young men and women from ages 14 through 20 with an interest in learning more about careers in the field of Aviation. We meet twice a month. For the latest meeting information please email or call our advisor: Mike Miller at: millerm2512@comcast.net or 763-267-8729.
THE MOST POPULAR AVIATION CAREERS INCLUDE
Pilots
Aircraft mechanics
Aerospace engineers
Airport management and operations
Unmanned aerial vehicle operators
Avionics technicians
Air traffic controllers
Flight attendants
(More content to be added here).