Bob Cooper 1928 to 12/29/2019
On December 29, 2019 EAA Chapter 216 lost our founder and inspirational leader. A kind and gentle man. A man of God. He always greeted you with a smile and offered words of encouragement or advice.
You could always find Bob up near the front on meeting nights. He would interject the name of a forgotten old-timer, an old airport or even some of the current ones when needed. He was always doing for the members, writing the weekly events email, columns for the newsletter and purchasing in bulk EAA calendars for the new year. Even as he got up in age he was at every meeting and Chapter event. Always helping in anyway he could. Who could forget Bob showing up at a meeting with a bushel basket of tomatoes or apples.
Bob Cooper loved flying all his life. He started flying lessons in June 1945 between his junior and senior year of high school. He received his private pilot ticket on September 4, 1946. Join the EAA in 1959. Formed EAA Chapter 216 in November 1964 with Bob Richards with 10 members.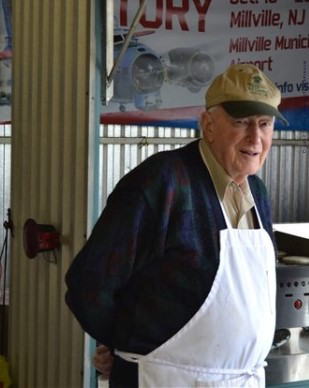 Bob's first airplane was an Aeronca L-3 (058B) which required some rebuild. After this rebuild he took on the task to rebuild an Aeronca 7-AC, Rearwin, and a 1939 Aeronca Chief. The later purchased from local Cross Keys airport owner Al Lewis or $150.00. The Chief required a completed rebuild and FAA re-certification.
The last plane Bob owned was a Pazmany PL-4A which he purchased in Burlington, VT. Fellow member Doug MacLeod helped Bob tow the plane back to New Jersey.
Bob talked about all the different planes he got to fly over the years. There was Stits Playboy, and Bill Crippen's "TuHoler". Bob flew Al Gonserkevis Fly-Baby, Poormans Charque which he took to 15,000 ft then spun the plane in both directions. At the 1964 EAA Rockford Fly-in he flew Pete Bowers Original Fly-Baby, N500F.
Bob had about 1000 hours of Fun flying over the years. And he always said "Guy's we get too old too fast, so have fun flying now!"
Bob poured more years into EAA Chapter 216 then anyone else. It was big part of his life. And you can ask any member of Chapter 216 and they will speak highly of Bob. We loved his smile, his pleasant personality, and his laugh.
As the EAA National will say in a future issue of Sport Aviation you have "Gone West" Bob Cooper. But you will remain in our hearts and minds. Thanks so much for what you have done for us.
If you ever want to join us on meeting night. Just come to Cross Keys Airport and look for the Cooper Building on Airport drive. As Bob would always say "Keep your speed up on final."