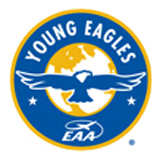 FPA/EAA Young Eagles Details
Date: Sunday, June 18th, 2023
Place: Our FPA Hangar at Fitchburg Airport
Ages: 8-17
We hold two Young Eagles events a year, usually in May and September. Check our Meetup calendar to find out when the next Young Eagles events will be scheduled. Scroll down this page to register!
The Flight Experience
Your Young Eagles® flight will last approximately 20 minutes and you will see the Fitchburg area in a new and exciting way. This is your chance to experience the freedom of flight that many people only dream about. Many people remember this experience for the rest of their lives. You will, too!

1. On the ground: Your pilot explains what will happen during the flight. You may talk about the airplane, review an aeronautical chart (or map), and complete a careful "walk-around" preflight inspection of the airplane.
2. Just before takeoff: Your pilot explains the interior of the airplane, including the operation of the aircraft door, safety belts, and instrument panel.
3. In the air: The flight lasts between 15 and 20 minutes. And, if you want, your pilot may let you take the controls!
4. Back on the ground: There's more time for you to ask questions about the flight. Your pilot is happy to tell you more about flying and their particular airplane.
Founded in 1992, the Young Eagles program is dedicated to giving youth ages 8–17, an opportunity to go flying in a general aviation airplane. These flights are offered free of charge and are made possible through the generosity of EAA member volunteers.
It's the only program of its kind, with the sole mission to introduce and inspire kids in the world of aviation.
Today, the Young Eagles program has flown over 2 million kids.
For more information from EAA headquarters about the Young Eagles program, visit www.youngeagles.org
Volunteer pilots and EAA-member ground volunteers can check eligibility here.