CORONAVIRUS ADVISORY: CHECK MEETUP FOR THE MOST CURRENT EVENT SCHEDULING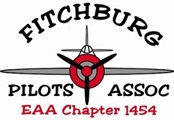 Welcome to Fitchburg Pilots Association / EAA Chapter 1454. We're based at Fitchburg Municipal Airport (KFIT) in north central Massachusetts. We're a group of aviation enthusiasts, military and civilian, from our teens to well past retirement age, male and female, professional pilots and VFR-only pleasure pilots. Among our ranks, we've flown most everything. We're aircraft builders and pilots who welcome like-minded people to share ideas, exchange information, encourage safety, serve the local aviation community and have tons of fun doing so.

Our Chapter meetings are on the second Tuesday evening of the month at our FPA Aviation Center hangar. Dinner (cookouts, etc.) is at 6 PM, followed at 7 PM by our Chapter business meeting and the month's session topic, sometimes an FAA Wings seminar. Whether you fly, build, restore or simply enjoy airplanes and aviation, you are so welcome to attend our events and join our Chapter.
---


We use Meetup for scheduling our various activities - 2nd Tuesday Chapter meetings, VMC and IMC meetings, Saturday morning CDL2 ("hangar flying") sessions, and so on. You must be an active FPA member in good standing in order to participate in our Meetup group. You can also follow our past activities on Facebook.
---
ALERT! The long-awaited self-service fuel farm project will run from late April through late June. Airport Management has issued the following advisory:
"This exciting airport construction project started on April 27th and is scheduled to be completed by June 30th. As usual - we will be operating under strict SAFETY REGULATIONS as advised by MassDOT Aeronautics and we request that everyone adhere to those guidelines. You will see there are barricades in place on the Taxiway that run in front of the FPA hangar and on Taxiway Charlie. If you need to taxi your airplane on either of those taxiways past the new construction, please contact Operations on 122.7 or call the Airport at 978-345-9580 and advise your intentions, please. We have two engineers on site who will arrange for the partial removal of the barricades while you make your transition and reposition them once you have gotten to where you need to be. We will also provide you with an escort by one of the Airport trucks with flashing lights to let the construction workers see what is going on and also to stop any truck traffic while you taxi by. Again --- SAFETY FOR ALL CONCERNED."

---
Here's a gem from the EAA Archives: "Back when I became a pilot..."
---