ALWAYS CHECK MEETUP FOR UP-TO-DATE EVENT SCHEDULING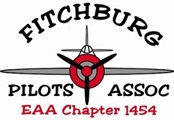 Welcome to Fitchburg Pilots Association / EAA Chapter 1454. We're based at Fitchburg Municipal Airport (KFIT) in north central Massachusetts. We're a group of aviation enthusiasts, military and civilian, from our teens to well past retirement age, male and female, professional pilots and VFR-only pleasure pilots. Among our ranks, we've flown most everything. We're aircraft builders and pilots who welcome like-minded people to share ideas, exchange information, encourage safety, serve the local aviation community and have tons of fun doing so.

Our Chapter meetings are on the second Tuesday evening of the month at our FPA Aviation Center hangar. Dinner (cookouts, etc.) is at 6 PM, followed by our Chapter business meeting and the month's session topic, sometimes an FAA Wings seminar. Whether you fly, build, restore or simply enjoy airplanes and aviation, you are welcome to attend our events and join our Chapter.
---


We use Meetup for scheduling our various activities - 2nd Tuesday Chapter meetings, VMC and IMC meetings, Saturday morning CDL2 ("hangar flying") sessions, and so on. You must be an active FPA member in good standing to participate in our Meetup group. And, follow our activities on Facebook.
---