WUHAN CORONAVIRUS ADVISORY: CHECK MEETUP FOR OUR SOCIAL EVENTS SCHEDULING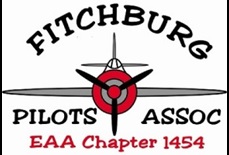 Welcome to Fitchburg Pilots Association and EAA Chapter 1454. We're based at Fitchburg Municipal Airport (KFIT) in north central Massachusetts. Whether you fly, build, restore or simply enjoy airplanes and aviation, you are welcome to attend our events and join our Chapter. We're a group of aviation enthusiasts, aircraft builders and pilots who get together with like-minded people to share ideas, exchange information, encourage safety, serve the local aviation community and have a lot of fun doing so.
Our Chapter meetings are on the second Tuesday evening of the month at our FPA Aviation Center hangar. Dinner (cookouts, etc.) is at 6PM, followed at 7PM by our Chapter business meeting and the month's topic, sometimes an FAA Wings seminar.
Keep Up With Us at Meetup and Facebook... Find out about our Meetings, Flyouts, etc.
Our Meetup website can be viewed by anyone interested in our activities. (Meetup/FPA membership is limited to current FPA/EAA 1454 members and their guests.) You're encouraged to visit anytime, get an idea of what we do and plan to attend our Chapter meetings. We also use Meetup to schedule many Chapter activities. For our fly-outs, PICs need to know and approve all passengers prior to departure.