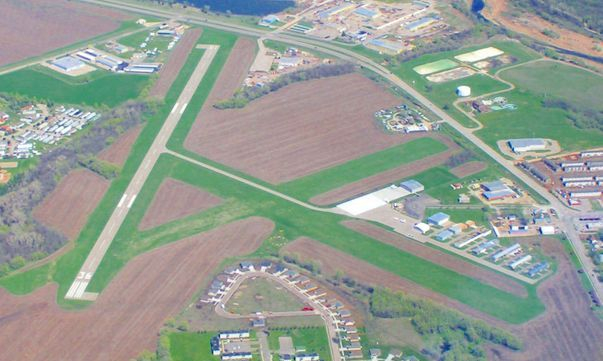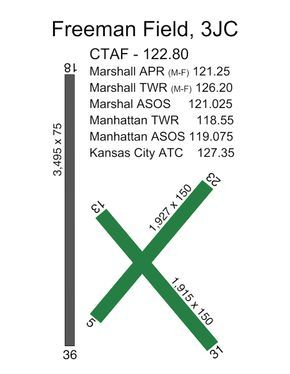 Click Here to print a kneeboard of the Arrival Information
Flying in to the Kansas Aviation Expo
BRING YOUR TIE DOWNS!
Easiest way to arrive at 3JC:
On Thursday or Friday from any direction when you get within 30 miles of 3JC just call:
MARSHAL Approach on 121.25. Available Thursday & Friday 0800 - 2200 Local
Marshall Approach can give you flight following, advise on active restricted areas, get you through MHK and FRI airspace and make your approach to 3JC easy. They are great friends of the Kansas Aviation Expo.
Freeman Field (3JC) unicom 122.8 is an uncontrolled field. All traffic patterns are left hand. Please, no straight in approaches during the Kansas Aviation Expo.
Marshall Army Air Field (FRI) Tower 126.2 ASOS 121.025 is located 4nm E of Freeman Field. Marshall Tower operates weekdays. If you are coming from the East call Marshall Approach on 121.25. If no one answers it is Saturday or Sunday. Just use the Marshall Tower frequency 126.2 as the CTAF and announce your intentions.
Manhattan tower (MHK) on 118.55 ASOS 119.075 is located 10nm NE of Freeman Field. Manhattan Tower operates 0600-2200 Local.
Don't be nervous about contacting Marshall GCA, Marshall Tower or Manhattan Tower. The staff's at these facilities are great friends of the Kansas Aviation Expo and are anxious to help you in any way.
Be aware of the restricted areas, R3602A & R3602B, located north of Freeman Field. For status of restricted areas contact Marshall GCA 121.25, Kansas City Center on 127.35 or Manhattan Tower on 118.55.
It is recommended you listen to Fort Riley ATIS, 121.025, or Manhattan ASOS, 119.075, for winds and altimeter setting.
Tune to Freeman Field on 122.8 as soon as possible and announce your intentions. Keep your head up, your eyes out and welcome to the Expo.