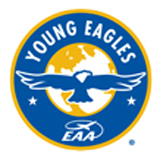 Chapter 135 actively supports the Young Eagles program. Members donate their time, aircraft and fuel to give young people between the ages of 8 and 17 a new perspective on the world in which they live, and an opportunity to have an "eagle's view" of their home, their school, and community. The Young Eagles Program, which was launched in 1992, hopes to achieve:
Encourage young people to become interested in flying.
Provide young people with an opportunity to gain new perspective on their community, their lives and the world in which they live.
Raise awareness of aviation career possibilities.
Help young people understand the knowledge necessary to become a pilot.
Respond to the concerns that the nation's pool of pilots is growing smaller because of fewer new pilot starts, and the number of pilots who are growing older.
Boys and girls between the ages of 8 and 17 are eligible. An application form for each must be signed by parent or guardian. Each Young Eagle participant will receive an official Eagle Flight Certificate, signed by the pilot, following their flight experience. Prior to the flight, they are given a tour of the plane, and how the flight controls work. During the 20 minute flight, the majority of the new Young Eagles are given a chance to actually pilot the aircraft.