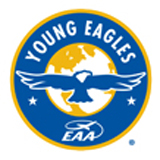 Founded in 1992, the Young Eagles program is dedicated to giving youth ages 8–17, an opportunity to go flying in a general aviation airplane. These flights are offered free of charge and are made possible through the generosity of EAA member volunteers.
It's the only program of its kind, with the sole mission to introduce and inspire kids in the world of aviation.
Today, the Young Eagles program has flown over 2 million kids.
Chapter 1345 assists EAA in providing a program for young people called "Young Eagles." The Young Eagles program is operated by volunteers and pilots who are members of EAA. The volunteers provide their own airplanes to fly Young Eagles. The intent is to share the flight experience and to inspire young people to consider aviation related careers and/or recreation choices. The first flight experience is free and includes other valuable opportunities for ground school and flight instruction.
The pilot will describe the knowledge and skills involved in flying an airplane, will show you how to fly the airplane, will sign a logbook and certificate for you. The nature of the flight depends on specific weather needs and lasts about 20 minutes. The route of flight is coordinated with other airport traffic. You can also learn different aspects of airplanes, airports, and aviation as you wait for your chance to fly or after the flight.
The first flight is the gateway to many other aviation options. You will be a student member of EAA with a subscription to "Sport Aviation." Web-based ground school is available free of charge as well as scholarships and flight assistance if the Young Eagle wants to continue to pursue aviation more seriously.
To become a "Young Eagle" you must be/do the following:
Age 8 to 17 (no exceptions).
Complete a Young Eagle Registration form (forms are available at designated locations or where the Young Eagle flights take place).
A parent or legal guardian must sign the Registration Form.
Call the Chapter 1345 area Young Eagle Coordinator for more information:
Thomas Wright 1(717)724-7139
To become a Young Eagle volunteer pilot, complete the EAA requirements at this link
For more information from EAA headquarters about the Young Eagles program, visit www.youngeagles.org
Here are some photos from Chapter 1345 Young Eagle Events