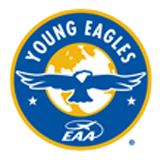 People volunteer in EAA's Young Eagles® program for a variety of reasons.
Some see it as a chance to payback the kindness of those who inspired them to pursue flying. Others enjoy the opportunity to share their interest in aviation with young people. Many simply enjoy flying.
Hard work and dedication of volunteers is the primary reason why the Young Eagles® continues to be a success in building the next generation of aviators.
More than 40,000 men and women worldwide have freely given of their time and talents to share the joy and excitement of aviation with young people.
You can join the ranks in hopes of sparking an early interest in aviation by becoming a Young Eagles volunteer pilot.
Interested in becoming a Young Eagle Pilot or Volunteer? Send us and email or message us on our Facebook!
For more information from EAA headquarters about the Young Eagles Volunteer Program, visit Young Eagles Volunteers