Young Eagles is a worldwide EAA program that introduces young people between the ages of 8 and 17 to the world of aviation and provides their first airplane ride free of charge. To date, EAA has given over 2 million flights!
Youth participating in the program receive a Young Eagles certificate and have their name entered in the World's Largest Logbook at EAA Headquarters in Oshkosh, Wisconsin. They will receive their own personal log book after their flight. Included will be a code to unlock an EAA Student Membership that includes EAA's Sport Aviation Magazine online, e-newsletter and free admission to over 300 Science and Technology Museums. Sporty's Complete Flight Training Course is available FREE to Young Eagles that wish to continue on their aviation journey. Qualifying Young Eagles receive a voucher for a Free Flight Lesson and opportunities to apply for additional flight training scholarships.
Full program details are available at: www.youngeagles.org
The next Young Eagles event will be in the spring of 2023.

Advance online registration is at: www.yeday.org
Check back often or contact us (see below).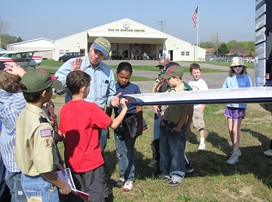 EAA Chapter 113 has already given over 2,200 flights to Young Eagles to date! We're actively seeking young people to participate in this program and would like to hear from any youth or youth organizations that would be interested in free airplane rides.
For more information, contact our Young Eagles Coordinator, Debbie. Space is limited!
Call (734) 397-3452 or email events@eaa113.org
Next Young Eagles flights are May 13th!