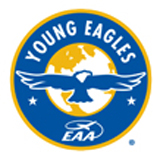 Founded in 1992, the Young Eagles program is dedicated to giving youth ages 8–17, an opportunity to go flying in a general aviation airplane. These flights are offered free of charge and are made possible through the generosity of EAA member volunteers.
It's the only program of its kind, with the sole mission to introduce and inspire kids in the world of aviation.
Today, the Young Eagles program has flown over 2 million kids.
For more information from EAA headquarters about the Young Eagles program, visit www.youngeagles.org
Chapter 351 is actively involved in EAA's Young Eagles program. Launched in 1992, the EAA Young Eagles program has provided more than 2 million free flights to young people between the ages of 8 – 17 in the hope of inspiring them to explore the world of flight. Each pilot volunteers their time and aircraft so flights may be provided free of charge for interested young people. Pilots provide information about their airplanes, allowing interested young people to discover how airplanes work and how pilots ensure safety is the prime concern before every flight. Following the flight, each young person receives a certificate making them an official Young Eagle. The Young Eagle's name is entered into the "World's Largest Logbook," which is on permanent display at the EAA Air Adventure Museum in Oshkosh, WI. The Logbook is also accessible on the web at www.youngeagles.org.
Along with flight rallies, EAA members also fly Young Eagles on an individual basis.Free airplane rides are just a part of the program for Chapter 351 members. Members hope to build relationships between pilots and young people, giving a new generation a chance to learn more about the possibilities that exist in the world of aviation.
Additional information about EAA and the EAA Young Eagles program is available on the Internet. Access to EAA's Home Page is available at www.eaa.org. The Young Eagles web page may be accessed at www.youngeagles.org.
If you would like to learn more about Chapter 351 Young Eagles activities, please contact Aubri Hanson, EAA Chapter 351 Young Eagles Coordinator, at acbarnet@hotmail.com.

This is Dale Chambers of Enterprise, Alabama who was introduced to flight on February 2, 2013. Dale is only eleven, but is already oriented toward a career in aviation. He knows it will be several years before he can get his first pilot certificate, but is willing to work toward the goal slowly and wants to begin right away. It was a perfect day for an introductory flight in a Cessna 172. His pilot was Les Brusse.
Here's yet another Young Eagle! Charlie Brock is 14 and, according to his parents, has wanted to learn to fly since he was 4. Although he cannot solo until age 16, he intends to be ready when the big day comes. To facilitate that, he began with an introductory flight at Double Bridges Aviation on the same day as his Young Eagles flight with Les Brusse on December 27, 2012. We'll keep up with Charlie as his training progresses.
Here's another Young Eagle! Sidney Brusse was visiting with her parents from Charleston, South Carolina and wanted a Young Eagles ride. Here she is shown after the flight with her Uncle Les Brusse. This was her first ride in a small airplane.
Young Eagles - LeAnne Marsh (right standing - my grand-daughter), Noah Cruit (left standing), Emily Cruit (right seated) and Natalee Branden
These youngsters and I went to Elba Airport and completed Young Eagle Flights. They are LeAnne Marsh (right standing - my grand-daughter), Noah Cruit (left standing), Emily Cruit (right seated) and Natalee Branden. I have flown LeAnne before but have not documented the flight prior to this. All reported having enjoyed their flight! One young eagle was a little apprehensive and insisted on flying last but I won't mention his name. ;-) 7-26-2012
Another Young Eagle has flown. This is Clay Tomski from Troy, Alabama who is 17 and already set to pursue a career in aviation. He plans to attend Middle Tennessee University in Murfreesboro after finishing high school in the spring of 2013. He has already attended one college level course in aviation maintenance as a dual enrollee. Clay's flight was with Les Brusse on July 20, 2012 from the Enterprise Municipal Airport (KEDN).
Another new Young Eagle! This is Sarah Mackinsie Brown who took her first Young Eaglesflight on July 10, 2012, a bright and hot summer day. Mackinsie is visiting her grandparents in DeFuniak Springs, Florida for the summer and left with them for an Alaska vacation the day after her Young Eagles flight. Now, there's an exciting vacation!
Chapter 351's latest Young Eagle Caitlyn Wildhagen receives her certificate from Young Eagles flight leader Les Brusse on Saturday, July 9, 2011. Caitlyn lives in Summerdale, Alabama but is visiting in the Wiregrass area during July. This was her first flight in a powered general aviation aircraft
Young Eagle Brett Barrett receives congratulations from pilot Les Brusse after his first flight in a light airplane on February 26, 2012. Brett is 14 and lives in Enterprise, Alabama. Congratulations, Brett from all of us in Chapter 351!
Joseph Sanders of Kinston, Alabama took his Young Eagles ride with Les Brusse on May 29, 2012 from Geneva Municipal Airport (33J). He has also started flight training at Double Bridges Aviation in Enterprise, Alabama with the immediate objective of a private pilot certificate. Joseph's uncle Jeff Voss, is sponsoring his flight training.
As far as can be determined, Joseph is the first Young Eagle flown by a Chapter 351 member to immediately begin flight training. He will, of course be using the Sporty's online flight training course. We will follow his training and keep our chapter members advised of his progress.
Here is a picture of our newest Young Eagles, Hannah and Olivia Lee. The twins took their first flight on March 24, 2012 at the Enterprise Municipal Airport (KEDN) in a Cessna 172 piloted by their grandfather, Les Brusse.

Also flying that day were Marty and Nancy Lee, the girls' parents. Nancy was promised a flight 25 years ago, but life got in the way so the promise was delayed. Finally, the promise has been made good!

The Lees live in Daphne, Alabama and were visiting in connection with their spring break.
You may remember that Joe Sanders from Kinston, Alabama took his Young Eagles ride at the end of May this year. Well, he's been taking flight lessons at Double Brildges Aviation in Enterprise, Alabama (KEDN) and recently completed his first solo flight. His instructor witnessed the flight and was able to collect a shirt tail to complete the day. Next, he'll be studying navigation and cross country flying along with night flight. We'll keep you posted on his progress.
Les Brusse