Whether you fly, build, restore or simply enjoy airplanes and aviation, you are welcome to attend our events and join our Chapter. We are a group of aviation enthusiasts, aircraft builders, and pilots who get together with like-minded people to share ideas, exchange information, encourage safety, serve the local aviation community and have a lot of fun doing so. Please come to our next meeting or event as our guest
December Meeting:
Join us for the upcoming EAA Chapter 846 Monthly Meeting on Thursday, December 9, 2021 @ 1900. The meeting will be held in the chapter's #M1 hangar at Skypark Airport (15G). Social hour begins after 1800.

December Meeting Agenda:
1. Welcome to the December meeting
2. Officer Reports
3. January Christmas Party—Yeah or Nay?
4. Selection of the New Officers and Board Members
5. Flying into IMC by Ed Pavlovich
6. Winter Ops by Chris Oehlers
7. Safety Programs by Randy Brooks
8. Project Updates

OUR DECEMBER CHAPTER MEETING AND ELECTIONS WILL BE ON THURSDAY, DECEMBER 9, 2021 @ 1900 AND HELD IN THE CHAPTER'S #M1 HANGAR AT SKYPARK AIRPORT (1G5).
AMAZON Smile Donations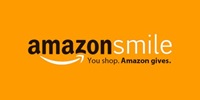 While you are doing your on-line Christmas shopping on Amazon, you can help out Chapter 846! Amazon has a charitable aspect called AmazonSmile. When you shop at Smile.Amazon.com, Amazon donates 0.5% of your eligible purchases – at no cost to you. AmazonSmile offers the same products, same low prices, and same services as the Amazon you know.
Sign in with your existing Amazon account to get started at Smile.Amazon.com. Chapter 846 has received contributions from Amazon in excess of $100 over the past few years because chapter members have designated EAA Chapter 846 as the beneficiary of their purchases.
Thank you to the chapter members who have designated the chapter
Memorial Bob and Pete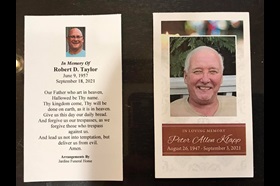 We had a Celebration of Life this morning for members Bob Taylor and Pete Klapp at the Chapter Hangar. Bob and Pete perished in separate aircraft accidents in September. The Celebration was well-attended and everyone was well-fed, compliments of Chef David Gerdeman, Greg Cantrell, and others who did the cooking. Many thanks to everyone for attending. I'm sure that Pete and Bob would have enjoyed this event. We will miss you guys and always remember you!
November Meeting
Join us for the upcoming EAA Chapter 846 Monthly Meeting on Thursday, November 11, 2021 @ 1900. The meeting will be held in the chapter's #M1 hangar at Skypark Airport (15G). Social hour begins after 1800. Randy Brooks will present on "VFR Charts - Revisited" and nominations for the 2022-2023 chapter Officers and Board Members will be held.
October Meeting
Join us for the upcoming EAA Chapter 846 Monthly Meeting on Thursday, October 14, 2021 @ 1900. The meeting will be held in the chapter's #M1 hangar at Skypark Airport (15G). Social hour begins after 1800. We will be getting an update on our Pancake Breakfast and Fly-in, a presentation by Gary Baker on "Aircraft Safety Near Helicopter Operations" and a presentation by Fred Kelly - Across the Atlantic from CLE to EINN - Ireland. We'll see you there!
OUR NOVEMBER CHAPTER MEETING WILL BE ON THURSDAY, NOVEMBER 11, 2021 @ 1900 AND HELD IN CHAPTER HANGAR #M1 (weather permitting) AT SKYPARK (15G) AIRPORT.
Remembering Bob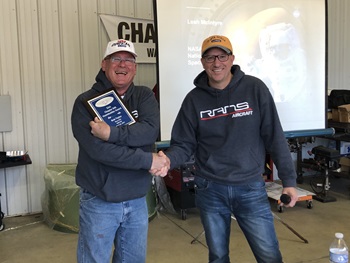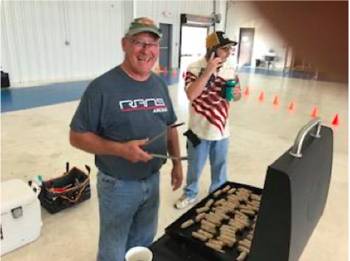 It is with a sad heart to write that our dear friend Bob Taylor was taken from us September 18, 2021. Bob was a good friend to many of us and to the chapter. He served for many years as an officer and a board member of chapter 846, joining the chapter in 2009. Bob was responsible for the chapter receiving its IRS tax-exempt status. He was an active homebuilder as he completed two experimental aircraft during the past ten years, a TigerCub and a Rans S-20. He was always willing to help the chapter during our events, as well as anyone with an aircraft maintenance problem.
Bob will be sorely missed by everyone. The chapter passed on our condolences to the family.
Nominations Being Accepted
As the year is coming to an end, so also are the two-year terms of the Chapter Officers and Board Members. We will start accepting nominations for the four Chapter Officers and three Board Member positions at the October Chapter Meeting. Self-nomination is perfectly acceptable and can be made by email to any of the chapter officers or from the floor at the meeting. We would like to have a slate of candidates to be voted on by the membership at the November Chapter Meeting.
Each member is strongly urged to help your chapter keep improving. Please throw your name in the hat. There are now one hundred members in the chapter. Each of you joined because you found something of value in the chapter. Now is your chance to add more value to the chapter!
Remembering Pete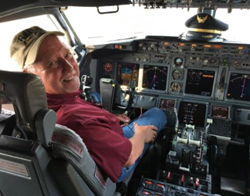 It's with a sad heart to write that our friend and chapter member Pete Klapp has been taken from us this past week. Pete was a dear friend to many of us, past vice president of chapter 846 and selected chapter MVP in 2018.
You can find Pete's obituary here.
"A Tribute" by Randy Brooks
I'll miss you, Pete.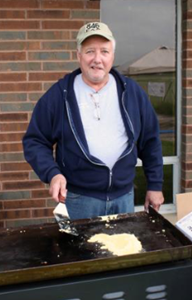 I'll miss our lunches at Buehler's. I'll miss your ever-present coffee mug—and you leaving it at my hangar on many occasions. I'll miss your expertise in construction, engineering, elec- trical work, composites—you were one smart dude. I'll miss you always being there to help if you had the time. I'll miss you helping me rib stitch the Cub wing. I'll miss you helping me sheetrock and insulate my hangar. I'll miss you saying 'Love You' every time you hung up the phone with your family. I'll miss you talking with such fondness about your kids and grand-kids—the munchkins. I'll miss our telling war stories (mostly lies) from our mutual time serving in the Air Force. I'll miss you calling me Ellwood on the phone—and me calling you Martha. I'll miss your total dedication to finishing the Falco and getting it inspected after your friend Kyle's passing.
My sincere condolences to Pete's family at this very difficult time. Our thoughts and prayers are with you. Most of all, I'll miss you my friend. Fly West--- (if you get your GPS working).
We will all miss you, Pete. We will remember you and your many contributions to the Chapter. You were always there to lend a hand or give an honest opinion. Our deepest sympathy to your family.

T
onight's Meeting
Join us for the upcoming EAA Chapter 846 Monthly Meeting on Thursday, September 9, 2021 @ 1900.
This will be another "Summer Cookout". Please bring a side dish to share! The meeting will be held in the chapter's #M1 hangar at Skypark Airport (15G). Social hour begins after 1800. There is also a Pancake Breakfast Fly-in meeting at 5:30 pm in the chapter hangar.
September Meeting Agenda:
1. Welcome all to the September meeting
2. Officer Reports
3. Presentation by Fred Kelly—Flight Around the World
4. Pancake Breakfast Fly-in September 18, 2021
5. Project Updates
6. Sharing our remembrances of Pete
It's A Plane!
Project Update: Zenith 750
by Jeremy Cowger
"On August 30th we passed our inspection and on September 3rd weather lined up for our first flight. A few were out to help with pre-flight, documentation, and technical counsel. The wind was calm. Sitting in the airplane on the end of runway 21 about to push the throttle, I was nervous, but told myself we did things right, we triple checked, the plane is ready. We were off in a little more than 300 feet and now the task at hand occupied my mind and nerves were no where to be found.

We are following the EAA Test Flight Manual, so the first flight comprised of nothing more

than a gentle climb to altitude, gentle turns, and practicing a few descents at 5,000 ft at approach speed. This all went very quickly. With calm wind and clear pattern I took the easy way out and entered a downwind for runway 3 after 40 minutes of being aloft. I'm not sure I've made such a nice landing as on that flight. The entire flight was uneventful, but very emotional. The plane now has 3 flights under its belt, slowing working through the plan as perfect weather allows. All were uneventful, successful, but not as pretty of a landing as the first, but we're pressing on anyway.

Congratulation Jeremy and the whole Cowger family!
Events Coming Soon!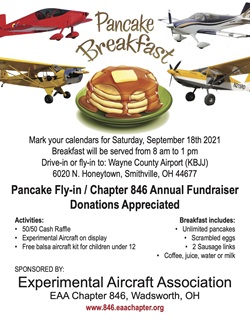 Greg Cantrell and his committee has been busy finalizing the details of this year's Fly-in and Pancake Breakfast. This year's event will be held at Wayne County Airport, (KBJJ), Sat., Sept. 18 from 8 am-1 pm. The Wayne County Commissioners and the Wayne County Airport staff have been very enthusiastic about hosting us and have committed to allowing us use of a hangar and assistance with parking, but we will still need many volunteers to make this event an success.
Volunteers can elect to work either a short shift or all day. We will need cooks, and bussers, folks to man tables and displays, and of course your gorgeous aircraft to dazzle and amaze. Please contact Greg at k4g1c5@aol.com if you can help out, or click here to sign up.
Also coming up at Burke Lakefront Airport, (BKL), is the annual Girls in Aviation Day, sponsored by the local chapter of Women in Aviation, on Sat., Sept. 25 from 9 am-12 pm. The Chapter would like to host a table distributing information about EAA and our Young Eagles program. Please contact Brian Burke, brianburkeud@hotmail.com if you can help out.
August Meeting
Join us for the upcoming EAA Chapter 846 Monthly Meeting on Thursday, August 12, 2021 @ 1900. This will be another "Summer Cookout". Please bring a side dish to share andchairs! The meeting will be held in Gary Baker's hangar at Medina Airport (1G5). Social hour begins after 1800.
We will have a full meeting with an AirVenture Report, an update from Pete Klapp and Randy Brooks on the hangar addition, information on the planning for the Pancake Breakfast Fly-in September 2021 and learning more about our member project updates.
July Meeting
Join us for the upcoming EAA Chapter 846 Monthly Meeting on Thursday, July 8, 2021 @ 1900.This will be another Summer Cookout. Please bring a side dish to share! The meeting will be held in the chapter hangar #M1 at Skypark Airport (1G5). Social hour begins after 1800. Gary Baker and Randy Brooks will be presenting flying into Oshkosh AirVenture 2021
Many Thanks to our Volunteers!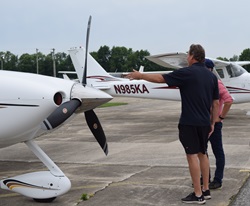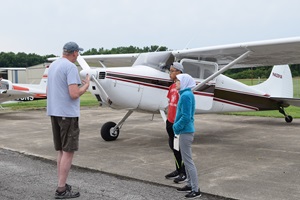 With a break in the weather and many willing volunteers, Chapter 846 flew over 50 Young Eagles in June and July. Josh Moore arranged the event in June with a local Boy Scout troop leader, and Gary Baker handled organizing the event and arranging for volunteers. It is amazing that even with short notice, our members are always willing to volunteer their time, expertise, aircraft and fuel for the chapter, for EAA and for our area youth. Then with a little more notice, a second YE event was organized by the chapter. Beautiful weather and as always, lots of volunteers, made it a success. Thank you all! Check out our photos!
We Have an Author!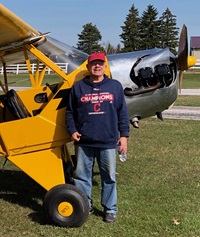 Yes, Randy Brooks is the complete package! He flies, he volunteers, he presents programs, he builds and now he writes! Check out Randy's article restoring his J-3 Cub published in the latest Sport Aviation. Congratulations, Randy!
June Chapter Meeting

Join us for the upcoming EAA Chapter 846 Monthly Meeting on Thursday, June 10, 2021 @ 1900. This will be our first "Hotdog Cookout of the Summer". Please bring a side dish to share! The meeting will be held in the chapter hangar #M1 at Skypark Airport (1G5). Social hour begins after 1800.
May Chapter Meeting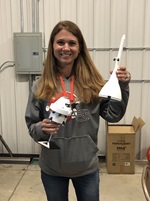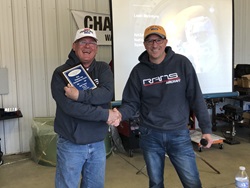 Our next Chapter

Meeting is

Thursday, May 13, 2021 @ 1900, with social time @ 1830. This will be a face-to-face meeting at our Skypark #M1 hangar!
Meeting Topics: Chapter member
Leah McIntyre will be our guest speaker presenting on NASA projects she has participated in as a NASA engineer.
Plus, we'll have a discussion on a possible Fall 2021 Fly-In, Young Eagles Flights and Chapter Hangar expansion.
First Flight of Bob Taylor's RANS-20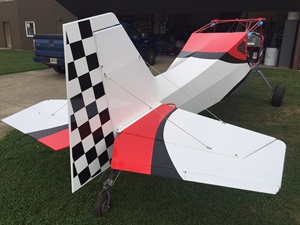 Direct from Bob, himself, "After 3-1/2 years, my Rans S-20 officially became an airplane on April 22, 2021. My favorite DAR, Matt Tomsheck, did the honors and he only found a few minor issues which have already been addressed. Thanks,Matt! And special thanks go out to Pete Klapp. Without his help I'd still be working on it!
The first flight occurred on April 26, 2021 with the assistance of Randy Brooks and Pete Klapp. All went well as far as the flight was concerned. I do have some cooling issues to address. CHT's and oil temperatures are higher than allowable. Modifications to the cowling have been made and further testing will follow shortly.
I'd like to thank all of Chapter 846 members for their ideas, help, and support throughout the building processes, especially Ron and Paul Lutz, Dave Manning, Gary Baker, Matt and Josh Tomsheck, Barry Wawrin, Paul Hancheck, and Steve Zvada. It sure is great to belong to such an active chapter full of helpful folks! Thanks to all that helped me along the way!
Congratulations, Bob! We're looking forward to seeing it at future fly-ins!
April 8, Meeting at the Chapter Hangar!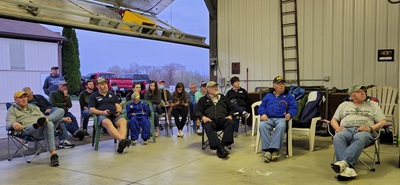 Our April meeting was held live and in person, at the Chapter Hangar at Wadsworth Skypark Airport this month! The hangar opened at 6:30 pm and we began the meeting at 7 pm. There was a special presentation to our three Ray Scholarship recipients and name tags were handed out to our new chapter members. Gary Baker gave a presentation on reviewing ForeFlight, one of the best integrated flight apps, and recent updates. An update and discussion on planned chapter hangar improvements was held. Even social distanced, it was great to meet in person again!

Just Chatting with an Astronaut
Ben Nagy and three other Ray Scholars had an amazing opportunity to talk with astronaut, Douglas "Wheels" Wheelock, in Feb, 2021. Arranged by EAA's Megan Hart, Wheels spent an hour talking about his experiences, some of the new programs on the horizon and answering questions from the Scholars. Hear the complete interview on YouTube. Congratulations, Ben!
March 11 Meeting on Zoom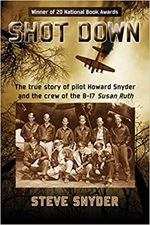 Join us for the upcoming EAA Chapter 846 Monthly Chapter ZOOM Meeting on Thursday, March 11, 2021 @ 1900. Watch for the contact information and link in the Tuesday email. We are planning to have another 'exciting' ZOOM meeting conducted by Paul Lutz. Steve Snyder, author of

Shot Down,

will present the story of his father, Howard Snyder, who was an aircraft commander of a B-17 during WWII.
Mike Guenthner will also have the Ray Scholarship applicants give a brief presentation about themselves.
Congratulations are in Order!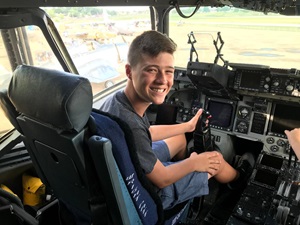 Congratulations to our newest EAA Air Academy Scholarship recipient, Case McIntyre! The Chapter will be sponsoring Case to attend the Air Academy during this summer's AirVenture. Campers are engaged through a variety of hands-on activities while staying at the EAA Air Academy Lodge in Oshkosh, Wisconsin. Experienced aviation instructors help campers delve into flight through studies, hands-on demonstrations, flight simulation, and other exciting activities. Case is a student at Strongsville High School.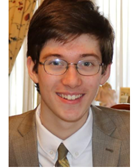 Also, our Ray Aviation Scholarship recipient, Ferenc Somogyi has switched his training to AeroTrek Flight Academy in Wadsworth due to an instructor change and will be training with the team at Wadsworth going forward. For those of you who fly out of Wadsworth, keep an eye out for Ferenc as he begins his training journey there!
Even more good news arrived last week from EAA Headquarters as we found out that we have been awarded another 50/50 matching Ray Scholarship for 2021! Thanks go out to our membership who voted last month to use our recent donation from Charlie Cartledge towards another Ray Aviation Scholarship. This means that we will have two Ray Scholars this year as Ferenc finishes up and we select another deserving youth for this prestigious award.
Wind Tunnel Project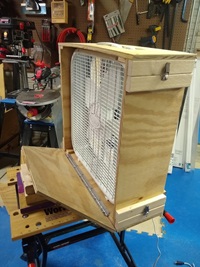 The chapter has started another project, construction of a
Wind Tunnel
. The purpose of the wind tunnel will be to demonstrate to student pilots and others the effects of air moving over a wing and generating lift.
Brian Burke is leading this project and has provided a design.
February Meeting, on Zoom
Join us for the upcoming EAA Chapter 846 Monthly Chapter ZOOM Meeting on Thursday, February 11, 2021 @ 1900. Watch for the contact information and link in the Tuesday email. We are planning to have another 'exciting' ZOOM meeting that Paul Lutz and Randy Brooks will conduct.
Our special guest will be Kerry McCauley Presenting on his Experiences of Ferrying Aircraft Across the North Atlantic.He is the subject of an AOPA Air Safety Institute Real Pilot Story: "Pressure Over the Atlantic." He has also written a book on his experiences: "Ferry Pilot: Nine Lives Over the North Atlantic." https://kerrymccauley.com/
We look forward to seeing everyone online Thursday evening at 7 pm.
Congratulations and Thank You MVP Greg Cantrell!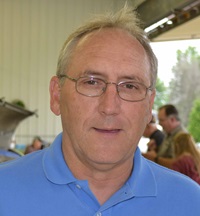 The 2019 Chapter MVP Award recipient, Jeff Paden, awarded the highly prestigious Chapter MVP Award to Greg Cantrell for 2020. Greg was surprised and greatly honored. He thanked Jeff and the chapter for choosing him for the award, as a number of chapter members were deserving of being chosen.
January Meeting, Thursday, Jan. 14 and Prize Drawing!
Join us for the another exciting EAA Chapter 846 Monthly Chapter Zoom Meeting on Thursday, Jan 14, 2021 @ 1900, conducted by Paul Lutz and Randy Brooks. New President Paul will conduct the normal business meeting to start off the festivities. After the business portion is complete, Randy will show the January 2021 EAA Chapter Video and possibly a short flying safety program (emphasis on short).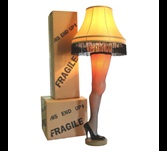 Finally, since we did not have our annual Christmas Party and we missed out on the exciting gift exchange, we are going to have a Gift Drawing of sorts. Everyone who is online for the ENTIRE meeting will receive a number and a random drawing will be held for the fabulous prizes that we have to give away this year. Don't miss this HUGE EVENT! You must be online for the entire meeting to be eligible for the drawing!
We look forward to seeing everyone online on Thursday, Jan 14, 2021 @ 1900 for the meeting.
Congratulations, Pete Klapp!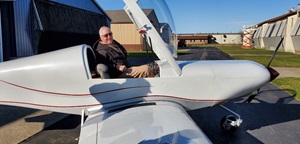 Pete Klapp flew his KR-2S for the first time on November 18, 2020. Pete reported that he did not have any problems with the flight. Well done, Pete!

December Meeting, Dec. 10, on Zoom
The December meeting will be held on Zoom. The link can be found in the newsletter and in your email. Jason Lorenzon will be making a presentation about buying and selling aircraft, covering legal documents, contracts, and recording with the FAA.
November Meeting Postponed
Due to Coronavirus concerns and the Governor's recent announcement, tonight's November 12th in-person meeting is being postponed to an online meeting, on Thursday, Nov. 19th. More information will follow. Be checking your email for more information.
Congratulations, Fred Wellman!
Congratulations to Fred Wellman for turning his aircraft project into an airplane! Chapter President and DAR, Matt Tomsheck, inspected Fred's Panther and presented Fred with an Airworthiness Certificate in September. Fred is preparing for his first flight. Congratulations, Fred!
October Meeting, Oct. 8
Fingers crossed we can get one more meeting in at the hangar this Thursday, but wear your EAA fleece as the hangar doors will be open and social distancing will be observed. Gary Baker will be reviewing the recent EAA webinar, So You Think You Can Make a 180 Back on Takeoff? An In-Depth Look at Engine Failure Option, with social time starting at 6:30 and the meeting starting at 7pm.
September Meeting

The days are getting shorter and it's cooling off so fall is just around the corner! Looking at the forecast, we should be able to meet at the chapter hangar with the door open. Our meeting is this Thursday, September 10th at 7 pm, with social time starting at 6:30 pm. However, if we do have rain to the point we can't leave the door open, we will cancel the meeting for this month. The September agenda: T-51 Mustang update, Ray Scholarship, EAA Air Academy, Chapter fly-outs, Christmas Party and the EAA monthly video.
Spirit of Aviation Week
Are you wonder how AirVenture's replacement, The Spirit of Aviation Week, went? This is a reprint of a summary from EAA:
While nothing could replace the Only-in-Oshkosh experience of AirVenture, EAA's inaugural Spirit of Aviation Week brought the flying community together like never before — virtually.
Created in the aftermath of this year's cancellation, the five-day event streamed live and on-demand content to viewers around the world.
The spectrum of flight was showcased through forums, tech talks, workshops, and interviews with industry favorites and historical icons. Participants could also explore new products and technologies through a virtual mall of exhibitors. Thank you for helping us bring together the aviation community during Spirit of Aviation Week!
On-demand videos are still available for a limited time at EAATogether.org.
B-17 at Akron/Canton Airport, Aug. 17-23
The B-17 Bomber "Sentimental Journey," one of the rarest historical military planes in the world, will be in Akron/Canton, OH on August 17-23, 2020. Come see it up close and personal, and better yet fly in it! The B-17 bomber is a heavy bomber bristling with armament. They earned a deadly reputation and were legendary for their ability to return home after taking brutal poundings. Over 12,000 of these iconic planes were built for WWII, and Sentimental Journey is one of only five still regularly flying today.
August Meeting
The next monthly meeting is Thursday, August 13, 2020 at 7 pm, social time starts at 6:30 pm.This meeting will be held at the Medina Airport (1G5) at Gary Baker's hangar. We will be observing social distancing with the hangar door open (weather permitting). The chapter will provide bottled water for the evening, but remember to bring a chair!
The topic will be the new process the FAA has implemented for applying for an Airworthiness Certificate. Matt Tomsheck will present.
Congratulations Jay and Randy!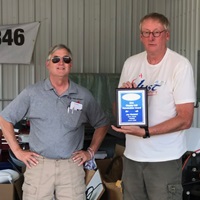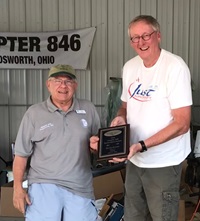 Congratulations to our newest successful homebuilders, Randy Brooks and Jay Waddell! Randy completed his Piper J-3 Cub restoration and Jay completed his RV-9A. Chapter President Matt Tomsheck presented each with a plaque to commemorate their achievements. Congratulations, gentlemen!
Left: Jay and Matt Right: Randy and Matt

Ben Nagy Selected to Talk to Astronauts
EAA has offered us the opportunity to see Ben Nagy asking the SpaceX/ISS (International Space Station) astronauts questions about their mission. Only 20 Ray Scholarship winners were selected and Ben was lucky enough to be chosen. Here is the information for any chapter member interested in viewing Ben's question and answer session.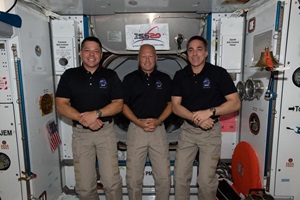 To watch, tune into NASA TV or visit www.NASA.gov/NASATV at 1:10 pm Eastern Daylight Savings Time on Tuesday, July 14, 2020. Please note, this time may change. If it does, we will provide an updated time. Congratulations to Ben for being chosen for this prestigious event!
NASA astronauts (from left) Bob Behnken, Doug Hurley and Chris Cassidy are the U.S. members of the Expedition 63 crew. Behnken and Hurley are the International Space Station's newest crewmates after arriving May 31 aboard the SpaceX Crew Dragon. Cassidy is the station Commander and has been on the orbiting lab since April 9 when he arrived with (out of frame) Flight Engineers Anatoly Ivanishin and Ivan Vagner aboard the Soyuz MS-16 crew ship..
Astronauts Doug Hurley and Bob Behnken of NASA's Commercial Crew Program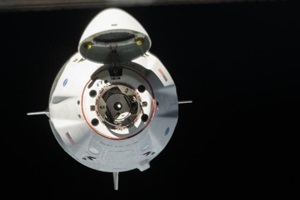 were aboard the SpaceX Crew Dragon as it approached the International Space Station.
The Crew Dragon's nose cone is open revealing the spacecraft's docking mechanism
that would connect to the Harmony module's forward International Docking Adapter.
July Chapter Meeting
The next monthly meeting is Thursday, July 9, 2020 at 7 pm. Social time starts at 6:30 pm. This meeting will be held at the Skypark chapter hangar, #M1. We will be observing social distancing with the hangar door open (weather permitting). The forecast for Thursday looks hot but dry. However, if we do have rain to the point we can't leave the door open, we will cancel the meeting for this month. We will be discussing the sale of the Titan Mustang.
Invitation from EAA Chapter 5, Now June 15
Chapter 5 would like to invite EAA Chapter 846 to join them for a picnic and presentation at their chapter meeting on Monday, June 15 at 7:00pm.They'll start with an Oshkosh-style picnic dinner of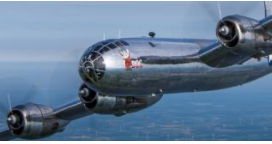 burgers and brats on the grill. Immediately following dinner, the program will feature a presentation about restoring "Doc the B-29" by Tony Mazzolini- the man who managed the entire project.
Back Together Again! June's Meeting Will be at the Chapter Hangar
Yes, we can meet again in person! Social distancing will be observed and masks are encouraged, and it will be great to be able to see everyone in person, Thursday, June 11 at 7 pm. The topic for the evening is to finalize the plans for the chapter "Tool Crib" and discuss the possible hangar swap. See you then!
Virtual Oshkosh! Spirit of Aviation Week, July 21-25
EAA AVIATION CENTER, OSHKOSH, Wisconsin — (June 4, 2020) — The Experimental Aircraft Association is showcasing the whole spectrum of flight this summer in a virtual way, as Spirit of Aviation Week on July 21-25 will celebrate the entire aviation community.
The five-day event will include streamed and on-demand content, encompassing nearly every subset of aviation, with a focus on educational, informational, and entertaining content. EAA's special interest groups will also be heavily involved, bringing highlights that include homebuilts, warbirds, vintage, aerobatics, ultralights, and much more.
"Nothing can replace the Oshkosh experience in-person during AirVenture week, as that event personifies the common passion we have for flight, in all its wonderful ways," said Jack J. Pelton, EAA's CEO and chairman of the board. "As unfortunate as it was that the cancellation of AirVenture 2020 took away that personal experience, countless people and groups have stepped forward to ask what they could do to virtually create something from Oshkosh that brings us together as aviators and aviation enthusiasts. We're going to incorporate as many of them as possible during a full five-day event." Go to EAA Together for more information.
Congratulations are in order!
Did you notice in the last newsletter what a busy spring everyone is having? If you haven't, take a look. You guys are on a roll!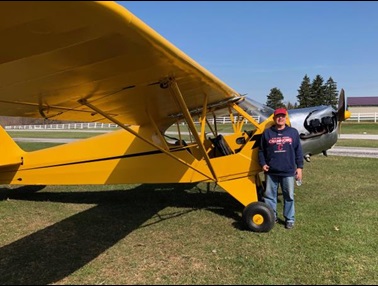 Randy Brooks completed his J3 Cub, completing a multi-year restoration.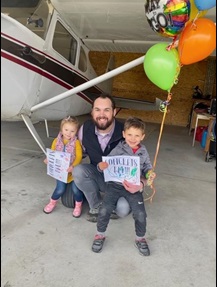 Matt Tomsheck's son, Josh completed his training for his private pilot's license.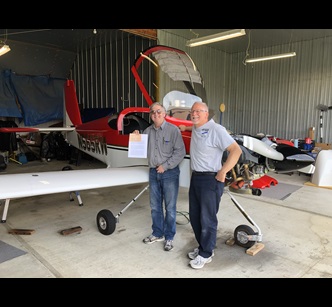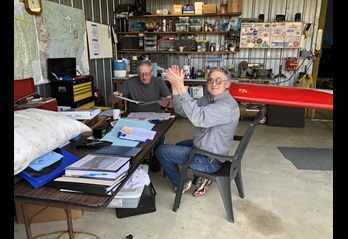 Jay Waddell's RV-9A project passed its airworthiness inspection, going from project to plane in a morning! Also pictured are chapter members Karl Aber, and Inspector and chapter president, Matt Tomsheck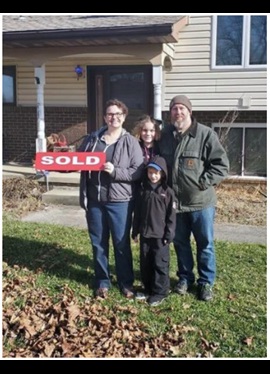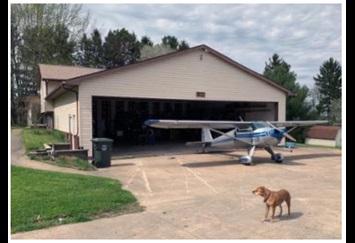 The Hanchecks have moved the Luscombe into its new Skypark home, and the family should be following soon.
Jason Lorenzon's son, Todd, completed his first solo flight.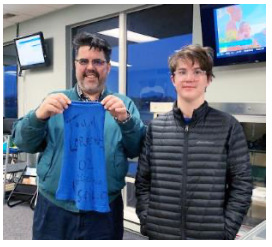 Ben Nagy graduated from Cloverleaf High School.
Congratulations to all!
AirVenture 2020 - Cancelled
Jack Pelton, CEO and Chairman of the Board of EAA, announced today that AirVenture has been cancelled for 2020. His letter to members can be found here.
Zoom In to the May Meeting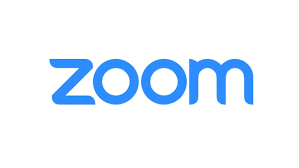 Join us online, for our next meeting, Thursday, May 14 at 7 pm. We will be discussing a number of items of chapter business like the Mustang, and Sonex projects and the hangar. Like last month, you will get an email a day or two before the meeting with instructions and the login information. If you weren't able to join us or had difficulty last month, don't hesitate to reach out to a board member before the meeting and they will help talk you through using Zoom. Or if you would like, this link will take you to a short video on how to join a meeting on Zoom.
Reopening Ohio
Did you miss the big announcement about how Ohio will be reopening for business? Check out Responsible Restart Ohio for the latest information. Has the Stay at Home order been hard on your business or family? Here are some of the state resources to help you weather the crisis.
Congratulations to our 2020 Ray Scholar:
Ferenc Somogyi
We are proud to announce their selection of Ferenc Somogyi as their 2020 Ray Aviation Scholarship recipient. In total, five candidates were selected for final interviews which took place over two evenings utilizing online meeting software to allow Chapter members to participate in the interview process remotely. After a lengthy debate, Ferenc was chosen as the most deserving of the five finalists. The Ray Aviation Scholarship is a flight training scholarship worth up to $10,000 with EAA funding half of the award and Chapter 846 funding the remaining half. For more information check our our Ray Scholarship page.
The April Meeting is Going Online!

Instead of cancelling our April meeting, we are going to host it in the safety of your homes on your computers or mobile devices. We will be covering some chapter business, but will also have the chance to listen to two of our Ray Scholar applicants.
You should have received an email with instructions and the opportunity to try out the system on Tuesday evening. If you didn't get the email, please contact a board member and we will be happy to get it forwarded to you. See you online!
April Meeting Online; Pancake Breakfast Fly-in, Young Eagles -

POSTPONED
At this time, we will not conduct an in-person April chapter meeting. We are looking at a virtual meeting platform. This would be a great way to stay connected and engaged with the chapter. We will send out an email on the details once we figure out which platform we'll be using. Later in April we can make a decision about the May meeting depending on which way this virus is going.
With regards to the pancake breakfast, the consensus of the board is to postpone the event until fall. At this time there won't be any planning meetings. When this virus settles down and we start to get back to normal we can decide to do a pancake breakfast or as a someone suggested, have a chili fly-in in the fall.
The board also thought it would be prudent at this time to postpone the Young Eagles day until later date.
--

CANCELLED

--Chapter Meeting, Thurs., March 12--

CANCELLED
Bob Norman from Norman Aviation will be at our next meeting, to talk about engine maintenance and overhaul. Bob founded Norman Aviation in 1984 and has been providing service to the southeast Ohio region ever since. His facility is located at Parr Airport in Zanesville, OH. Join us at 7 pm at the Skypark Terminal to hear this engine expert. - Unfortunately, tonight's meeting is being cancelled. We hope to be able to reschedule Mr. Norman in the future.
Chapter Meeting, Thursday, Feb. 13
Many thanks to all who braved the dicey weather in February for our chapter meeting, and special thanks to Gary Baker who pinch-hit with an AOPA program on "Essential Aerodynamics."
Mustang Work Days
Join us to work on our chapter aircraft, the Titan T-51 Mustang! Jeff Paden has put together a list of tasks to be accomplished. The goal is to get the aircraft in an airworthy condition, leading up to the sign off of the condition inspection. Jeff was the original builder of the aircraft and obtained the repairman certificate, which allows him to sign off the condition inspection. Feel free to join us on:

Sat., Feb. 2, 9am-12pm

Wed., Feb 19, 7pm-9pm

Sat., Feb. 22, 9am-12pm (Cancelled)
Wed., Feb. 26, 7pm-9pm (Cancelled)
Sat., Feb. 29, 9am-12pm (Cancelled)
More dates to be scheduled soon! We are waiting for outside work to be completed.


Chapter Tool Crib Program
As you may already know, EAA National has developed the Tool Crib Program to help EAA chapters build an assortment of tools which might otherwise be too expensive for an individual member/builder. This program offers reimbursement of 30% of new tool purchases, up to $300.00. This would allow our chapter to hold tools for loan to individuals on an as-needed basis.
Brad Wurst and Bob Taylor are acting as the coordinators of the Tool Crib Program for EAA Chapter 846. They are interested in hearing which tools you think should be part of our Tool Crib. Also we have many members who have acquired tools over time. Should you have tools that you are willing to lend to other members/builders, please let Bob or Brad know. These could be offered for lending with an appropriate refundable security deposit.
Chapter Recognition

EAA Chapters have always been one of the most vital components in making general aviation fun, affordable and accessible at the local level. To recognize chapters that have demonstrated outstanding commitment to general aviation, EAA rolled out a Chapter Recognition Program in 2019. This recognition is based off ten criteria that have shown to correlate with active and engaged chapters. Chapter 846 was recognized this year as a Gold level chapter by meeting all 10 out of 10 of the criterion necessary! Congratulations to everyone for making us a vital, fun, committed EAA chapter!
Happy Holidays!
Thank you for being a part of our annual after-the-holidays Holiday Party and White Elephant Gift Exchange! The food was fabulous as always. Big thanks to Dave Gerdeman for handling the main dishes and organizing the buffet. Rounded out by everyone's delicious desserts and side dishes, it was a fine evening for food and entertainment.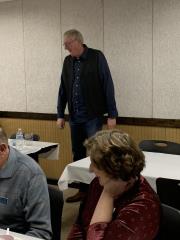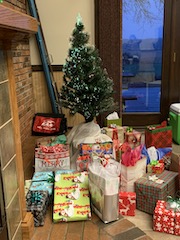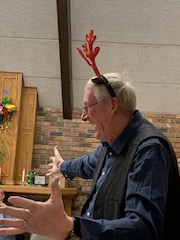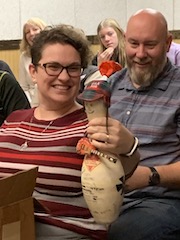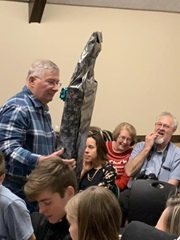 Newly-elected President Matt Tomsheck ran a short meeting, followed by past-president Gary Baker who recognized last year's Board Members, Young Eagle Pilots, and Chapter Volunteers, and summarized what was a very busy year for the chapter. Then we got to the hilarious white elephant gifts. Yes, the bowling pin made a reappearance, but there were a few new classic gifts given. Thanks to all who helped set-up, tear down, brought food, and fellowship. You are the reason we're an active, fun, productive chapter. Happy New Year Y'all!
Congratulations &
Thanks to New Officers and Board Members
Elections were held this month, and we have some new names on the Board. Thank you to all who offered to serve. Our officers for the next two years are:
President

Matt Tomsheck
Vice-President

Paul Lutz
Secretary

Greg Cantrell
Treasurer

Gary Baker
Board Members: Randy Brooks, Ron Lutz, and Bob Taylor