NavCom
If you've somehow missed the Notam (a.k.a. chapter email) regarding the publishing of the NavCom, be sure to checkout the Newsletter (NavCom) page, where you can read the latest edition as well as any of the other NavComs published back to the beginning of the chapter.
Hangar 6 Tool Usage
Chapter members using Hangar 6 please remember to return the tools to their proper location and not necessarily where you might have found them. Also, if you are using the bead/sand blaster please clean the area around the cabinet after its use. There is a sand leak which needs to be mitigated to help control the mess.
Fly-Outs

There are flyouts being planned and flown nearly every week. All are invited and several seats are possibly available. Check out the #fly_outs channel in Slack for more details.
---
EAA 690 is a Chapter of the Experimental Aircraft Association, located at Briscoe Field (LZU) in Lawrenceville, Georgia. A diverse chapter with over 250 members, awarded EAA's top level Gold Chapter status, we offer a wide range of aviation-related activities on a regular basis. While the Pancake Breakfast and our monthly meetings are the norm, we also are heavily involved in youth education through EAA's Young Eagles program and our youth programs, regularly conduct fly-ins, and host historical aircraft such as EAA's B-17 "Aluminum Overcast" and the Ford Tri-Motor

EAA 690 members are on SLACK!
Are you using Slack? Have you heard of Slack, but have no idea what it is? Or how to use it? If so, stick around after any of our pancake breakfast presentations, and Brian Michael will go over the in-and-outs of Slack. Anyone not participating in Slack, is welcome to join by contacting any participating member and having them send an invitation. There are many channels of which you may choose any number of interest or all of them. LEARN MORE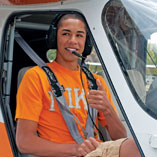 Thank you...
...to all the pilots, ground crew, and registration volunteers for our past Young Eagle rally. If you haven't yet gotten involved, signup at https://youngeaglesday.org/?yesignup. No prior experience necessary.

If working with youth is your interest, the Youth Aviation Build program needs additional mentors to support and grow the program. The Saturday program runs from 9 AM until 1 PM and could be the most rewarding thing you have ever done in aviation. You will never know until you try it