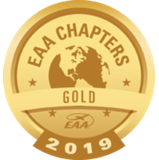 Whether you fly, build, restore or simply enjoy airplanes and aviation, you are welcome to attend our events or join our chapter. We are a group of aviation enthusiasts, aircraft builders, and pilots who get together with like minded people to share ideas, exchange information, encourage safety, serve the local aviation community and have a lot of fun doing so. Please come to our next meeting or event as our guest.
When:
The 2nd Saturday of each month at 10 a.m. [11:00am in December]
Note: On occasions the chapter meets at a different time or day
Check monthly Newsletter for details.

Where:
Riverview Airport (08C)
805 Taylor Street
Jenison MI 49428-9560
The EAA145 chapter officers met and have decided the responsible thing would be to cancel the Christmas Brunch for 2021.
In the same way that we as responsible aviators always put safety first and don't fly if there are factors that seem uncertain,
the chapter officers feel the responsible and safe option for our chapter is not to hold a Christmas brunch at this time.
There will surely be a time when we get together as a chapter for a similar gathering in the future, and we look forward to that time with you.
Please help us spread the word by letting your friends, family, and fellow chapter members know of this cancellation.
We wish you a Merry Christmas!
For more information, Check "Newsletters" or "Event Calendar"