The Figure 1 Foundation is a 501(c)(3) nonprofit organization dedicated to aviation scholarships. The Foundation's mission is to educate, enable, and inspire the general aviation community at the grass roots level in a mission to promote change in safety and growth in the aviation industry as a whole.

The Figure 1 Foundation offers four different scholarships: Fixed Wing Private Pilot License Scholarship, Tail-wheel Endorsement Scholarship, Upset Recovery/ Spin Training and Introduction to Aerobatics Scholarship, and Aerobatic Judge Certification Scholarship

Visit the Figure 1 Foundation website for more information and to apply: Figure1 Foundation
---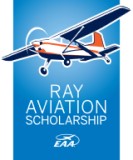 Through the generous support of the Ray Foundation, EAA provides up to $10,000 to deserving youths for their flight training expenses, totaling nearly $1,200,000 in scholarships annually.
The program is supported by more than 100 EAA chapters, and supports close to 120 scholars.
Each year, our chapter supports one scholar, between the ages of 16 and 19, in the form funding and mentorship to help him or her earn their pilot certificate.