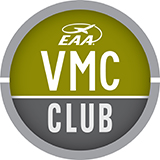 What is the EAA VMC Club?
The EAA VMC Club is modeled after the popular IMC Club concept, which provides organized "hangar flying" focused on building proficiency in instrument flying. The EAA VMC Club offers the same training for pilots who fly primarily under visual flight rules and VMC.
What is the purpose of EAA VMC Club?
The VMC Club's aim is to promote proficiency and safety while flying. Along with local meetings, EAA offers a resource-rich website that provides an electronic experience base.
Each meeting we present a real-world scenario in a video and afterward encourage an attendee-guided discussion of the closing question, "What would you do?"
Because there's not always one single way to recognize or solve a problem during visual or any flying conditions, having a mixed group share their thoughts and experiences, in a nonjudgmental, conversational way, helps us all become better prepared to handle situations that might develop in flight.
The program's goal is to create a community of pilots and supporters who exchange information, provide recognition, foster communications, and improve their own and others' safety in visual flying conditions.
Do you need to bring anything?
First, bring your thoughts or story and be willing to share them with the group. This meeting is very interactive. Participation by the group is a fundamental element of the EAA VMC Club meetings.
Who can attend?
VMC Club meetings are open to all current, non-current, and future pilots as well as those simply interested in the art of flying.
We provide FAA Wings credits for all eligible attendees.