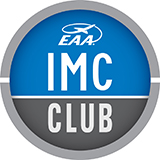 Rutland EAA/IMC Club Meeting
Promoting the art of instrument flying.
Open to all pilots, spouses, and enthusiasts who want to improve their understanding and proficiency in instrument flying conditions.
Each meeting we present a real-world scenario in a video and afterward encourage an attendee-guided discussion of the closing question, "What would you do?"
Because there's not always one single way to recognize or solve a problem during instrument flying conditions, having a mixed group share their thoughts and experiences, in a nonjudgmental, conversational way, helps us all become better prepared to handle situations that might develop in flight.

The program's goal is to create a community of pilots and supporters who exchange information, provide recognition, and improve their own and others' safety in instrument flying conditions.
Sponsored by EAA Chapter 968 and Green Mountain Flight Training.
EAA/IMC Club is the brainchild of Master Instructor Radek Wyrzykowski. Radek developed this volunteer mentor program in 2009 to help instrument pilots improve their proficiency through EAA's IMC Club program.
Program is produced and distributed by EAA IMC LLC, a subsidiary of the Experimental Aircraft Association.
We provide FAA Wings credits for all eligible attendees.
Membership in the EAA and its chapters is encouraged but not required to participate in this meeting.