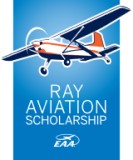 Through the generous support of the Ray Foundation, EAA provides up to $10,000 to deserving youth for their flight training expenses, totaling $1.2 million in scholarships annually.
"It's fantastic to have 33 of our currently 75 Ray scholars here in Oshkosh, I can't think of a better place than AirVenture for these kids to spend time around other aviation enthusiasts, chapter members, and just people within the industry to learn, get motivated, and go back to their home airport to finish up their flight training," said Chapter Field Representative, David Leiting, during AirVenture 2019.
Director of the Ray Aviation Scholars Program Chuck Ahearn said, "With women in aviation at a low percentage, accounting for 6 percent of the pilot community across the industry, EAA is proud to announce that 30 percent of the recipients are not only females, but extremely hard-working, talented, and well-deserving recipients." More information on James C. Ray and the Ray Scholarship can be found here.
Ray Scholarship 2020
Where do we stand as a Chapter in this program for 2020? Last fall our Chapter decided to participate in the matching funds side of the scholarship program which was a new option for 2020. By selecting this option our Chapter was then guaranteed a scholarship for 2020. With this arrangement in place it was important that we chose the right, motivated individual to receive this scholarship and represent our Chapter in this program. This scholarship is for up to $10,000 towards flight training expenses in pursuit of a Private Pilot Certificate in either gliders or powered aircraft for a deserving individual.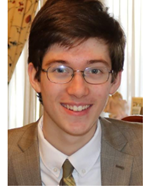 We are proud to announce their selection of Ferenc Somogyi as their 2020 Ray Aviation Scholarship recipient. In total five candidates were selected for final interviews which took place over two evenings utilizing online meeting software to allow Chapter members to participate in the interview process remotely. After a lengthy debate, Ferenc was chosen as the most deserving of the five finalists. The Ray Aviation Scholarship is a flight training scholarship worth up to $10,000 with EAA funding half of the award and Chapter 846 funding the remaining half.
Ferenc is currently finishing his junior year at St. Ignatius high school in Cleveland. He is active in the Civil Air Patrol where he currently serves as his squadron's Aerospace Education Non-Commissioned Officer. He has attended the Civil Air Patrol Powered Flight Academy where he received primary flight training and ground school instruction. He plans on a career in the aerospace industry and is exploring all of the opportunities available to him in this ever growing field. Ferenc's love of aviation, his passion for all things related to flight and his many accomplishments already achieved, will serve him well as the Chapter's Ray Aviation Scholar for the coming year.
Due to the current worldwide health crisis, Ferenc will delay the start of his flight training until a time when it is safe to begin. Ferenc and his parents Marianna and Lél, will be working with Chapter members in the coming weeks to select a flight training provider and develop a plan to allow him to begin his training as soon as possible. Training towards a Private Pilot Certificate is an enormous undertaking for any individual and takes a team effort. Ferenc will be a busy young man this coming year as he begins his senior year of high school, trains towards his Private Pilot rating and ultimately decides on his future plans. We will be working with him closely to ensure that he succeeds! We look forward to meeting Ferenc and his family in person in the coming weeks.
-Mike Guenthner, EAA Chapter 846 Ray Aviation Scholarship Coordinator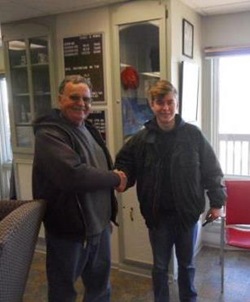 Ray Scholarship, Nov., 2019
Congratulations to Our First Ray Scholar, FAA Private Pilot Ben Nagy!
Ben Nagy, the Chapter's Ray Scholarship recipient, became the newest private pilot in the US on November 18, 2019. Examiner Stuart Cory felt that Ben's skills met the requirements per the Airman Certification Standards and presented him with his Private Pilot certificate. Ben is one of the first eighteen Ray Scholars in the US to complete all of the flight training. Congratulations, Ben!