Who is Chapter 808?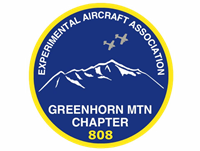 Chapter 808 is a part of the Experimental Aircraft Association (EAA). The chapter is active in promoting aviation interests and education to the community at large. We are based at Pueblo Memorial Airport (KPUB) and host activities at other south eastern Colorado to include Fremont County Airport (1V6) and Walsenburg/Spanish Peaks Airport (4V1) . We host a monthly member gathering, and also hold Young Eagles events, and Fly-Out events.
For more information on our chapter, please contact our president.
Meetings
Chapter Gatherings. The monthly chapter gatherings are held on the second Saturday of the month at 10am Our gatherings feature guest speakers, occasional technical counselor lessons, special events, socializing with other members, and great food!
Business Meetings. The monthly chapter business meeting is typically held on the second Saturday of the month. We meet for breakfast at Peter's In & Out and then move to the Pueblo Memorial Airport conference room for the business meeting. All chapter members are welcome to attend. If you have a idea for a chapter project or event, this is the 'time and place' to present it to the chapter leadership. Please contact the chapter's president about being placed on the meeting's agenda.
Location
Chapter Gathering: 31001 Magnuson Ave, Pueblo, CO 81001, in the Pueblo Weisbrod Aircraft Museum.
Business Meeting: 31201 Bryan Circle, Pueblo CO 81001, in the Airport Conference Room
Membership
Chapter membership is open to all current national EAA members. Individual and family membership are available. Contact our chapter treasurer to join.
About EAA
Our chapter is part of the worldwide network of EAA chapters. EAA embodies The Spirit of Aviation through the world's most engaged community of aviation enthusiasts. EAA's 220,000 members and nearly 900 local chapters enjoy the fun and camaraderie of sharing their passion for flying, building and restoring recreational aircraft. For more information on EAA and its programs, call 800-JOIN-EAA (800-564-6322) or go to www.eaa.org.