Whether you fly a factory certified aircraft, homebuilt aircraft, or simply enjoy airplanes and aviation, you are welcome to attend our events and join our chapter. We are a group of aviation enthusiasts, pilots, aircraft owners, and aircraft builders, who get together to share ideas, exchange information, encourage safety, serve the local aviation community and have a lot of fun doing so. Please come to our next meeting or event as our guest.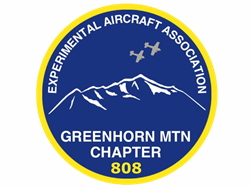 Our monthly chapter gathering, held on the second Saturday of each month at 10AM, at Weisbrod aircraft museum, at Pueblo Airport, and features aviation related presentations.
Our chapter is part of the worldwide network of EAA chapters. EAA embodies The Spirit of Aviation through the world's most engaged community of aviation enthusiasts. EAA's 220,000 members and nearly 900 local chapters enjoy the fun and camaraderie of sharing their passion for flying, building and restoring recreational aircraft. For more information on EAA and its programs, call 800-JOIN-EAA (800-564-6322) or go to www.eaa.org.