EAA Chapter 78 is a 501(c)(3) tax exempt organization (FEIN: 22-1146430). Donations to EAA Chapter 78 are tax deductible to the fullest extent allowed by law. All donations help EAA Chapter 78's educational outreach efforts (Young Eagles, Eagle Flights, etc).

9 Things You Need To Be Ready For At Non-Towered Airports
When you're flying into a non-towered field, there's a lot you need to be thinking about...
The Top 3 VFR Questions We've Gotten This Month: Boldmethod Live
What are the top three VFR questions we've gotten in the last month?
How Do Yaw Dampers Work?
Yaw dampers make flying more comfortable for passengers easier for pilots. Here's how they work.
Bringing different cultures together through the love of aviation By Janice Wood
The organization introduces aviation to kids who didn't even know about the general aviation airport in their community.
When Should You Hold Short of The 'ILS Critical Area'?
When do you have to hold short of the yellow ILS critical area markings on a taxiway?
5 Airplane Accidents Caused By Mistakes On The Ground
These mistakes on the ground can lead to serious consequences in the air.
FAA Denies Comment Period Extension for Remote ID Rule
The FAA this week denied requests filed by EAA and others, including AMA and AOPA, for a comment period extension to a controversial notice of proposed rulemaking mandating remote ID for unmanned aerial systems.
Total Number of Young Eagles Reaches 2.2 Million
The biggest youth aviation education program hit another milestone this week, as the Young Eagles program surpassed 2.2 million kids flown since the first flights took place at the 1992 EAA Fly-In Convention at Oshkosh.
STEM Flights lands at KOKV
STEM Flights provides free education and flight experiences to young adults.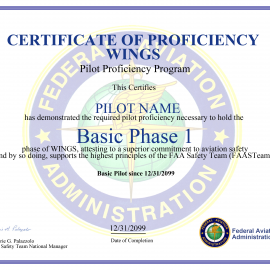 The FAA's WINGS Pilot Proficiency Program is a great way for pilots to stay current and legally able to fly, but even better than that, it helps pilots stay proficient. Unfortunately, many pilots are not aware the program exists or don't know how to use it. Learn about the program and how to use it effectively.
Lost Comm Under VFR? Here Are 6 Things You Can Do About It.
You always see regulations and tips for lost comm under IFR...but what about losing comm on a VFR flight?

"I guess I have a history of people telling me what I can't do. So far they're all wrong" ~ Neal V. Loving

Neal Vernon Loving (1916–1998) was the first Black-American and the first double amputee to be licensed as a racing pilot. He was also known for his work as an inventor and aeronautical engineer.
Loving was born in Detroit, Michigan on February 4, 1916. His father, Harding Clay Loving, was the first Black optometrist in Michigan. Loving became interested in aviation at age ten, when a de Havilland biplane flew over his house. He attended Cass Technical High School, where he studied aeronautics.
Afraid Of Stalls? Try A Falling Leaf.
Afraid of stalls? You're not alone. In fact, nearly every pilot is apprehensive about stalls when they're starting out.
Your Elevator Trim Just Jammed. What Should You Do?
Control failures are a pilot's worst-case scenario. Here's how you can handle an elevator trim failure...
How To Use Your Plane's Brakes
Every pilot thinks they know how to brake. Not many of them are right.
What You Need To Know About The Spacing And Color Of Runway Lights
This was our most read article last month. If you missed it then, check it out!
Should You Follow The VASI On Final Approach?
Should you use the VASI as a descent aid for final approach, or should you land close to the numbers to avoid wasting valuable runway?
Passing the commercial check ride
Bill Walker offers tips to help you pass your commercial check ride.
6 Most Common Private Pilot Checkride Failures
Checkrides can be intimidating, especially your first one. But knowing the common problem areas helps you prepare and pass.
Video: Private pilot certificate from start to finish
The 10-minute video covers the basics nicely.
How To Fly A Flawless Traffic Pattern At A Non-Towered Airport
Every great landing starts with a great approach. And the best way to do that? Fly a flawless traffic pattern.
5 Things You Should Never Do In An Emergency
When it comes to emergency situations, there are some things you absolutely shouldn't do. Here are five of them.
6 Maneuvers You Should Practice On Your Next Flight
When you're training for a new certificate or rating ~ you practice. A lot! But after you pass your checkride, how often do you practice maneuvers and procedures? The reality for most pilots is "rarely."
Your Engine Failed After Takeoff. Should You Return To The Runway?
Pilots call it the "impossible turn" for a reason. Should you return to the airport, or land straight ahead? It depends... READ MORE
Here's What You Can Fix On Your Plane
As a certificated pilot, you can fix over 31 maintenance items on your airplane. Here's what they are, and how the process works.
Your Elevator Trim Just Jammed. What Should You Do?
This was our most popular article last month. If you missed it, then check it out.
Avoid These 5 Mistakes When You Start Your Engine
How you start your engine can determines how much wear, tear, and maintenance cost you'll face over time. Avoid making these mistakes...
5 Rules-of-Thumb Every Pilot Should Know
When you're on the ground, it's easy to use the crosswind chart in your POH, or an E6B. But when you're in the air, neither of those options are very practical.
7 "Wake-Up-Calls" Most New, Confident Pilots Experience
New pilot certificate in hand, pilots are likely to experience one of these "wake-up calls" within a few months of flying. Have any of them happened to you?
Why You Should Earn Your Ground Instructor Certificate
6 Ways To Help ATC On Your Next IFR Flight
Here's how you can keep things running smoothly...
6 Tips For Flying A Great Visual Approach
Hearing the words "cleared for the visual" is something pilots love to hear. But while a visual approach can reduce workload, it also adds risks you need to be ready for.
Don't Forget To Check These 6 Small Parts On Every Preflight
It's easy to skip or miss these tiny parts during a preflight inspection. Here's why they're so important.
7 Of The Most Confusing FAA Regulations, Explained
The FARs get a little confusing at times, but here are 7 regs that you won't wonder about ever again.
Asymmetric Flap Failure? Here's How To Land Safely
What happens if you need to fly your airplane in a split-flap condition? Here's what you should know.
Why Aircraft Weight Affects Climb Performance
If you've ever flown an airplane at max gross weight, you've definitely noticed a decrease in climb performance compared to when you're light. Here's why it happens...
How Adverse Yaw Affects Your Plane
Have you ever wondered why your airplane initially yaws to the left when you're trying to turn right?
If You're Low On Final Approach, How Should You Correct?
You roll out on final, and you see 4 red lights on the PAPI. How should you correct to get back on glide path?
How To Brief An Instrument Approach, In 10 Steps
We've all flown with pilots that take either 10 minutes or 10 seconds to brief an approach. Both extremes make it difficult to remember the most important details. Here's what you need to cover.
How much do you know about EAA AirVenture Oshkosh?
Test your knowledge of the World's Greatest Aviation Celebration.
9 Things You Should Do If You Suspect A Radio Failure
It might be a radio failure, but first...
A Loose iPad Jammed This Pilot's Trim Wheel, Leading To An Emergency Landing
Have you ever dropped your iPad in the cockpit? What would you do if this happened to you?
6 Aerodynamic Facts About Ailerons Every Pilot Should Know
Ailerons do a lot more than help airplanes turn. Here are some important aerodynamic principles every pilot should know...