Young Eagles flights will be scheduled at Henry Co. (Paris), Carroll Co. (McKenzie), Benton Co. (Camden) and Everett-Stewart (Union City) sometime this year.
Some Young Eagles flew with Dr. Paul -- July 20, 2021
STEM students become Young Eagles - June 18, 2021
At Least ONE Young Eagle -- a return to flying -- June 12, 2021
35 Young Eagles Flown
24 First Flights
The goal was to fly at least ONE Young Eagle after a year of not having any Young Eagle Events. Thirty-five (35) flew today and twenty-four (24) flew for the first time. We got to meet some old friends again and make some new ones. We really appreciated the food provided by the Evans family.

More pictures from this event
Boy Scouts at Jackson -- January 25, 2020
20 Young Eagles Flown
17 First Flights
The Boy Scouts of America were working on their Aviation Merit Badge. EAA Chapter 734 provided a Young Eagle flight which will aid them in getting their badge. The scouts are from all around west Tennessee.


More photos (leaves this page)
A few Jackson Civil Air Patrol cadets happen to be at the airport that had never flown. They are now Young Eagles.
The CAP people in blue in the photos are with EAA Chapter 734 and their blue sweat shirts are from the Henry County CAP.
Boy Scout Young Eagles -- November 2, 2019
10 Young Eagles Flown
These boys were working on their Boy Scout Aviation Merit Badge. They did several aviation related things this weekend including stopping by the airport for a Young Eagles flight.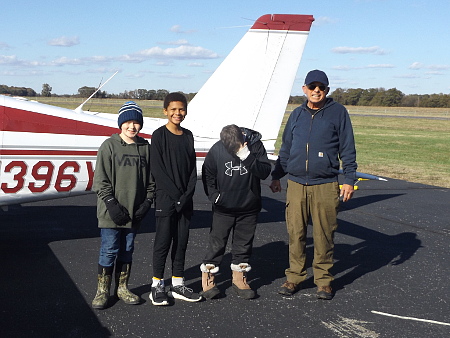 More pictures of the Scouts
But you won't find a face shot of the boy fixing his hair.
(Maybe we would get better picture if we paid the photographer more.<g>)
This event was at the Paris-Henry County Airport.
Benton County Young Eagles -- October 19, 2019
44 Young Eagles Flown

Yesterday's Young Eagles Rally was great. Forty-four (44) Young Eagles were flown at Benton County Airport. For about half the kids, it was their first time to fly. For one of our Young Eagles, it was the first time for him to fly other Young Eagles. It might be hard to top that!
Dale flew his As a Young Eagle 5-12-2018 according to the World's Largest Logbook.
Dale, who is still a Young Eagle himself, added 11 new Young Eagles to that logbook as their PILOT!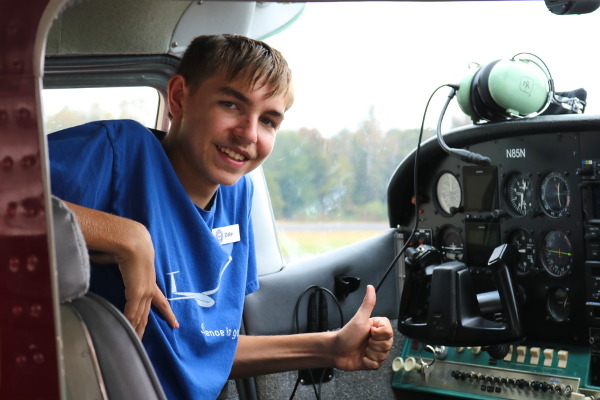 More pictures taken by Savannah (a Young Eagle and a CAP cadet)

Paris-Henry Co. Young Eagles Rally -- September 14, 2019
75 Young Eagles Flown
Many of these were first flights.
One young man was there that I knew had been hesitant about taking his first flight at the Carroll Co. event. I asked if he was going to fly today. He said, "I might try it". And he did fly today. He still isn't sure how he feels about flying but I expect to see him next month. He wasn't quit ready to take the controls this time but I think he will be ready by flight three ... maybe four. His reaction is not typical. Most kids come back very excited and really enjoyed the flight even if they were hesitant before for the flight. A few are like the young man above. And there are a few, really a very few, that know how the feel about flying and it just isn't for them.
Carroll Co. Young Eagles Rally -- August 10, 2019
117 Young Eagles Flown!
Another Chapter 734 record and the first time to exceed 100 in one day
Many of these were the first flights
Young Eagle flights are the main attraction but they aren't the only aviation related activity.

The new Blue Eagle 1 also "flew" many younger kids. This is a static display with flight controls, switches, and lights built just the right size for the younger kids.

The CAP cadets demonstrated hot air balloons and help a bunch of kids build and launch air rockets. They also had a simulator for the kids to fly.

Chester brought his recently completed rudder. It is the first part of the Zenith 750 Super Duty he is building. A 750SD is a real plane that flies people. His is 14.
Other milestones:
Jim flew his 500th Young Eagles during this event!
Dan flew his 300th Young Eagles during this event!
Kevin flew his 200th Young Eagle during this event!
And Chapter 734 flew its 2,000th Young Eagle during this event!
This is quit a list of milestones for one day.
The best may be the kids that "Flew for the First Time!"
Photos from this event
Henry Co. Young Eagles Rally -- May 4, 2019
85 Young Eagles flown today!
This is a Chapter 734 Record.
This was on a day with 100% chance of rain. Most expected very few kids to show up just based on the weather icon on people's cell phones.
All the pilots had stories to tell about getting to Henry County due to a low broken layer of clouds early in the morning. One tried twice to get out of his home strip, gave up and drove in by car but could not stand not flying so he went back home and got his plane.
A high overcast layer remained all day and it did sprinkle a little during the event. There were still lots of smiling faces during the day and a bunch of tired people by the end.
There will be more more Young Eagle Rallies this year but dates and locations have not been set.
Photos from this event
Carroll Co. (McKenzie) Young Eagles -- April 20, 2019
This event finally happened after a week's delay due to weather. The sun was out but so was the wind. We still had a good event with lots of kids getting to fly, many for the first time. The bumpy air didn't seem to bother the kids. They also got to try their hand with a rivet gun and metal shears. Some faces really lit up when they got to cut metal with "really big scissors".
Young Eagles Flown: 30
First Flight: 21
Photos from this event
Benton Co. (Camden) Young Eagles -- October 20, 2018
Low ceilings (low clouds) delayed the start but the weather turned out beautiful.
The CAP happened to be at the airport which give people fun stuff to do while they waited. Kids built rockets and launched them, flew drones, flew a virtual reality simulator, and maybe more.
The kids then came back to the Young Eagles Rally to fly in real planes. It was the first time to fly for most of them but a few have probably been at all our events this year.
Young Eagles Flown: 56
First Flights: 40

Photos from this event
--------------------------------------------
Photos from Carroll Co. Young Eagles - August 25, 2018
Photos from Paris Young Eagles - May 12, 2018
Photos from Murray Young Eagles - September 9, 2017