EAA 690 Scholarship Programs
EAA 690 is proud of its work in providing scholarships to assist young people in furthering their aviation dreams. The chapter has provided scholarships to Air Academy in Oshkosh for years and supported young people working on their private pilot certificates.
Our summer camp is designed as a stepping stone process to take youth as young as 12 up through the age of 18 by combining our Summer Camp with Air Academy to keep them interested in aviation as a career.
If you are a youth or have a youth wanting to attend Air Academy in Oshkosh, your first step is to go to the EAA Air Academy website and apply for the appropriate camp for your age or contact a chapter officer and let them know of your intentions. You should email a copy of your application to Air Academy to scholarships@eaa690.org While applying for camp you should also apply for an EAA Campership to assist with tuition for the camp. The Advanced Air Academy Camps for 16, 17 & 18 year olds fills up very quickly and must be applied for no later than December of the year prior to attending. If you want to attend next year you need to apply no later than December of this year.
Once you have applied or have had the chapter submit a reservation form in your name, you will want to submit an EAA 690 Scholarship Application to the chapter for consideration. There are a couple of ways that the chapter can help financially. One is by applying Young Eagle credits that are earned by the chapter through the efforts of its Young Eagle pilots. These credits can be used for our youth attending Air Academy or for their travel expenses. The chapter also provides direct scholarship money for youth attending Air Academy.
Once you have confirmation from Oshkosh on your slot for Air Academy and any Campership funds you should notify the chapter so we can notify you of any scholarship funds we have that will be applied to your remaining expenses. Our goal each year is to have as many chapter affiliated attendees at Air Academy as possible.
EAA 690 scholarships are also available for young people interested in pursuing careers in aviation other than as pilots. The chapter will set guidelines for the awarding of scholarships based on a completion of some amount of the curriculum at their chosen school to show continued interest prior to the awarding of a scholarship. In the instance of flight instruction the chapter will not award a scholarship until a candidate has reached the milestone of soloing. All scholarship applications are reviewed by our scholarship committee and forwarded to the Board of Directors with a recommendation for action.
In the past the chapter has offered scholarships under specific names. Going forward it has been decided to lump the funds together for scholarships and may still issue a scholarship in the name of one of these people.
---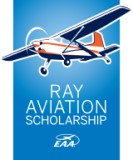 Ray Aviation Scholarship
Through the generous support of the Ray Foundation, EAA provides up to $10,000 to deserving youths for their flight training expenses, totaling nearly $1,200,000 in scholarships annually.
The program is supported by more than 100 EAA chapters, and supports close to 120 scholars.
Each year, our chapter supports one scholar, between the ages of 16 and 19, in the form funding and mentorship to help him or her earn their pilot certificate.
Information for Parents and Scholars Handout
---
EAA Scholarships
EAA's scholarship program encourages, recognizes and supports excellence among those studying the technologies and the skills of aviation. These annual scholarships help outstanding students who demonstrate financial need to accomplish their goals.
Applicants should be well-rounded, involved in school and community activities as well as aviation. Academic records should show that you can successfully complete the educational activity for which you are applying. Please check individual scholarship descriptions for any special considerations.
You must be a current EAA member or recommended by a current EAA member to apply for these scholarships.
Please carefully read the description and requirements.
---
Would you like to fly for 75% off
Beginners
Rusty Pilots
Instrument Ratings
Advanced Aviation and EAA 690 are proud to offer 2 Harker-Advanced-EAA690 Aviation Scholarships for 20 hours of solo or dual instruction in a Cessna 172.
If interested, please e-mail info@advancedaviation.com for further details or download and submit the application, rental rates and an application.
You must be at least 18 years of age and be able to pass a 3rd class medical or Basic Med to apply.
---
GBAA Scholarships
If You Are A Georgia High School Graduate Planning On A Career In Aviation, And Need Help Paying For College, Then Perhaps We Can Help!
Our Scholarships Are Available To:
Georgia High School Graduates (3.00 GPA or better) Who Enroll Full-Time At Accredited U.S. Colleges & Technical Schools In Aviation Fields Of Study (e.g. Flight, Engineering, Maintenance, Management And Operations)
More info available here....