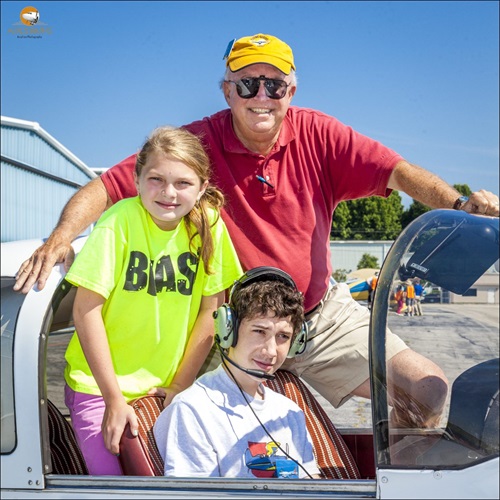 Members of the EAA 690 Chapter are firm believers in educating our nation's youth. As a chapter, we have two primary programs that expose young people to the wonder, excitement, and rigors of aviation.
Our Youth Program is working to "Build the Future of Aviation" by teaching young adults the techniques involved with aircraft construction and repair and, in the process, allowing them to earn credits that can be used toward flight training.
Our Young Eagles program is very active, and is probably one of the best programs of its kind in the country. Every third Saturday of the month (weather permitting), pilots of EAA 690 provide free rides to young people, as a way of introducing them to aviation.
---
Tuskegee Airmen Aviation and STEM Training (TAAST)
The goal of the Tuskegee Airmen Aviation and STEM Training (TAAST)Program is to excite and motivate our youth to learn about the aerospace industry. The TAAST program endeavors to instill, in children, an appreciation for the academic skills, moral character, proper conduct, dedication and discipline necessary to succeed. More importantly, we want them to discover that learning can be fun when done in the context of aviation.
TAAST offers comprehensive training in the various aviation disciplines. Our program targets students between the ninth and twelfth grade and, actual flight training is included. Students in the program explore the many career options available in aviation and aerospace. Classes are conducted in traditional classrooms, simulators and airplanes. Instructions will cover aviation history (including the role of African-Americans in aviation), introduction to aerodynamics, meteorology and navigation; flight simulator orientation, orientation flights with FAA certified flight instructors; interaction with professionals in the aviation industry; and field trips to aviation museums, military bases and Air Traffic Control Centers. To this point, all classroom materials, orientation flights, and field trip transportation are provided by TAAST through a grant from the Atlanta Chapter Tuskegee Airmen, Inc.
Through the partnership between ACTAI and Aviation Career Enrichment (ACE), ACTAI is capable of providing flow through opportunity to students who wish to continue their aviation experience upon completion of the summer program.
---
AOPA Teen Membership
The AOPA is now offering free teen memberships for teens aged 13 - 18 Benefits of memberships include:
Flight Training Helpline at 888-232-7456 for training support and advice
Dedicated AOPA AV8R scholarship opportunities
Free digital subscription to Flight Training magazine
Safety quizzes, interactive courses and more
Access to online training information and materials at aopa.org and ft.aopa.org
Specialized content on aopa.org/av8rs including videos and career info
Opportunities to connect with other AOPA AV8RS through dedicated social media communities
Opportunity to serve on the AOPA AV8RS Teen Advisory Council
Official AOPA AV8RS member card