Officers and Board Members
John Morgan
President

Louis Pucci
Vice President
BOD Chair

Rich Hopkins
Secretary

Ben Davis
Treasurer

Gay Roberts
Member at Large

Charles Harker
Chairman BoT

Fred Huppertz
Member at Large

Frankie Rodriguez
Member at Large
Vice Chairman - BOD

Kathi Parks
Member at Large

Meeting Minutes

2021
Prior Years
---
Board of Trustees
Chairman: Charles Harker
Vice-chairman: Damian Morrissy
Secretary: Joel Levine
Members
| | |
| --- | --- |
| Charles Harker | Class of 19-21 Chair |
| Joel Levine | Class of 19-21 |
| Ralph Kirkland | Class of 20-22 |
| Chuck Roberts | Class of 20-22 |
| Bill Miller | Class of 21-23 |
| Damian Morrissy | Class of 21-23 |
Two trustees are elected each year to serve three year terms.
---
Food Service
Chairman: Terry Hurst

Members:
---
Fundraising
EAA Chapter 690 is operated 100% by donations and volunteers. While we host fundraisers that keep our regular operations running, it is our desire to expand its programs to enrich and educate the general public in all things aviation. Please keep this goal in mind when considering donations to our 501(c) (3) organization. Recognition of your contribution will be readily acknowledged! Contemplate this as your community outreach! Your consideration is greatly appreciated
Monthly 'Pancake Breakfast'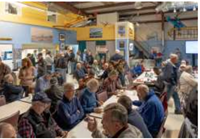 Open to all, the 1'st Saturday of each month often draws standing room only crowds for Pancakes, Scrambled Eggs, Biscuits & Gravy, Sausage, Orange Juice and Coffee.
All you can eat $7.00 (donation suggested).
Starts at 8:00 am the 1st Saturday of each month
Bring a friend, have a great meal, meet new folks and hang around for the chapter meeting at 10 AM. (see top of page)
YOU WON'T BE DISAPPOINTED! DONATE
Ford Tri-Motor Wings Donation
The EAA Ford Tri-Motor had its wings replaced earlier this year at a cost of $1,000,000. Chapter around the country have pledged donations over the next three years to help offset the cost of the new wings. EAA 690 pledged $10,000 toward this effort. Donation amounts can be combined to make any amount you would like to contribute. Please donate to this cause. DONATE
the Bill Ferguson Fund

On November 2, 2019, the chapter lost a great friend in Bill Ferguson. Bill was well known for being a part of the "Over The Hill Gang" that worked to keep our hangar clean for all chapter events. Bill was also known for being a major force on the ramp during a Young Eagle Rally, as well as being on the ramp when the chapter hosted an airplane. Bill served on the chapter's Board of Trustees. DONATE
General Donations
Donations to EAA Chapter 690 are always appreciated.

---
Member of the Year
John Post - 2020
Gay & Chuck Roberts - 2019
Tom Hilborn - 2018
---
Chapter MVP
---
Membership
Chairman: Rich Hopkins
---