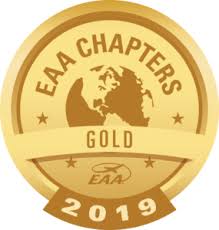 EAA 690 is a Chapter of the Experimental Aircraft Association, located at Briscoe Field (LZU) in Lawrenceville, Georgia. A diverse chapter with over 250 members, we offer a wide range of aviation-related activities on a regular basis. While the Pancake Breakfast and our monthly meetings are the norm, we also are heavily involved in youth education through EAA's Young Eagles program and our youth programs, regularly conduct fly-ins, and host historical aircraft such as EAA's B-17 "Aluminum Overcast" and the Ford Tri-Motor.
EAA 690 is proud to announce our selection as a Gold Level Chapter. EAA uses 10 criteria to gauge chapter activity, impact, and improvement. At the end of the calendar year, chapters are recognized for reaching certain levels of activity and engagement. Chapters that score 7 out of 10 are recognized as Bronze, 8 out of 10 are Silver, and any chapters scoring at least 9 out of 10 are recognized as Gold Level.
Our technical counselors are some of the best in the business, and willingly donate their time to home builders, as they progress through the various phases of constructing an aircraft. We have pilots with a wide variety of experience, from former airline and military pilots to general aviation pilots with a private certificate. "Hangar flying" is a fun part of the mix, and our facility is often used for aircraft annual inspections, meetings, special events, and training. We also have an extensive array of aviation tools for loan to members, and a library full of aviation information.
Come join us on the first Saturday of every month at the hangar to enjoy a $7 Pancake Breakfast, and to learn more about EAA 690. Each month we host a Fly-in Breakfast with Guest Speakers affiliated with aviation from all over the country. We've had Veterans, Authors, Military Pilots, Aviation Recruiters and Aircraft Designers to name a few. It is another way to promote the merits of aviation in our world and become a local participant. Come join us and experience first- hand the camaraderie, programs, and aviation education outreach that make Chapter 690 such a success in the Atlanta area.
EAA Chapter 690 is operated 100% by donations and volunteers. While we host fundraisers that keep our regular operations running, it is our desire to expand its programs to enrich and educate the general public in all things aviation. Please keep this goal in mind when considering donations to our 501(c) (3) organization. Recognition of your contribution will be readily acknowledged! Contemplate this as your community outreach! Your consideration is greatly appreciated.