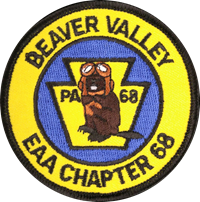 Notice to Members: 2022 Dues are now due and payable in the amount of $20.
Please Note that the Chapter membership voted at the Februrary 2022 meeting to change our regular meeting time. Our regular meetings will now be held on the first Tuesday of each month at 6:00 p.m.
Whether you fly, build, restore or simply enjoy airplanes and aviation, you are welcome to attend our events and join our Chapter.
We are a group of aviation enthusiasts, aircraft builders, and pilots who get together with like minded people to share ideas, exchange information, encourage safety, serve the local aviation community and have a lot of fun doing so. Please come to our next meeting or event as our guest.
Please consider supporting our Chapter through the Amazon Smile Program. Amazon donates 0.5% of the value of eligible purchases to our Chapter, at no additional cost to you, when you purchase items through Amazon Smile.
Sign up for Amazon Smile and direct donations to us through this link