In December 2020, EAA Chapter 551 partnered with the Initiative Foundation in Little Falls, MN to establish the EAA Chapter 551 Fund. Since EAA Chapter 551 is a 501(c3) non-profit organization, once the fund sufficiently grows, the Initiative Foundation will provide the Chapter with an annual check from the earnings so that flight training and aviation maintenance technology scholarships can then be awarded to young people each year. The Chapter will also be fundraising for a dedicated hangar space for EAA Chapter 551 and local aviation educational programming.
Curent fundraising ideas include a Hangar Dance, St. Cloud Regional Airport Movie Night(s), and a Golf Fundraiser. The Fundraising Committee is looking for new members to bring energy and ideas. Contact Ken Olson at scholarships@eaa551.org or at a Program Meeting if you would like to join our Committee!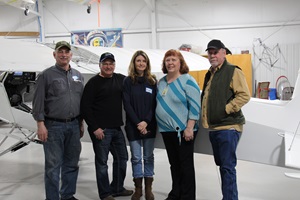 Since EAA Chapter 551 has already been a successful Ray Aviation Chapter three times in two years, the Chapter is focusing our first goals to raise $100,000 and then another $100,000 to be able to support up to two youth for the EAA Chapter 551 Ray Aviation Scholarship Program. Once these goals are met, then the Chapter will prioritize the additional scholarship and building fundraising goals.
The attached pdf files highlights detailed information on fundraising.
If you would like to make a donation to the EAA Chapter 551 Fund at the Initiative Foundation, please print the Fundraising Brochure, complete the form on the right side and mail to the Initiative Foundaiton.
With the new website, the Chapter plans to set up giving options through credit card.
---
Donate Now:
Donate to the EAA 551 Scholarship Fund
The EAA Chapter 551 Fund is an Endowment fund chartered to provide scholarships and training for goal-oriented youth/young adults to enter Aviation Careers as Pilots or Mechanics. By contributing to this fund, you will be giving goal-oriented youth/young adults the opportunity to reach their dream of an aviation career. The EAA Chapter 551 Fund is a partner fund of the Initiative Foundation in Little Falls, MN.
---